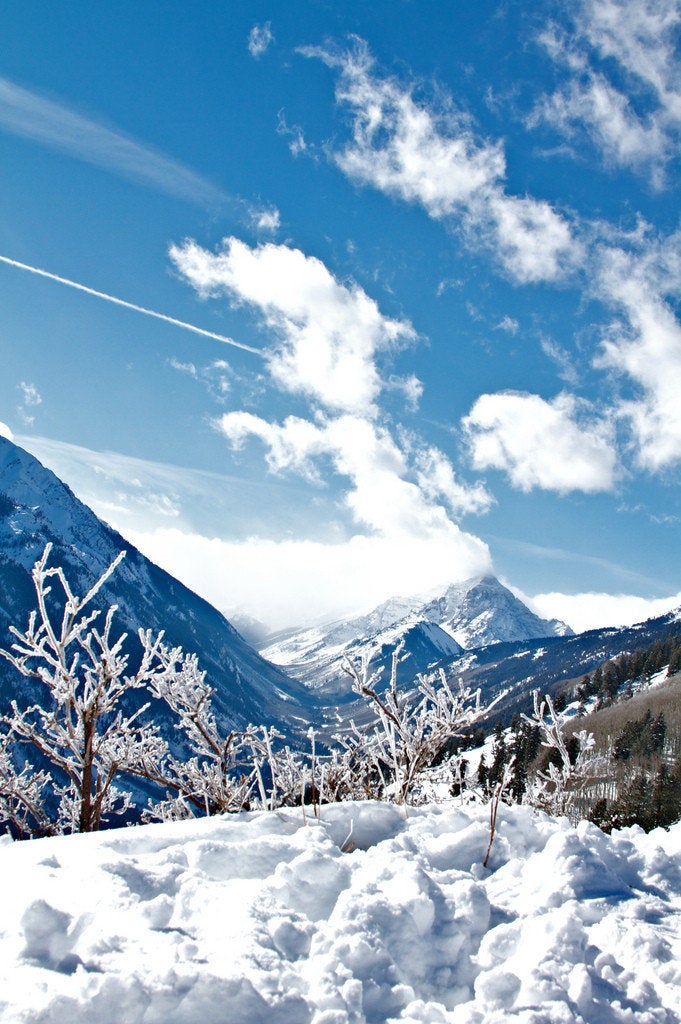 Buttermilk Mountain in Colorado is a popular destination for skiers and snowboarders. As part of a series on ski resorts, Huffington Post Travel offers our guide to Buttermilk Mountain, featuring all the key information snow lovers need to know before they hit the slopes.
The Basics
, the smallest of Aspen's mountains and a premier destination for novice skiers and boarders, is known for its
, uncrowded atmosphere and bountiful beginner terrain. Skiing Aspen means skiing the four area resorts: Aspen Mountain, Aspen Highlands, Snowmass and Buttermilk Mountain. Buttermilk is located about 220 miles west of Denver and Denver International Airport; it takes about four hours by car in the winter to get to Buttermilk from Denver. Free
to and from all four mountains are available during ski season, and the rich and famous downtown Aspen is only three miles away.
The Mountain
starts early December and runs through early April. The base elevation of Buttermilk is 7,870, and the average snowfall at the 9,900-foot summit is about 200 inches. The resort typically uses snowmaking capabilities for about 25 percent of the white powdery stuff on the mountain, which is legendary for excellent grooming. The longest run measures 5 miles, with wide expansive runs making up a majority of the trails. Considered an "easy" mountain for skiers and boarders, Buttermilk includes more challenging terrain in the steeper rolling runs at Tiehack.
Trails And Lifts
Thirty-five percent of Buttermilk Mountain's
are extremely easy, 39 percent are more difficult, and 26 percent are moderate. None are expert. Two terrain parks include Panda Pipe in the Ski & Snowboard School Park for beginners and Buttermilk Park for more advanced skiers. Plenty of easy-to-find glades and trees join the terrain next to groomed trails.
skiers and boarders ride more than 100 features, including a 22-foot superpipe and an X Games slope-style course. Nine lifts include two high-speed quads, three doubles and four ski-snowboard school lifts. The lift hours are 9 a.m. to 3:30 p.m.
In The News
Buttermilk hosts the
. Extreme athletes and aspiring X Gamers spend much of their time at Buttermilk sliding, jumping and spinning in the resort's world-class terrain parks. According to Aspen Skiing Co., the owner of all four resorts, the United States Snowboard Half-Pipe Team sometimes trains at Buttermilk. During that time, anyone can stop by the Superpipe to watch some of the best boarders in the world.
Cost
While Buttermilk has daily lift tickets that can be purchased at any of the
, few people actually buy them. Instead, many skiers buy packages that include transportation, lodging, rental equipment, lessons and sometimes even meals. A ticket at Buttermilk is good for skiing or snowboarding at all four of Aspen's resorts. Season passes offer other great deals for frequent skiers.
for kids and adults start at $107 a day and go up to $655 for private adult lessons. Four Mountain Sports at the base of the mountain rents gear such as helmets for $8.95 and premier ski or board packages for $54. Visitors can save 10 percent on
by registering in advance.
Apres-Ski
A big apres-ski scene doesn't really exist at Buttermilk, but it's worth exploring the
atop the mountain and the cafe at the bottom. The panoramic view from the top of Cliffhouse includes Pyramid Peak and Maroon Creek Valley. One ski-in, ski-out accommodation available at the base, the Inn of Aspen, is popular, and thousands of rooms abound within a 10-mile radius. The upscale town of Aspen offers many restaurants and bars and a free shuttle around town. Other apres-ski options in the neighboring mountain resorts of
, the Highlands and Snowmass are a shuttle ride away.
WATCH: Buttermilk
John Teller wins the Skier X finals at the 2011 Winter X Games on Buttermilk Mountain in Aspen.
Related