Norbert Leo Butz half-jokes that he couldn't resist joining the new PBS drama Mercy Street "because it's Grey's Anatomy with historical integrity."
PBS describes Mercy Street, which launches Sunday at 9 p.m., in somewhat more traditional terms.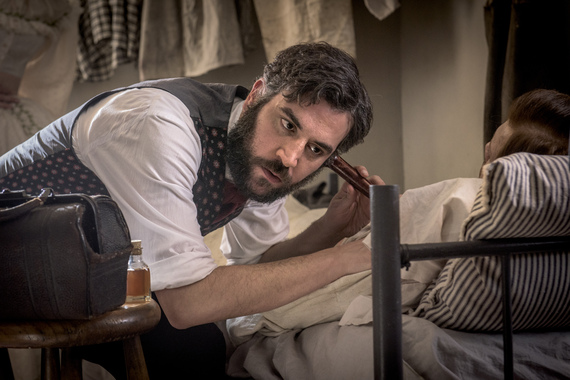 It's a multilayered story starting in the early months of the Civil War and revolving around the Mansion House Hospital in Alexandria, Va.
Alexandria, while part of a state that has seceded from the Union, is occupied by the Union forces who operate Mansion House. It cares for the wounded from both sides, reflecting the fact that under the strained circumstances of war, Union and Confederate sympathizers all over Alexandria must routinely interact in the course of their daily business - with widely varying degrees of ease.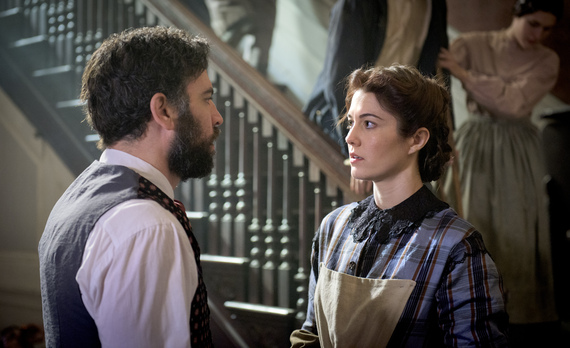 Following the tradition of other quality period dramas in the PBS "Masterpiece" series, Mercy Street has a lush look and a rich texture. But unlike almost all its predecessors over the past decade, from Mr. Selfridge to Downton Abbey, Mercy Street is a home-grown American production, with a sparkling cast that includes Butz, Mary Elizabeth Winstead, Josh Radnor (above, with Winstead), Gary Cole, Hannah James and Tara Summers.
"This is an American story," says Lisa Wolfinger, who co-created Mercy Street with David Zabel. "When you see a period piece about World War I, you have no idea what the issues are. Who's right or who's wrong. Here the town of Alexandria is occupied by fellow Americans. That's so unique to American history. We're telling it not only as a Civil War story, but as a saga of how it affected so many American families."
PBS devoutly hopes viewers grasp and share that fascination. With the network's all-time biggest hit Downton Abbey ending in March, PBS would love a new marquee hit to keep some of those Downton viewers, and it's no accident Mercy Street will have Downton as a lead-in for its whole six-episode first season.
The actors say they signed up mostly because they smelled a good drama.
Radnor, who plays spotlight doctor Jed Foster, calls Mercy Street "a way into the Civil War that hasn't been taken before and a story that hasn't been told before."
"You have Union and Confederate characters together," says Winstead, who plays Mary Phinney, a high-minded abolitionist nurse from Boston. "Mary wants to help people. But she immediately falls into a great sense of confusion by what she finds in this hospital. She's thrown off her game."
For one thing, Mary thinks the hospital should treat rebel soldiers only after it has tended to all the Union soldiers. This brings her into immediate conflict with, among others, Foster.
"Jed feels there's only one type of patient," says Radnor. "Sick. He feels that the hospital should treat everyone."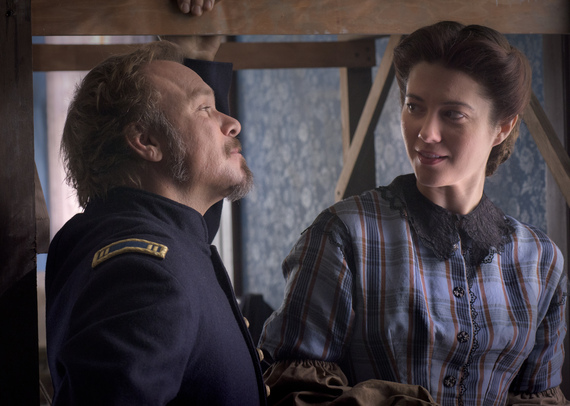 Unlike his old-school military boss Dr. Byron Hale (Butz, above with Winstead), Foster also sees the war as a chance to up medicine's game, since unfortunately there are so many subjects to work on and learn from.
"Modern medicine was invented in the Civil War," says Radnor. "Starting with the way you deal with trauma. Foster is looking for ways to raise survival rates, and that means sometimes not following traditional military protocol. It leads to some conflict."
"Hale is trying to hold onto what he knows," says Butz, and that includes resisting the new-fangled notions Foster is borrowing from European doctors.
Hale probably would have won, too, says Wolfinger, if it weren't for the sheer scope of the carnage.
"These were casualties on an unprecedented scale," she says. "No one had ever seen anything like it before. The Union Army medical department was struggling just to keep up."
Business as usual was impossible, in other words, leaving an opening and an opportunity for a doctor like Foster who was willing to take risks.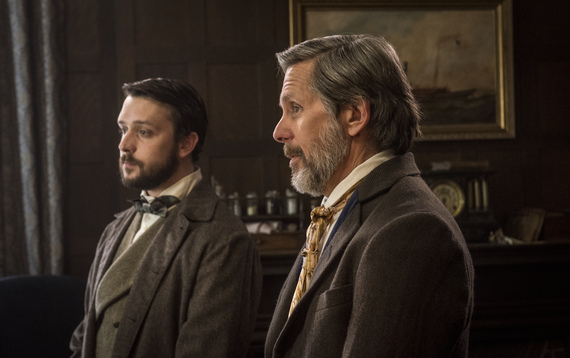 Meanwhile, outside the hospital doors, Cole (above, right) plays James Green Sr., head of a prominent Alexandria family that must unhappily share its luxurious house with Union soldiers.
James Green tries to convince the family to ride it out.
"Like most of his neighbors, and other characters, he thinks this will all be over in a few weeks or months," says Cole. "He thinks that if he bobs and weaves for long enough, everything will soon be back to normal."
Cole laughingly notes "this may be naïve," an understatement whose ramifications spread through the whole show.
Had the war only lasted a few weeks, Mary Phinney might have been able to coexist with Anne Hastings (Summers), a veteran nurse who served with Florence Nightingale in the Crimean War and resents this opinionated newcomer. As the battlefield war escalates, so do the wars at Mansion House.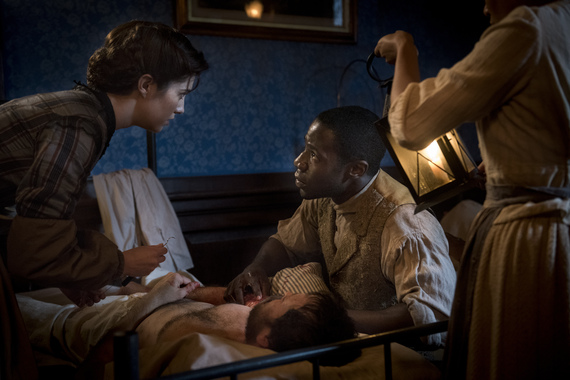 This being the Civil War, Mercy Street also reflects the great grey area of race. Samuel Diggs (McKinley Belcher III, above) plays a free black man who isn't allowed to use his medical skills because his "side," the Union, isn't quite as enlightened on this equality business as superficial history might suggest.
And naturally all the subplots don't deal with professional matters. Hastings has a long-standing affair with Dr. Hale, creating an alliance that doesn't always bode well for Dr. Foster and Mary.
But Butz says those minidramas just put a human face on the larger historical truths of Mercy Street.
"I love historical fiction," he says. "This show leans into a story that people think they know and tells it in a different way, through characters they've never seen before.
"The research that went into this show is amazing. Everything about it feels authentic."
Popular in the Community