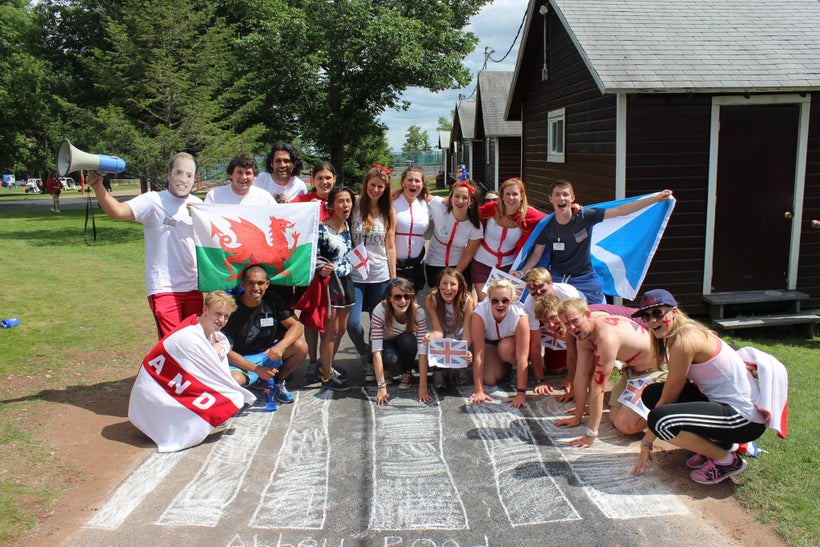 If you or your children ever went to sleepaway camp, you probably remember the camp counselors who told you to put "the rubbish in the bin", taught you how to water ski like an Aussie, cooked delicious camp food and helped make sure the camp grounds were safe and beautiful. They spoke with an accent, hung their country's flag by their bedside or traveled to your family's home after camp. These international staff have been a vital part of the summer camp community for decades and their impact is profound. Sadly, the United States government is threatening to take away the J-1 Visa program which allows international students to come work in the US. Without the J-1 Visa program, the camping business will never be the same.
In April, President Trump signed an Executive Order to "Buy American and Hire American". For summer camps, this could eliminate the J-1 Visa, which includes the Camp Counselor and Summer SWT (Summer Work Travel) programs. Both of these programs contribute significantly to the health and vitality of camp businesses and have been in effect since 1961. 
Internationals represent a large portion of seasonal camp staff ranging from bunk counselors to specialists to kitchen and maintenance support. Ask your children if their favorite counselor from England or the waterski instructor from Down Under was unable to return next summer? They would likely be shocked, sad and very confused. From cricket to the soccer pitch, from the cabins to the kitchen…we really cannot imagine our camp without the diverse staff we employ.
At our camp in Honesdale, Pennsylvania, the international staff bring amazing cultural diversity, exchange and education to our community, hailing from over 20 countries including the United Kingdom, Australia, Hungary, Poland and Spain. Our campers learn new languages, traditions, games and gain a vested interest in seeing the world. International staff play a big part in our overall mission to enrich the lives and open the minds of children. 
Our dining hall is filled with flags representing all of dozens of countries. We celebrate their backgrounds as well as ours. And although camp sometimes feels like we are living in our own world, it is a representation of what the real world should be…a place where so many cultures live together and learn from each other (we do our part for world peace). Taking away our international staff would be stripping our camp of the important diversity that it provides.
In addition to the educational and cultural impact, the economic and business impact of J-1 Visa program is equally significant. College students in America have many choices today how to spend their summers. Camp recruiters are competing with coveted internships, local jobs and summer college programs. Camps depend on international staff to supplement the American staff they work so hard year-round to recruit. The positions filled by the international staff complement and add to the program, they do not take away American jobs.  Without international staff, camps would not be able to fill those positions.
What does this mean for your camp? Time will tell. Some camps will be forced to close. Others may downsize. Many will need to figure out new staff recruiting strategies. All camps will take a big financial hit.
Outside of our camping industry, the ripple effect of the J-1 Visa program is tremendous. Before, during and after the camp season, international staff travel throughout the US. They spend money at local restaurants and shops (often in small rural towns), they go to concerts, they buy plane tickets and train tickets, they rent cars and travel to Times Square and throughout the country. They become global ambassadors of the United States and encourage their friends to visit and spend their money. They "Buy American".
If camps struggle, it would negatively impact many local towns that support them. An economic impact study of the northeast region of the country showed more than 6,000 state licensed camps have a direct economic contribution of nearly $3.2 billion on local economies. These camps pay more than $1.1 billion in local, state, and federal income taxes. That figure, multiplied by the thousands of camps across the country illustrates the total economic impact of the camp industry.
So now what? The American Camping Association (ACA) has mobilized a great effort for its constituents to reach out to local and national government officials and make their voices heard. There is still time to contact your local representatives; please call or email them today. Make sure they how understand the J-1 Visa directly impacts you and your family. Other industries like tourism, hospitality and the Au Pair program are also part of the J-1 Visa and SWT programs and vulnerable. Click here and contact President Trump and your representatives. The issue is urgent and pressing.
We are working with the ACA in any way we can, but it will take many voices to make an impact. If the program is compromised there are no winners. In the end the campers and international students will be shortchanged of this amazing opportunity to exchange cultures, learn from and live with each other. The negative economic impact would be widespread well beyond the camping industry. At our camp we have a saying that we do things "for the good of camp". Along those lines, eliminating the J-1 Visa program goes against what this administration is trying to achieve...it is not "for the good of America."
The American Camp Association® (ACA) is a national 501©(3) non-profit organization with more than 10,000 individual members and nearly 3,000 member camps. ACA is committed to collaborating with those who believe in quality camp and outdoor experiences for children, youth, and adults. ACA provides advocacy and evidence-based education and professional development, and is the only national accrediting body for the organized camp experience. ACA accredits approximately 2,400 diverse camps nationally. ACA-Accreditedâ Camps meet up to 300 health and safety standards. Accreditation provides public evidence of a camp's commitment to the health, safety, and overall well-being of both campers and staff. For more information, visit www.ACAcamps.org.
Camp Towanda is an independent, traditional, co-ed sleep-away camp in the Poconos in Pennsylvania. It is privately owned, operated and directed by Mitch and Stephanie Reiter (who are celebrating 29 years as owners and directors).  For over 95 years, Camp Towanda has continued to define what camp should really be. Our program offers state-of-the-art facilities, an excellent and professional athletic department, waterfront, extensive arts, drama and adventure programs, and special events.  We are highly regarded and respected as an industry leader and are involved in giving back to various organizations throughout the year.  Camp Towanda is accredited by the American Camp Association and a member of the Camp-Alert-Network, Wayne County Camp Association, Camp Owners and Directors Association and the Pennsylvania Camp Association. www.camptowanda.com
Calling all HuffPost superfans!
Sign up for membership to become a founding member and help shape HuffPost's next chapter
This post was published on the now-closed HuffPost Contributor platform. Contributors control their own work and posted freely to our site. If you need to flag this entry as abusive,
send us an email
.