Whether you're buying a box of crackers, a bag of coffee beans or a new mattress, it's easier than ever these days to figure out whether an item is organic, fair trade or environmentally friendly. Now, a new app aims to help you figure out a product's level of "female-friendliness."
The Buy Up Index grades companies' treatment of women on an A to C scale, looking at how many women lead the company, the availability of female-friendly benefits like maternity leave, as well as a company's advertising and philanthropic initiatives.
"My hope is that women direct their spending to companies that serve women well, as opposed to giving money to companies that have no women on the board or sexist advertising," Buy Up co-founder and self-professed fourth-generation feminist Amy-Willard Cross told The Huffington Post.
Cross, who's spent most of her career writing for magazines, compared her metric to the Human Rights Campaign's Corporate Equality Index, which rates companies based on how they treat LGBT workers. When the index launched in 2002, only 13 companies achieved a top score. This year, 189 business achieved top marks.
To come up with Buy Up's ratings, researchers sifted through publicly available data from about 150 companies across 11 industries. You can easily search the app to get a company's letter score on four measures -- employee benefits, leadership, philanthropy and advertising -- as well as an overall score. The app is still in beta mode, but it will officially launch on Monday.
Not everyone comes out looking so hot. That's not surprising, considering only 4.6 percent of CEOs on the Standard and Poor's 500 Index are women. Only 13 percent of private companies offer paid parental leave to full-time workers, according to data from the U.S. Department of Labor.
iPhone maker Apple gets a B overall because it falls down on the gender diversity of its leadership -- only two of seven board members are women, and its overall leadership is 72 percent male, according to company data.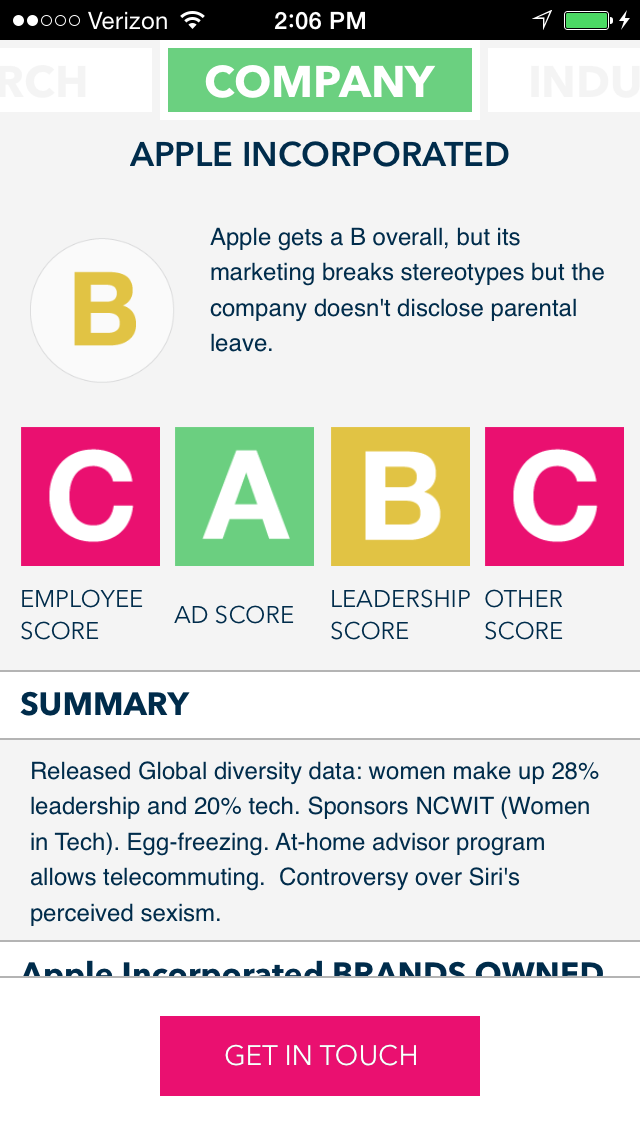 Apple actually does offer generous maternity leave -- up to 18 weeks paid, but the Buy Up app seems to have missed this. New internal data due out later this summer will demonstrate some of the company's progress on diversity, a company executive said this week.
Though it's doubtful that women will stop buying iPhones, drawing attention to this data could further push Apple and other companies to change.
Beauty company Coty, which sells primarily to women, gets a C grade -- the lowest possible -- because it has no women on its board and no "disclosed benefits" for female employees, according to the app.
Coty just paid $12.5 billion for Procter & Gamble's top beauty brands, including Covergirl and Clairol. P&G just happens to be an extremely female-friendly firm, garnering an A grade. Women make up nearly half of its board of directors, and it offers generous leave and flexibility benefits. Procter & Gamble's advertisements for its Always feminine products have garnered much praise for their female-empowerment messages. It'll be interesting to see if the acquisition helps Coty's grade. A spokesperson for the company declined to comment.
Cross so far has spent more than $100,000 on Buy Up, she said. She's also trying to raise $10,000 on Plum Alley, a Kickstarter for women-run ventures. As of Wednesday, she was about $500 shy of her goal.
Cross said the next stage for the app is to make some money by allowing A-graded companies to sell things directly through the site.
Women spend trillions of dollars in the U.S. each year, and harnessing the power of those funds could be powerful, Cross said. "I always thought words would get us equality. Now I realize money is an important tool."
This story has been updated to include information about Apple's maternity leave policy.
Related