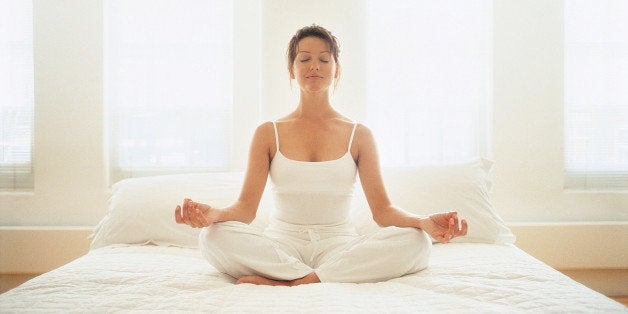 Recently my husband and I decided to buy a new mattress. After a thorough research we settled on a product called Yogabed. We were ready to make the purchase but didn't know if it would work with an adjustable base.
While my husband and I have a million things in common, how we deal with customer service is not one of them. Like most people, I don't enjoy interacting with them (thanks, Comcast), but he does! Here is the email interaction he shared with Yogabed customer service team. He obviously didn't think I was going to post this on HuffPo, but this is too good not to share.
From: Jaka
Subject: Yogabed + adjustable base = Y/N?
Date: March 17, 2015 at 5:26 AM
To: Customer Service
After marathon research Yogabed is my topmost mattress pick, the cream of the crop! You win!
But before I shell out my ponies, there's one eternal mystery unsolved even by your FAQ: "Will it blend?" Just kidding. Will it BEND with an adjustable base (such as these hushpuppies), or is the bottom foam layer as stiff as Mitch McConnell?
Thank you, homies, and keep up the good worksies!
On Mar 17, 2015, at 7:18 AM, Customer Service wrote:
Thanks for contacting us!
Yes, our Yogabed is flexible enough for an adjustable base; in fact one of the co-founders has his Yogabed on one and it works great. Let us know if you have any more questions. Here's a coupon code for $50 off your Yogabed purchase to use at checkout -- for your humorous email!
On Wed, Mar 18, 2015 at 4:38 PM, Jaka wrote:
Thank you, Team! You are pure sweetness and very quick to respond! As a former co-founder of a few startups, I was especially happy to hear that your co-founder has money for a bed and time to sleep :)
I do have another pea under my mattress: Is it possible to schedule the delivery, so that your wonder-slab will arrive precisely on 3/31, after our move?
On Mar 18, 2015, at 1:46 PM, Customer Service wrote:
You are a piece of work, and quite the wordsmith!
Where would our "wonder-slab" be traveling to? Give us that info and we can go from there. The little brown truck makes the deliveries, and you can make requests through their website, UPS.com. We just need to make sure that the order is placed in time to get in your general vicinity by 3/30.
Look forward to your response!
Team Yogabed
On Wed, Mar 18, 2015 at 5:06 PM, Jaka wrote:
Your wonder-slab will be going to a happy place, Sunnyvale, CA!
Should I just place the order, and then tell the little brown truck to do as I say? Or should I wait a little, so that my hunk won't needlessly clog the little truck's garage?
I will do whatever you suggest!
On Mar 18, 2015, at 2:42 PM, Customer Service wrote:
Some basic information to know about ordering from Yogabed: an order received after 11 am will begin processing the next business day; mattresses usually ship 24 hours after processing completes; our free shipping to anywhere in the continental US via UPS takes an average of five to seven business days.
Looking at the UPS site, it looks like it will take five business days to get to you, so it would have to ship no later than Tues, 3/24 to arrive 3/31. If you want to order now, I can give a heads up to our manufacturer about the ship date but you definitely need to order before Friday just to make sure the timing works for getting the order processed in time. I will watch for your order but you can always email, too.
On Mar 18, 2015 at 4:26 PM, Jaka wrote:
Thank you, Yogabed. You are badass! :)
From: Yogabed Customer Service
Subject: Do we still win?
Date: March 19, 2015 at 7:03 PM
To: Jaka
Do we still win? Tick-tock. Don't forget that we are on Eastern time. Our "wonder-slab" is very excited about the possible trip to a happy place but it definitely wants to make its debut on the right day.
On Fri, Mar 20, 2015 at 4:04 AM, Jaka wrote:
Lol, you crack me up with my own words! :) *So much* funnier than Comcast customer service! :)
Yes, absolutely! In my secret files you are winners and heroes forever! I just shelled out the ponies to claim my slab (claim #XXXXXXXXXX). In great anticipation I also moved my move-in date to one day sooner, so on 3/30 I will be sitting on my new doorstep waiting anxiously for the little brown truck.
I hope sleeping on Yogabed will be as much *fun* as shopping was. (But even if it kinda sucks, this was still fun! :))
Peace out, Yogabed, and keep up your greatness!
-----------------------------------------------------------------------------------------------------
On Fri, 20 Mar 2015 07:26:12 -0700 Customer Service wrote:
Woohoo! We won! We are super excited for our Yogabed wonder-slab (it has a certain ring to it) to live in a happy place with you albeit a day early (are you testing me?) but I think we can handle that. I've informed all the right people.
And guess what?! You win too! You have provided the co-founders and I with many chuckles and we want to make you "Customer of the Month"! Another woohoo! With that illustrious title, we'd like to offer you a gift: a free pillow or how about a set of wonder sheets for your wonder-slab? Let me know, and I'll make the arrangements.
Two last things: Your ponies will be "captured" when the Yogabed leaves its creator and is in the little brown truck on its way to your doorstep and when you get it, remember that a new bed, like new shoes, takes some time to get to know you ;)
It's been fun! Have a great day and a wonderful weekend!
Stacey (yeah, I have a name)
Team Yogabed Customer Service
On Mar 20, 2015, at 1:23 PM, Jaka Jaksic wrote:
Oh, wow! I was not anticipating such honors! Sooooo funny!!! :) Yes, I want to bounce on your fluffy fluffy wonder sheets! :) Thank you Stacey! You and the co-founders are cool dawgs! (And I hope the co-founders have names too, it's such a nice thing to have :))
On Mar 20, 2015 at 11:01 AM wrote:
Fluffy wonder sheets it is! I will work on getting some shipped to you!
Stacey, Tim and Chris (co-founders)
Popular in the Community