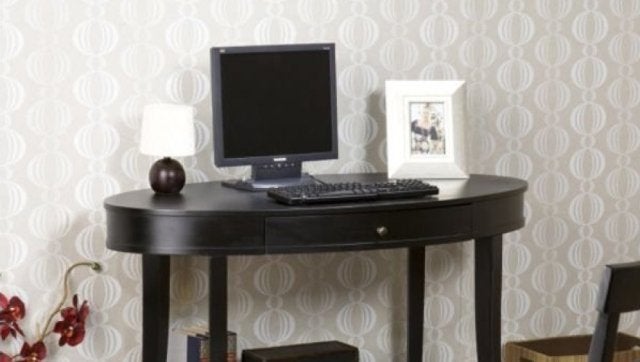 Although we are no longer students, there is something about the approach of the fall season that has us thinking about pencils, notebooks, binders and everything else that make up a proper space for productivity. Most importantly? A work surface that offers plenty of room for getting tasks done, while not taking over a room. So whether you are returning back to school or just need a new functional yet stylish place to work at home, check out our buying guide for tips on choosing the best desk for your needs.
Consider size and shape. The size of the desk affects your comfort and posture, and ultimately makes an impact on productivity levels. (After all, you can't possibly tackle your to-do list if you're hunched over.) A good desk height for the average person is 28" to 30." Your feet should be flat on the floor and your elbows should be a little higher than waist level for typing. It's also helpful to consider whether you will, in fact, be using a computer at this desk -- especially a desktop model, which takes up more surface area than a laptop. Rectangular desks are the most common, and corner models are great for space-saving, but round and oval options are available if your office area allows for them. If space is an issue, pick a mobile desk on wheels. Once you've completed everything on your to-do list you can roll it away into a closet and out of sight. Bottom line: Look for a height of 28"-30" and choose a shape that fits your space.
Consider Your Storage And Organizing Needs. While some people can work on just a table, storage for all of your office supplies is ideal for obvious reasons. Drawers, file storage or a hutch lets you stash your stuff without having to buy extra organizational gear. Many desks meant for computers and other equipment have built-in power cord organization to keep these unsightly wires out of your way, in addition to ledges for printers, copiers, or scanners. Bottom Line: Paying extra for built-in storage will save you money in the long run.
Consider The Best Material. Modern desks are available in an array of finishes, so consider your work habits before heading to the store. Real wood can be very beautiful and add a rich look to your space, but it can be expensive and harder to maintain. (And if you drink your morning coffee at your desk, you may want to reconsider this material!) Laminate is affordable, durable, and comes in a variety of colors, or can even look like wood grain. While glass surfaces can look elegant, laptops and other gadgets may scratch them, so these are best for light use. Alternatively metal desks look modern and sleek and can take quite a bit of wear-and-tear. Bottom Line: Laminate or metal desks will stand up to everyday use.

Click through our slideshow below to see some of our favorite desks that are on the market right now.