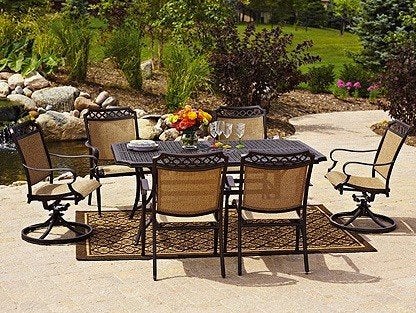 If you're thinking about sprucing up your outdoor area for al fresco dinners with friends and family in the coming months, a dining set that provides comfortable seating and ample table top surface area is essential. From bistro-style tables and chairs to more traditional wood pieces, the best dining sets will fit into your outdoor space without making it feel overcrowded. Additionally, they should also be able to withstand the elements during the changing seasons.
Most importantly, your outdoor dining set should complement your style and preference. If you're considering an outdoor dining set right now, here are some general things you should keep an eye out for.
Consider the best materials. Sturdy woods and metals like teak and powder-coated aluminum are popular choices for outdoor dining furniture. Teak stands up to the elements extremely well and it's more durable than most other varieties. After exposure to sunlight and rain, teak also develops a nice shiny patina, aging well over time.
Consider versatility. Aluminum on the other hand is best suited for seasonal use because it's lightweight, but still sturdy and powder-coated versions can often come in an array of colors, making it versatile for many different outdoor environments. Similarly, rattan and wicker pieces are also easy to move, and outdoor chairs made from these materials can often provide the most comfort because of their tight cushy weaves.
Decide on size. The size of your dining set will depend on your outdoor space. Generally, bistro-style sets (two chairs and one table) are ideal for small patios and decks, so if you're looking to create a small corner for relaxing, they can be a great option. Although, if you're considering taking meals outdoors, go with a full dining set, which can range from four seats to eight depending on how much space you have in your garden/backyard.
Think about the surface. Wood table tops require the least amount of maintenance since they can be easily wiped clean with a bit of mild soap. Metal tables, if left out in direct sun for extended periods can heat up quickly, so it's best to keep them in a shaded area or under a patio umbrella. Similarly, glass table tops are simple to clean and make pretty accents in a garden, but their fragile nature means they're best used in covered porches, patios or decks. Moreover, they're weak against the elements so they should definitely be moved indoors during colder seasons.
Flip through the slideshow below to see some of our favorite outdoor dining sets in the marketplace right now. And, let us know in comments below what else you look for in an outdoor dining set.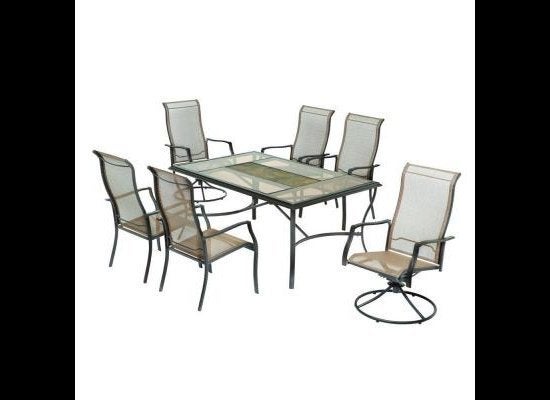 Excellent Outdoor Dining Sets
Popular in the Community