After months of cooler (or, downright cold) temperatures, we can't wait to kick off outdoor entertaining season. But, though spring is definitely upon us, the evenings can still be a bit too cool to linger. While sidewalk restaurants can call on portable heaters, they're still on the more cost-prohibitive side. (And not exactly pretty to look at.) The better option: A backyard fire pit, which adds warmth, light and atmosphere to any outdoor area.
Don't worry -- it's not as intense as it sounds. A fire pit is a portable, easy to clean, mobile 'fireplace' that doesn't involve really any installation. In fact, you can think of it as the perfect union of a permanent outdoor fireplace (pretty, adds warmth and atmosphere) and a grill (contained, portable). Another plus? They can be very cost-friendly.
If you're giving the fire pit some thought, keep in mind that the style and size will depend on your backyard/outdoor space. However, here are some very general things you should look for when considering fire pit.
Pick a style. Fire pits comes in various styles. Popular pits include ones that feature a fire bowl and square versions that resemble low tables. If you want a fire pit that can be moved around easily, try a bowl version. If you have a roomy backyard and want a warm gathering spot, consider a more stationary square pit.
Know the dimensions Generally, fire pits range in size from 20"-45" in diameter. Small ones are usually 20"-25" while the largest pits are about 40"-45" in diameter (about the size of an outdoor table). For the most part, smaller fire pits are usually ones that consist of a bowl, which make them perfect for compact decks and patios.
Decide on fuel. Most fire pits are either wood-burning or use gas/propane, and it's important to decide on which type you want. One of the biggest benefits of a wood fire pit is that it can be much more cost-efficient than buying propane tanks constantly (for pits that can be hooked up like a grill). Moreover, wood-burning pits will also smell and look like a real campfire. Our pick: Smith & Hawken Fire Bowl, from Target
Keep materials in mind. For fire pits, materials can range from stone and tile to stainless steel and copper. Because stone is heavy, it's best used with larger, square pits that will not be moved around. The same goes for stainless steel fire pits, which can be pricey but it's rain- and rust-resistant and also easy to clean. Thus, if you're looking to invest in a good fire pit, stainless steel is a great option. As for tile, it's fireproof like stone and it's often used as a decorative touch on smaller pits. But, if you're looking for something that's standard, consider a copper version. They're powder-coated to stand up to the elements and they also have a nice shiny look. Our pick: Living Accents Stainless Steel Fire Pit, from Ace Hardware
Precautions and extra accessories. Never use a fire pit too close to a wall or your home and remember to be careful if you're using a fire pit on a wooden deck. Generally, the best surfaces to place a fire pit on are hard stone, cement or tile, which are fireproof. Also, many fire pits come with accessories such as a grill for cooking, a screen to keep embers and sparks from flying, or a vinyl cover that can protect it from the elements when not in use.
Flip through the slideshow below to see some of our picks for outdoor fire pits in the marketplace now. And, let us know in comments below what are other things you look for in outdoor fire pits.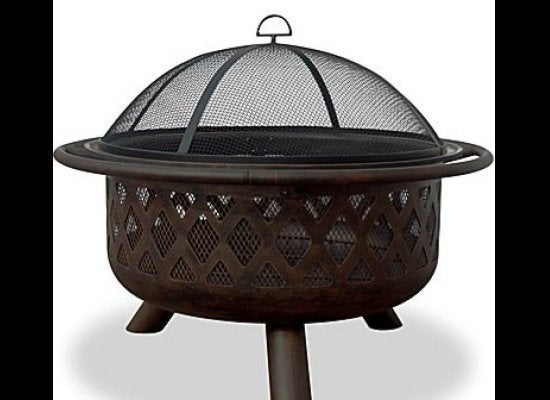 Support HuffPost
A No-B.S. Guide To Life
Related
Popular in the Community