Many of us don't swap out our bedding each season, but to prevent tossing and turning in the summer heat, it may be best to consider changing out your sheets for a set that won't make a hot night even worse. So ditch your flannel bedding, and read our tips below for choosing the best sheets to keep you cool and comfortable.
Choose Natural Fibers. Fabrics made from natural materials are the most breathable and will wick away perspiration, keeping you cool and dry, versus synthetic fabrics which don't allow ventilation. (Studies suggest that the average person sweats one pint of perspiration throughout the night. Ick!) Cotton or cotton blends, including percale, sateen, and jersey are affordable, comfortable and durable. The best quality cotton sheets are made from Egyptian cotton, which describes the smooth yarns that they're woven from, which are grown in Egypt. Of course silk sheets regulate temperature well and feel great on the skin, but often come with a high price tag. Linen breathes well and has a natural cooling effect, but be careful because it wrinkles very easily.
Consider The Weight. Although sateen and silk sheets are light in weight they tend to be insulating and trap heat because they drape closely to your body. While percale are heavier and crisper, this may be preferable in the summer months as they allow for more circulation. Also, heavy weight sheets are more durable over time.
Don't Get Caught Up In The Thread Count Hype. While most people think that the higher the thread count, the more decadent the sheets are, this is not always the truth. Also, sheets with a very high thread count don't let air pass as freely, trapping heat underneath. We suggest choosing a set with a 300-400 thread count for the summer. Also, if possible, it's best to feel the fabric first-hand, as this is the best test to how they will feel against your skin all night long.
Pick A Light Color. For the summer months, choose light colored sheets that reflect rather than absorb the light that comes in through your bedroom windows during the day. White or light colored sheets are easy to bleach as well. But remember when laundering your sheets use lukewarm water and avoid drying on high heat to keep them in the best condition. Better yet, dry your sheets on a line outdoors for that amazing sunshine smell.
Click through the slideshow below to see some great summer sheets on the market now.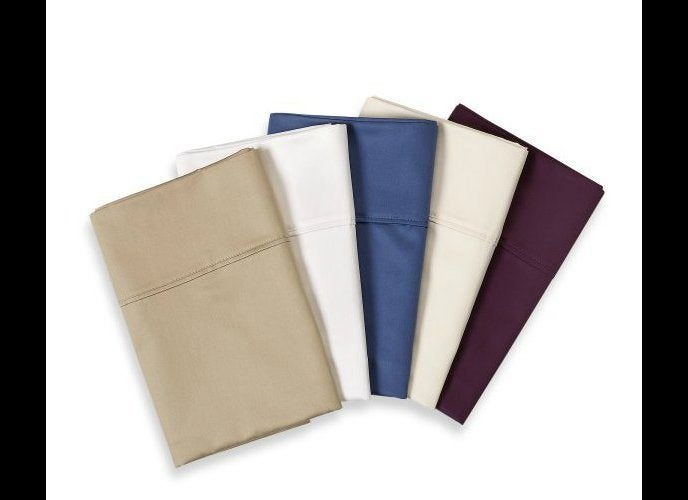 Summer Sheets