Like a great tailored jacket over a casual ensemble, the right planters can instantly "pull together" any outdoor garden space. (Even if it's the size of a postage stamp.) However, getting the right one can be tricky. Planters like metal ones hold water better than porous containers made out of wood, while lightweight plastic pieces are not the sturdiest choice for larger plants. So, we've rounded up the basics you should know about planters.
Keep in mind that the style and size of your planter depends on your garden and the type of plant you're looking to use it for. But, if you're looking for one to amp up the look in your garden, here are some very general things remember when shopping for planters.
A good size. Generally, a good size planter is one that can hold a healthy amount of soil for the plant and also allow room for roots to grow. And, you should see more of the flowering plant than the planter. So, generally a good-sized container is one where the plant is about two times more visible than the actual pot itself.
Consider the materials. Planters made from wood and metal are affordable and easy to move around. Wood is porous so it provides better drainage (since it soaks up water) and it's also more resistant to the elements than metal, which may rust over time. Also, wood planters are generally not used for planting inside directly. Instead, they're great for concealing plastic pots. Because wood planters are so porous, they can get mildewed if not carefully cleaned. But if you have a plant that requires a lot of water, go with metal or plastic, which will keep the water from evaporating. However, metal (as well as dark color planters) absorb more heat, so you'll have to keep a close eye on the plants to make sure the soil doesn't dry out completely. If you're looking to really amp up the look in your garden, go with ceramic or terra-cotta planters, which come in an array of colors. However, these are usually more expensive and are most breakable out of all the materials. On the contrary, lightweight plastic planters are the most cost-effective, but they're also the least sturdiest, meaning they're not best-suited for heavier plants nor hold up in harsh weather.
Keep the seasons in mind. For planters that you intend to leave outdoors all year round, stick to wooden planters or hefty ones made of stone or cement, which stand up well to the elements. Although ceramic and terracotta planters are pretty, they have a tendency to crack in extreme cold. Keep them indoors during winters and save them for the summer.
Consider drainage. Before you shell out for a container, know your plant's watering needs. It'll factor into your buying decision, as planters come with or without drainage holes. Drainage holes help prevent overwatering (which leads to roots getting waterlogged). Generally, If a planter doesn't come with water holes, it is meant for a decorative purpose -- for example, concealing plant pots.
Flip through the slideshow below to see some of our picks from the marketplace. And, let us know in comments below what you look for in planters and if there's a type you like best.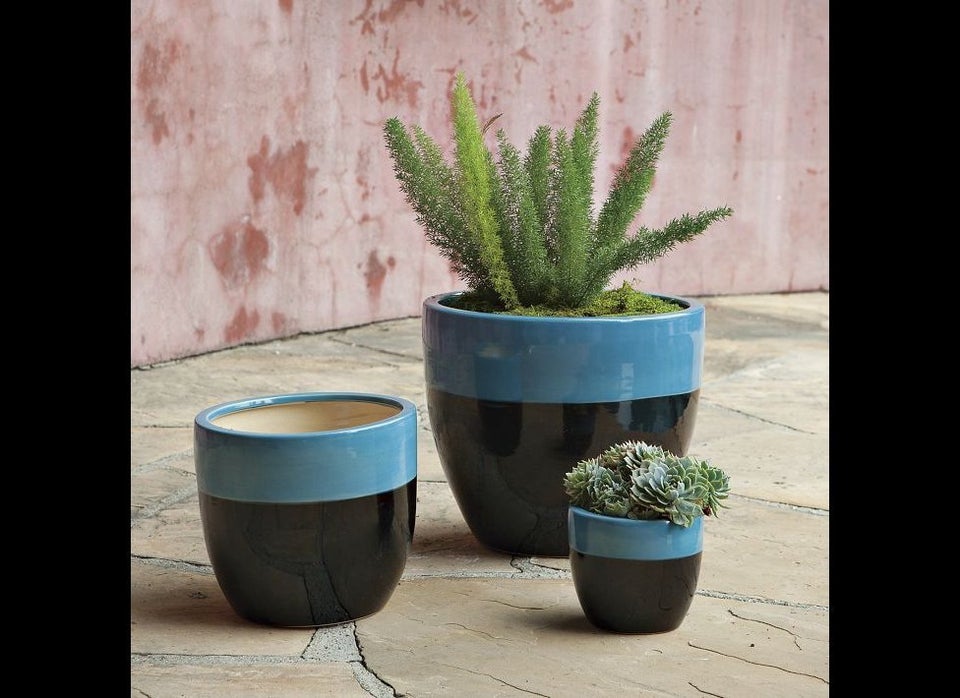 Buying guide: Planters And Window Boxes
Related