We cannot wait to bite into a juicy burger at our 4th of July barbecue -- and we think it is safe to assume that you feel the same way! If your grill isn't in tip-top shape or you think it is time for an upgrade, read our buying guide to help you decide on the best grill for your outdoor cooking needs.
Which Type? Gas grills are popular because they get hot very quickly and have temperature control so you can make sure your food is cooked to perfection. They are fueled by either a propane tank or, if you have an accessible gas line, natural gas. Gas grills usually have the highest BTUs (British Thermal Units), indicating the fastest cooking rates. (As a general rule of thumb, a grill should have 100 BTUs per square inch.) Look for one that has multiple burners with separate controls to cook foods at different temperatures as the same time.
While gas grill are efficient, you just won't get that rich smokey flavor that only comes with charcoal grilling. These grills use charcoal briquettes and take much longer to cook, but they are the most economical. To get your fire going, you can purchase a charcoal grill with a gas starter. Charcoal grills are often lightweight and come with wheels, so you can easily store it away when it isn't in use.
For indoor use, try an electric grill. These models not only make grill marks on your food, but catch the grease in a drip pan making it easy to dispose of. These grills heat up quickly and cool down fast and their non-stick grids make them easy to clean. You can use electric grills outdoors, however, you'll need to be adjacent to an outlet.
What Size? Choosing the grill size that is best for your household depends on how many people you typically will cook for. For a typical weekend griller, one that measures approximately 360 square inches will be sufficient. If you are grilling more than burgers and dogs, or cook for many guests, you may want one closer to 400 square inches. In addition, you will want to carefully measure the area where you will be placing your grill to make sure there is plenty of space for people to safely maneuver around it while in use. You should allow two feet of clearance around. When shopping, remember that a large grill with side burners can take up precious patio space.
Which Material? Grills can be found in aluminum and cast iron but it is best to look for stainless steel frames, fireboxes and lids because these are the most durable and will not rust over time. Also look for stainless-steel or porcelain-coated burners which will retain heat well. If you prefer cast-iron grates for searing, you will need to season them with oil so they don't rust.
Check out the slideshow below for many grills that meet the mark and are available now.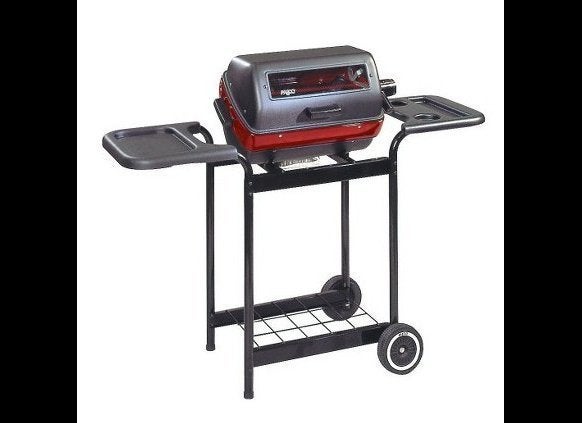 Grill Buying Guide
Related