When it comes to home improvement projects, updating kitchen cabinets can be as easy as replacing doors and repainting/staining the cupboards -- or as big a task as completely switching out all the cupboards. Of course, the style and type of cabinets you decide on largely depends on your kitchen size and personal preference.
But aside from knowing the specific dimensions you need for your kitchen and that overall cabinets are priced per linear foot and not individually like the doors, there are a number of general tips to keep in mind. We give you our break down of the bare basics below.
Consider stock cabinets. Whether it's a big kitchen makeover or a simple update, it's good to know that cabinets usually come in three types: Stock, semi-custom and custom. Stock cabinets sound exactly like they are: Cabinets that are stocked in-store. These are the most budget-friendly but they don't offer any customization. They come in standard dimensions of 12"-60" in width and 30"-36" in height (overhead cabinets are smaller at 12"-18" in height). For simple kitchen updates, it's worth considering getting stock cabinets and then painting or staining them.
Pick semi-custom cabinets over custom. Semi-custom cabinets are the next step up and slightly pricier. They come in a wide range of styles and have to be factory ordered since you can specify the dimensions and type of wood you want. Custom cabinets are the most expensive option because you can have them built specifically for your kitchen in size, material, and style. For bigger rehauls, go with semi-custom for a look that's specific to your kitchen but won't break the bank. With semi-custom cabinets you also have the option of getting hardwood door fronts and the drawers have a sturdier dovetail construction.

Know the common wood materials. Plywood, MDF and particleboard are common materials used for kitchen cabinets. Plywood, which is basically many thin layers of wood glued together, is the sturdiest option out of the three. Particleboard is the flimsiest as it's made up of compressed wood scraps. MDF, which are sheets made from finer wood bits, is a good middle option because it actually resists warping and it also is cost-effective for people looking to invest some money in cabinets but are still on a budget. You will also find that many affordable cabinets have an MDF body, but real wood doors -- a good compromise, if you ask us.
For solid wood, go with oak. Whether it's the whole cabinet or just the doors, solid wood choices range from cherry and oak to poplar and pine. What you choose is dependent on the look you want for your kitchen, but if you're looking for a sturdy option, go with oak. Compared to other solid woods, oak is extremely durable against dents but it's porous, which makes it easy to stain and paint. And surprisingly, it's also the most budget-friendly. On the contrary, pine is a softer wood, a quality that makes it prone to scratches and dents.
Glass and melamine. If you're opting for something besides wood, glass is a common option. However, glass is best used as insets, and it's also good to consider frosted glass, which helps hide scratches and kitchen clutter. Melamine is another option, but it tends to be heavier than most woods and chips easily.
Think about door style. Needless to say, your door style will greatly determine the look of the completed kitchen. Many homes tend to come with standard doors that have either rectangular panels or an arched panel design. However, for more contemporary styles, consider aluminum frame doors with frosted glass insets. Another thing to note is how the doors cover up the cabinet frame. Most kitchen cabinets feature doors that have a standard overlay, which means that doors' edges are not flush and thus the cabinet frame is exposed in the background. On the other hand, full overlays mean that the cabinet doors cover up the frame behind it, which gives an overall more clean-lined and polished look.
We keep the above basics in mind, but we want to know other essentials you look for when you're considering new kitchen cabinets. Let us know in comments below.
And for a few kitchen cabinet pieces that are giving us some makeover ideas right now, click through the slideshow. Front page Flickr photo by thekitchendesigner.org.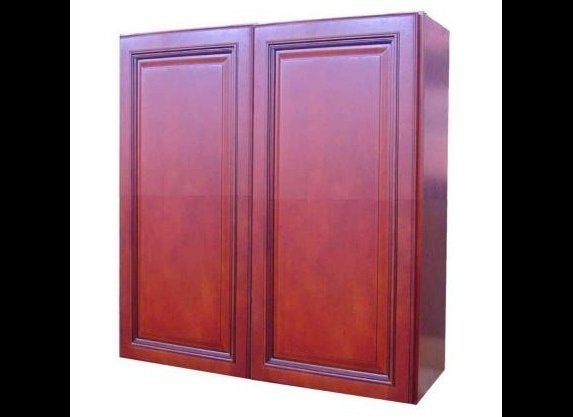 Gallery