Sending flowers is one of the easiest ways to show someone you care. Whether it's thanking your host/hostess for a fantastic holiday meal or wishing your BFF happy birthday, everyone loves it when the delivery guy comes by with flowers for them. Unfortunately, we all have a horror story about a flower order that went wrong. To name a few off the top of our heads: Flowers arriving dead, a bouquet over-stuffed with fillers (and few nice flowers) and orders that were far too expensive than the quality given. But with seemingly endless options, it can be hard to discern what will be a good value (great flowers at a great price) and what will end with an angry call to customer service.
To make things a little less daunting, we've found these tips to be tried-and-true for getting the best flowers for your money:
Go for high-value flowers. Some flowers travel better than others so keep that in mind when you're considering your options. Roses are practically bred to travel well without bruising, whereas lilies and daisy are more delicate and the petals can sometimes arrive shriveled. Another good floral pick? Tulips...when they're in season, of course.
Less is more with color. With small bouquets, too much color can look chaotic (and thus, cheap), so stick to two or three colors altogether. If you want really want to combine a lot of varying colors, consider upgrading your arrangement to a medium or larger size; it's easier on the eyes with bigger bouquets. But when in doubt, our golden rule is to go monochromatic -- a bouquet in one consistent color somehow always looks more expensive and chic.
To fill or not to fill. Fillers ultimately serve as complements to the flowers you're sending, which should be the highlight of the bouquet. Green or white fillers generally go with most arrangements, especially if the flowers have bright colors or large petals. Unfortunately, too much filler makes an arrangement look cheap. We always ask for "less filler" when placing an order by phone.
Switch up vases. Even we didn't know this at first, but you can actually have a say in what kind of vase you want your flowers to be sent in. You simply need to ask. If you go glass: Thick stems tend to fill out small square vases nicely while flowers with bigger petals nicely balance out a globe vase. Tall cylindrical glass vases work best with long-stemmed flowers like calla lilies, tulips and roses. For a more subdued look, choose a ceramic vase that hides the stems.
Order and delivery time. Mail-order flowers are delivered to your destination via local florists, so for same-day deliveries, it's safest to allott a 2-3 hour time frame between placing your order and when the flower actually gets delivered. For the holidays it's best to place your order 3-4 days in advance...even if it seems far too in advance. And don't forget, keep in mind different time zones if you're sending flowers from across the country.
Looking for flowers online now? Check out some of our favorite picks from some of our favorite online vendors below: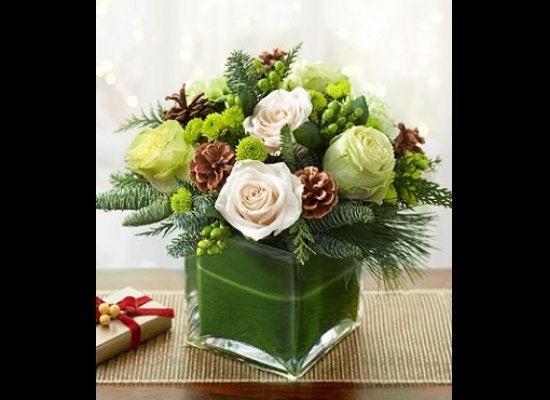 Related