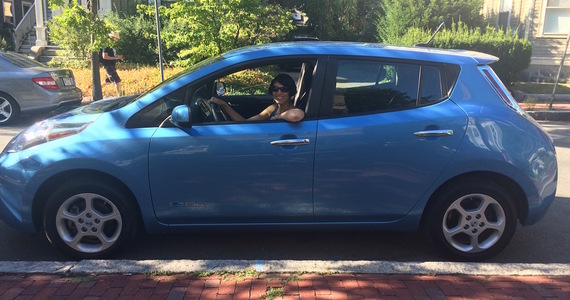 Photo courtesy of Dori Coplon-Newfield
A switch to electric vehicles (EV) can be a smart financial option for drivers, not to mention a better choice than gas guzzlers for the environment. Federal and state tax credits and rebates, in addition to cheaper fueling and maintenance costs, make many of the more than 20 new EVs on the market a wise investment. But used EVs are currently the fastest selling used cars. The 2012-2014 pre-owned EV models cost an average of just $14,495, with many under $10,000. Meanwhile, sales of conventional used cars have recently hit a record average high of $18,800. Now is a great time to be in the used EV market.
In fact, my husband and I just bought a used full-battery EV, a beautiful and fun-to-drive 2013 Nissan LEAF SV. As we deliberated about our purchase, the articles I found about the process of buying a used EV failed to provide the kind of detailed information I needed. So, dear sophisticated reader, I thought I'd do the research myself (with the help of a smart intern) and provide it to you.

Which are the cheapest used EV models?

The used version of the Mitsubishi i-MiEV, with a range of 62 miles per charge, has an average price of about $9,000, the cheapest of all used EVs with similar mileage. Since it's largely out of production now, though, it may be difficult to find. Models with more widespread availability include: the 2013 Smart ForTwo at $10,060 to $11,402 with a range of 68 miles; the 2013 Nissan LEAF S at $10,097 to $13,572 with a range of 75 miles; and the 2013 Ford Focus at $13,000 to $14,000 with a range of 76 miles.
Which used EV models and model years have the longest range?
Far and away, the Tesla Model S sports the best all-electric range with well over 200 miles per charge. Used Tesla Model S cars are pricier: $45,000 to $55,000 for the 2012 and 2013 Model S. Although only available new in California and Oregon, the 2013 and beyond Fiat 500e boasts an electric range at 87 miles per charge. With Level 2 charging (240V), the battery can be replenished in about four hours. For those not on the West Coast, a close runner-up in range is the Nissan LEAF at 73 miles per charge for 2011 and 2012 models, 75 miles per charge for 2013 models, and 84 miles per charge for 2014 and 2015 models. Many say these are conservative estimates in good weather, but in very hot or cold weather, the ranges decrease.
The plug-in hybrid model with the longest range is the popular Chevrolet Volt. Most current used Volts have an all-electric range of 38 miles, but when coupled with a backup gas-powered engine, its total range is 382 miles. Other plug-in hybrid options include the Ford C-MAX Energi with 20 miles of pure electric range (model years 2014 or later) and the Fusion Energi with 19 miles of pure electric range (model years 2013 or later).
How will my used EV fare in very hot or cold climates?
Just like gasoline-powered cars, EVs experience a decline in range in extreme climates. If you live in a region with extreme weather, you may want to opt for a used EV with a built-in active thermal management system. The battery of the Ford Focus Electric has a liquid heating/cooling technology that preserves the optimum temperature of the battery, and the 2013 and beyond Nissan LEAF SV and SL trim models provide thermal management, too. As a New England driver, this definitely factored into my choice.
Will the range of a used EV decrease?
It depends. Range will decrease over time as the battery ages, but at a slow rate. In general, most users can drive around 30,000 miles or about three years before losing the first 10 percent of their range, meaning if the car was able to drive for 100 miles on a single charge when new, the range after 30,000 miles would be 90 miles. But it's worth noting that my three-year-old used LEAF indicated a range of 88 miles (even higher than the estimated original range) when fully charged at the dealership lot. Just as with traditional hybrids, braking and accelerating calmly will allow the EV's regenerative braking system to conserve more electricity, giving you longer range.
Does the EV battery need to be replaced?
Probably not. The EV battery can last over a decade, depending on lifetime mileage and driving habits. Most EV batteries are under warranty for either eight years/100,000 miles or 10 years/150,000 miles. Most used EVs purchased right now will have at least six years left of battery life.

Where can I purchase a used EV?
Typically, dealers selling the widest variety of used EVs are in California, but there is decent inventory in the other states that follow California's Zero Emission Vehicle (ZEV) mandate (Connecticut, Maine, Maryland, Massachusetts, New Jersey, New York, Oregon, Rhode Island, and Vermont). Availability varies greatly by location and automaker. If the used EV make and model you want is not available at a dealership near you, one option is to order online from another dealership and have the car shipped for a price of about $500. In fact, some companies like Boulder's Green Eyed Motors and Chicago's Green Wheels even specialize in importing new and used EVs from other states and selling them. Also, some car sales websites have an "electric" filter ora specific page for EVs, such as at Carfax, Autoblog, and Kelley Blue Book. You can even browse for used EVs on Craigslist and eBay.
Are there tax incentives for purchasing a used EV?
No, only the original registered owner of an eligible vehicle can claim the federal tax credit of up to $7,500 or any state-funded rebate. However, a used EV is nearly always cheaper than a new EV even with incentives factored in.

Which used EVs can charge up the fastest?
One of the reasons I wanted a 2013 or 2014 Nissan LEAF (SV or higher trim), rather than the earlier models, was so that I could access faster charging with level 1 and level 2 charging capabilities. Level 3 fast-charging capability did not come with my LEAF, but one can add it for $700 to $1,000 on all model years of the Nissan LEAF SV and SL and for the 2014 and beyond Chevrolet Spark EV. Fast charging is a standard capability on all model years of Tesla EVs and the Mitsubishi i-MiEV as well as the higher trims of the BMW i3. The Spark EV charges most quickly on a fast charger: 80 percent capacity can be achieved in as little as 20 minutes. The LEAF, i3, and i-MiEV charge to 80 percent capacity in 30 minutes. It may be useful to check out maps of available CHAdeMO chargers and CCS chargers (uncheck all filters except CCS) to see which standard of fast-charging, if any, you can access. Tesla offers Tesla-specific "Supercharger" stations to its customers around the country, but also sells CHAdeMO adapters.

If you have a personal experience buying a used EV, let us know your tips in the comments.
Gina Coplon-Newfield is the director of Sierra Club's Electric Vehicles Initiative. Sierra Club intern Caroline Heilbrun contributed to this article.

Popular in the Community