It's the American dream - having your own home. No longer having the need to pay the landlord. Living on your own terms and decorate it anyway you wish. Have family and friends come over for the holidays and cook outs, or anytime you want.
The thing is that, for most Americans, the American dream still, well, remains a dream.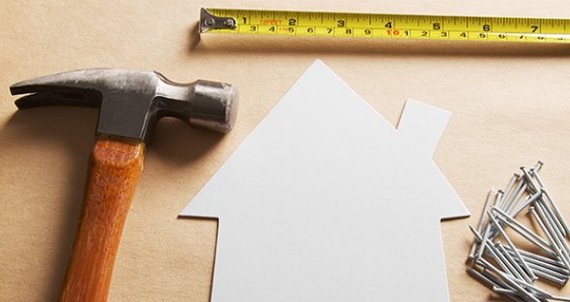 Image Source: Parkbench
The main issue, though, for first time home buyers is saving for a down payment. It's always about getting started that usually takes its toll on most people. Good thing however is that there are mortgage programs that don't really require a 20% down payment, or even a 10% down payment.
Just when saving isn't enough of the hurdles, many would-be homebuyers face yet another hindrance to finally achieving the dream - the ridiculously increasing costs of houses itself. As of the end of 2014, housing prices, while still rising, are not rising as sharply as predicted, and are expected to continue to do so in 2015. So instead of waiting for that dream to come true, what about saving up for it now so you could go ahead with the next steps.
Again, while one may not need a large down payment, they still face the fact that not many people have a spare $100,000 to just go out and buy a house. Wait, make that a spare $175,000 as of October 2014, as the average house price in the United States was at $175,000.
If you don't have the cash on hand to buy a house you will need a mortgage in order to buy that dream house. Many people think that getting a mortgage is a long and laborious process, requiring tons of paperwork, countless meetings with a mortgage advisor, and can take months to be approved.
Getting a mortgage in this day and age is not like that at all. The banks and mortgage lenders have streamlined the process, and also the use of computers, has sped up the process and time frames to be approved. However, there are a few things you need to do, not just to make the mortgage process go smoothly, but to insure when you find that dream home you can buy it.
You need to consider your credit, how much house you can afford, getting approved for a mortgage, and finding that dream home.
Here are four things you'd need to consider:
Review your credit report
In looking to buy a house and obtain a mortgage, one of the first things you should do is to review your credit report. If you are buying a house with your partner or spouse, you need to review both your credit reports.
There are three (3) major credit bureaus, Experian, Equifax, and Transunion. Ideally, you want to get a merged credit report showing all three bureaus. You can also get a free copy of your credit report here. By law you are allowed one free credit report each year.
In reviewing your credit file you want to be sure that all the information on the file is accurate. If there are any errors, you can contact the credit bureau as to their procedure to correct them.
In reviewing your credit file you also want to check as to how your credit history appears. Have you been in arrears with any accounts, do you have late payments showing. In obtaining a mortgage, your credit history is one, but not all of the factors used to approve the loan.
Be sure to get pre-qualified
The next step is to speak to a bank or mortgage advisor and get pre-qualified. Getting pre-qualified is when a mortgage professional looks at your income and all your bills and debts, and determines how much of a mortgage you qualify for. Many banks and lenders have calculators on their web sites to help you do this. This done by using a debt-to-income ratio and also a mortgage payment ratio.
Yes, get pre-approved
Once you know how much of a mortgage you qualify for, you can then get pre-approved. It is possible to combine the pre-qualification process with getting pre-approved. The reason for getting pre-approved is that way you know your loan is a done deal. The only thing that will be left to do is an appraisal on the house. By being pre-approved you are almost like a cash buyer. This helps to avoid disappointment when you find that dream home, allows you to close sooner, and may aid you in beating out other buyers for the same house.
Buy that dream home. Finally!
Now that you are pre-approved, go out and find that dream house by checking all the possible options taking property sites into consideration and get ready to move in!
Okay, finally - move in
One thought to keep in the back of your mind, after all the hard work you have done to get your new home, is that you want to be sure to watch your finances. A report by Buddy Loans regarding "old sofa syndrome" shows how some people find themselves worse off after buying a house. Well, no worries, the Federal Trade Commission offers some additional advice on getting a mortgage, which mainly involves gathering the most information you can so you could more options to compare to.
While having their own house remains a dream for some, taking the first step is always what makes the difference.
PHOTO GALLERY
10 States Where No One Wants To Buy A Home
REAL LIFE. REAL NEWS. REAL VOICES.
Help us tell more of the stories that matter from voices that too often remain unheard.