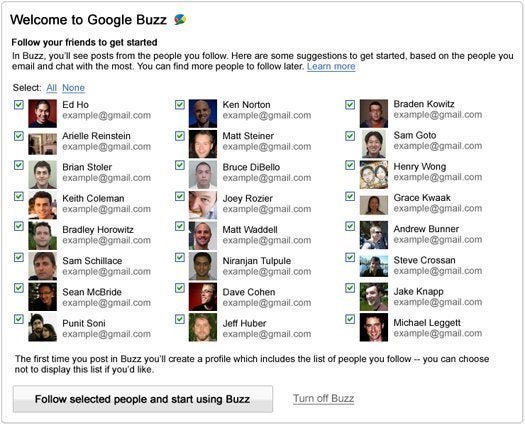 Google product manager Todd Jackson apologized on Saturday for "the concern we've caused" with the roll-out of Google Buzz, and promised a series of significant changes to the company's new social-networking service.
"It's been an exciting and challenging week for the Buzz team. We've been getting feedback via the Gmail help forums and emails from friends and family, and we've also been able to do something new: read the buzz about Buzz itself," Jackson wrote in a blog post. "We quickly realized that we didn't get everything quite right. We're very sorry for the concern we've caused and have been working hard ever since to improve things based on your feedback. We'll continue to do so."
Jackson announced three major changes.
1) Buzz will drop auto-following, and instead suggest people who Gmail users might want to follow when they first sign up for Buzz. "For the tens of millions of you who have already started using Buzz, over the next couple weeks we'll be showing you a similar version of this new start-up experience to give you a second chance to review and confirm the people you're following."
2) Buzz will "no longer connect your public Picasa Web Albums and Google Reader shared items automatically."
3) Buzz will be added to a new tab in Gmail Settings. "From there, you'll be able to hide Buzz from Gmail or disable it completely. In addition, there will be a link to these settings from the initial start-up page so you can easily decide from the get go that you don't want to use Buzz at all."
Read the full blog-post here.
Here's what happened. When Google rolled out Buzz last week they activated an unknown number of users and chose people for them to follow automatically based on who they email most frequently with. Presumably these people had to also be on Gmail. And the list of people you follow is public. Therefore the list of people you email with most frequently is now public. They are now trying to close this hole as quickly as possible. But the damage is done, people have to realize that -- the information was already disclosed. You can close the door after the horse gets out but that doesn't get the horse back.

This never should have happened. But now that it has, it requires a CEO-level apology and statement of contrition and an explanation of what policies he's putting in place to be sure this never happens again.
Support HuffPost
The Stakes Have Never Been Higher
Related
Popular in the Community