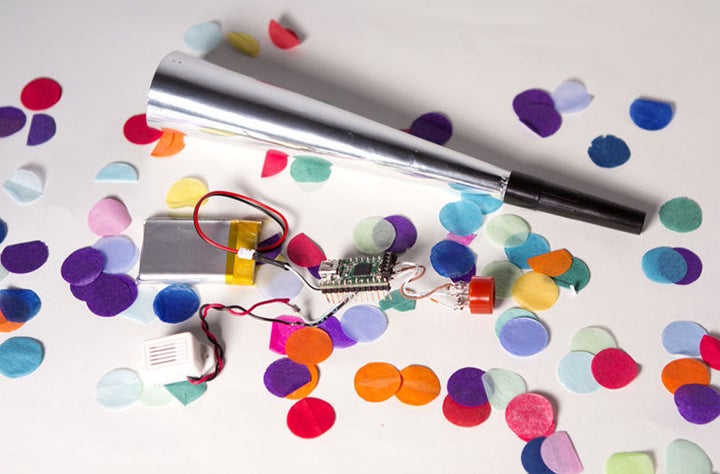 Are you throwing a New Year's Eve party? Still looking for party favors? Do you want to make sure that the people with the noisemakers at your bash are the most obnoxious, rambunctious, degenerate partygoers in the room? Well, boy, do we have some great news for you.
The tinkerers at Simple Switch Labs, based on an idea by Chicago advertising firm Havas Worldwide have devised a party noisemaker called the Buzzed Buzzer that only emits its celebratory sound when the person blowing it is at least a little drunk. The hacked-together party favor resembles a regular noisemaker, and makes noise like one, too.
On the inside, however, it contains some intricate gadgetry, including a breathalyzer, which measures the would-be blowers blood alcohol content when he or she blows.
If alcohol is detected on the reveler's breath, then the Buzzed Buzzer emits its signature noise; if not, it stays silent, and the blower is left to hunt down the tequila.
Here's a brief video advertisement for the Buzzed Buzzer, which should give you an idea of what the inventors are going for:
The Simple Switch website explains more precisely how the Buzzed Buzzer works: If the small breathalyzer packed within the noisemaker detects the "presence of alcohol" it will allow the sound to pass through. It's not a threshold measurement -- in other words, you don't need to attain a minimum BAC in order to operate the Buzzed Buzzer; rather, you just need to score anything but a 0.0 in order to successfully blow.
For those who aren't inebriated, "[y]ou can just swish something in your mouth," the Buzzed Buzzer webpage says, "and it will still work."
If you've procured the champagne and the party hats and the balloons, and you have some time before you welcome your first guests, then you can do a little hacking and make sure only the merriest of your guests get to ring in the New Year, passing out Buzzed Buzzers to all of your tipsiest invitees.
And when they're able to make noise on the Buzzed Buzzer? Take away their car keys. Because you're drunk enough to blow into a breathalyzer-operated New Year's noisemaker to see if you can make it sound, you're probably too drunk to drive.
CORRECTION: A previous version of this article indicated that the Buzzed Buzzer was invented by Simple Switch Labs. It was actually only fabricated by Simple Switch Labs, while the idea came from Havas Worldwide.