You've got a brilliant idea, a skilled team and you're ready to grow your startup into the next big thing. Time to look to VCs and investors for funding.
If this is the first time you've pitched your business idea for funding purposes, preparing your presentation can be an intimidating task. But it doesn't need to be daunting if you choose to follow the lead of startups with successful fundraising track records.
Based on an analysis of some of the most successful startup pitch decks of all time, here are five essential elements you should consider when building your pitch deck.
1. Start strong - Hook your audience from the first slide
First impressions are important, and this is particularly true when pitching to a bunch of potential investors. These guys often hear thousands of pitches a year, so they want something that captures their attention from the word go.
According to Sequoia Capital, the giant US venture capital firm, 'Use the first 5 minutes to earn the investor's attention for the next 15 minutes, which in turn will interest the investor enough to listen for another 30 minutes.'
Whether it's a bold message or a compelling story, the first couple of slides need to hook them in.
Manpacks, a subscription service for manly essentials, uses humour in their deck to capture investor attention and stand out from the crowd. They raised $500,000 with this memorable deck.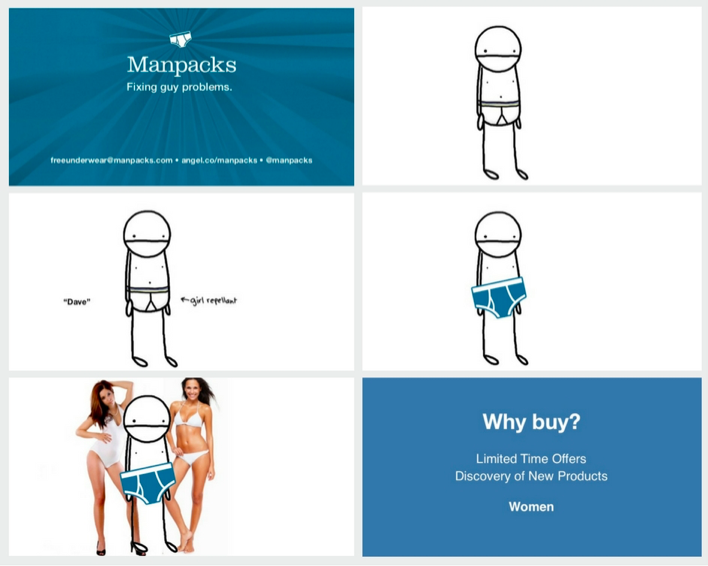 This deck used by Ooomf (now Crew) to raise $2 million kicks off the pitch by presenting an example of a common consumer problem in the freelance marketplace, followed by a simple and encouraging message: Average is over. Their deck is well-designed and flows nicely.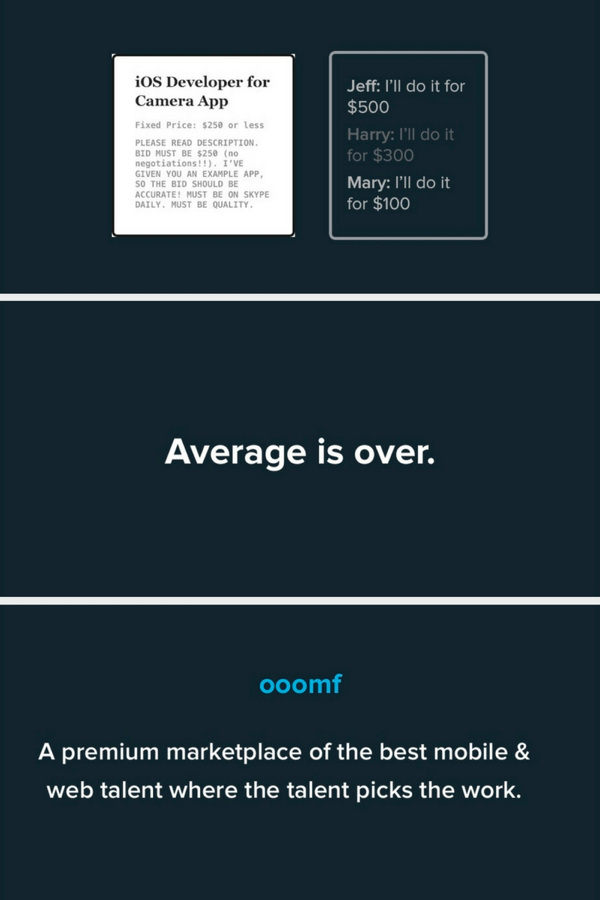 2. Keep it concise and to the point
When pitching to investors and VCs, your time is limited. Assuming you've managed to capture their attention, you now need to present your most crucial points while maintaining their interest. This requires simplifying your product and condensing a lot of your company information.
'A normal human being cannot comprehend more than ten concepts in a meeting—and venture capitalists are very normal', says famous investor, advisor and author Guy Kawasaki. Kawasaki has devised the 10/20/30 rule, which says a pitch should have ten slides, last no more than twenty minutes, and contain no font smaller than thirty points.
Lauchrock, a business which enables startups to easily launch landing pages, doesn't adhere strictly to the 10 slide rule however they do keep their deck succinct and to the point.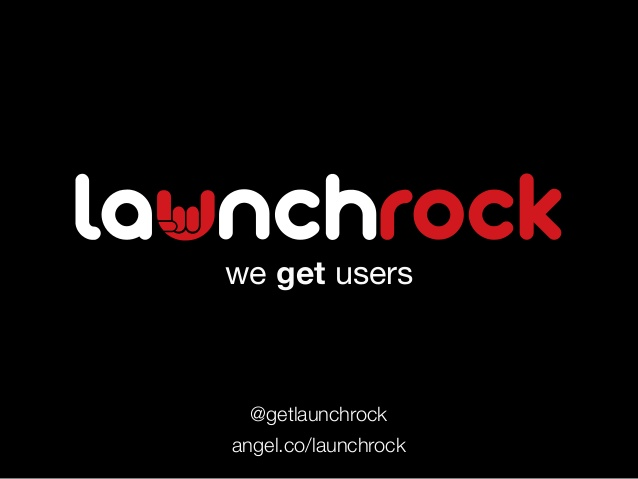 Another example of 'less is more' is Vettery's 9-slide deck that raised them $9 million.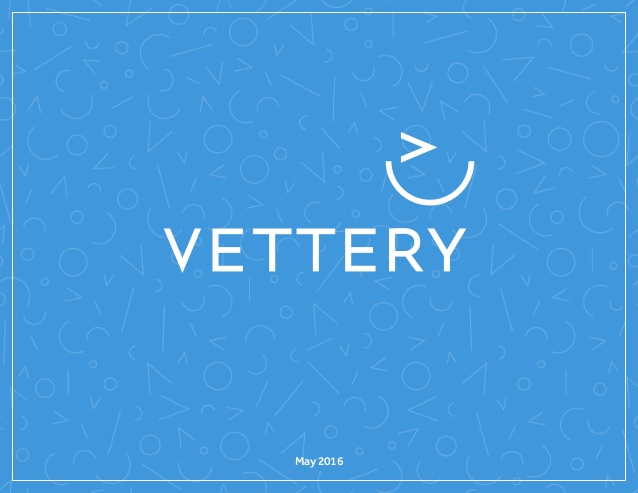 The design of the pitch deck is also important. Well-designed slides not only assist in conveying a professional image, they also improve the ease with which the information is digested.
Decks that include simple, uncluttered slides tend to be memorable and have more impact, such as this one by Iconfinder, a company that provides icons to designers and developers.

3. Present a clear problem and solution
Clearly articulating the problem will leave investors wanting to know how you're planning on solving it. And the more relatable and 'painful' the problem the better.
The AirBnB pitch deck, which has become a reference point for entrepreneurs all around the world, hooks the audience in the first few slides with their clear and succinct problem and solution. From the very start we know (and can relate to) their problem, and are intrigued by the solution they offer. We want to know more.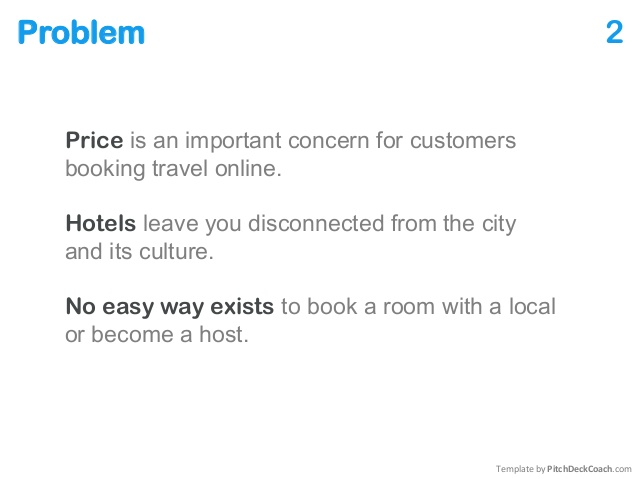 If you're able to make your problem into a compelling story, just as AirBnB does in their problem slide, your pitch is likely to be more memorable to investors. A story, particularly one that we can connect to emotionally, is going to stick in our mind a lot longer than facts and figures. And naturally we're going to want to know the solution.
Mixpanel, an advanced web and mobile analytics platform that raised $65 million as a result of their pitch, presented clear problems and their solution in the first slides of their deck: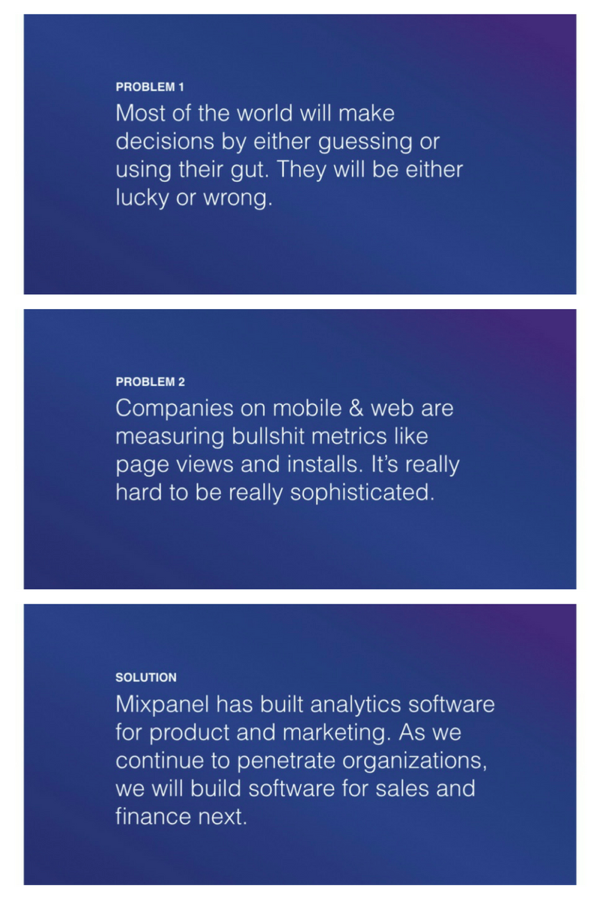 SaaS startup Front clearly outlines the problem and solution in this deck, which helped them raise $10 million.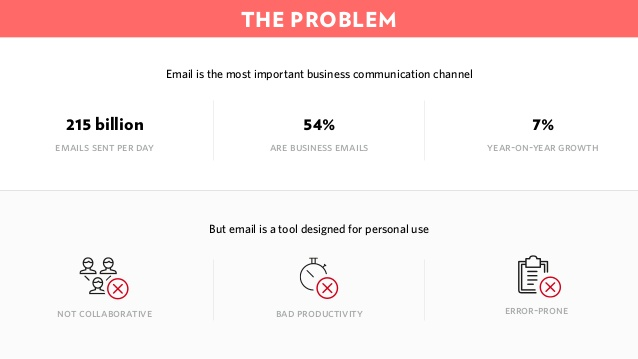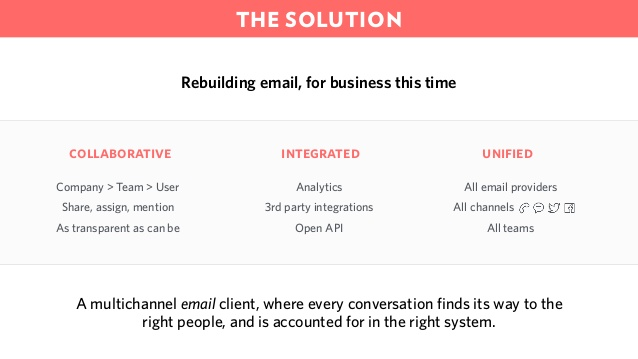 Once you've made your value proposition clear to your audience, they're going to want to know how big your potential market is. Being able to capture 60% of the industry is only interesting to investors if the industry is big enough be lucrative.
Fittr, a startup that creates custom fitness workouts, makes their message clear in this slide from their deck.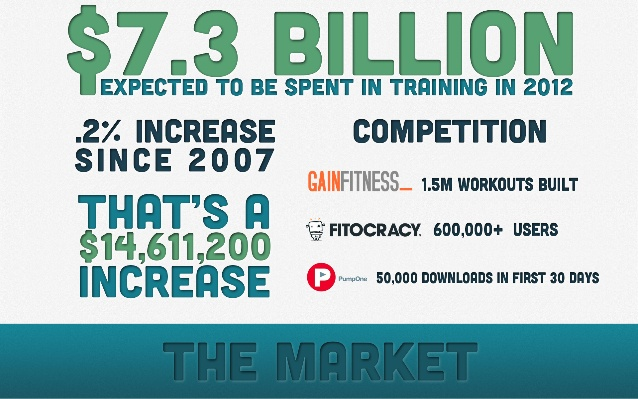 As did virtual meal manager Chewse: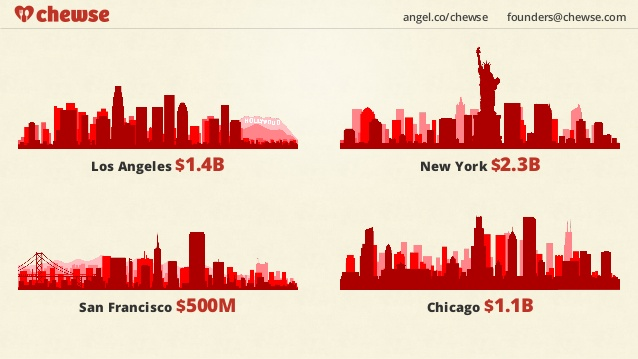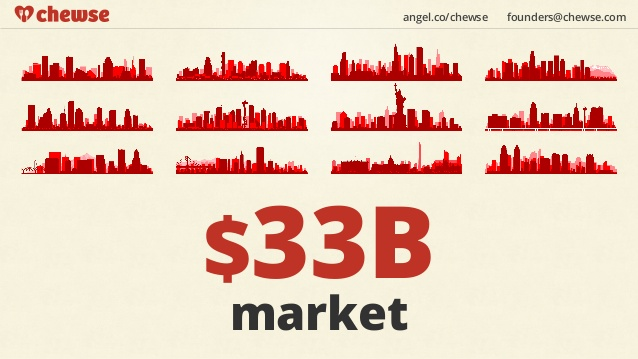 Knowing your market also refers to being transparent about who your competitors are.
Being first to market is rare, so it's natural that you're going to have competition. Even the biggest success stories in the startup world make mention of competitors in their pitch, showing potential investors that they've done their research and have a depth of knowledge in their specific market.
Mixpanel's 'Competition' slide is transparent about who they're up against.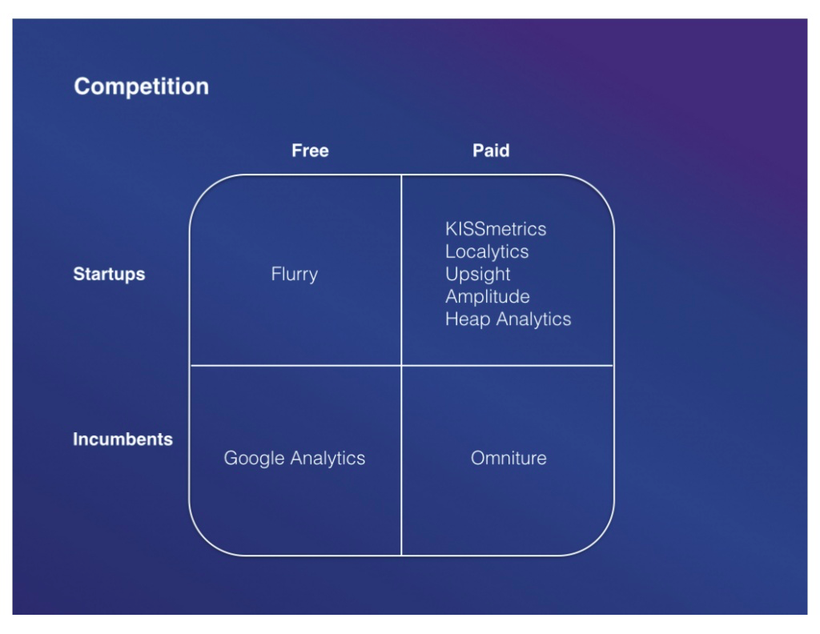 Use the competitive landscape to your advantage to demonstrate that your product is going to offer something that the competitors aren't, just like Front does: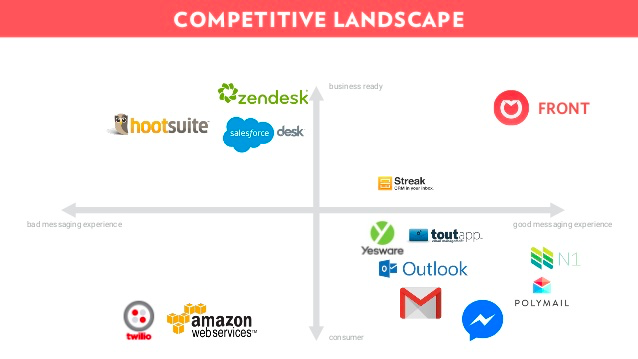 Mentioning competitors and where you sit in relation to them can also help clarify your value proposition, such as in the case of Buzzfeed: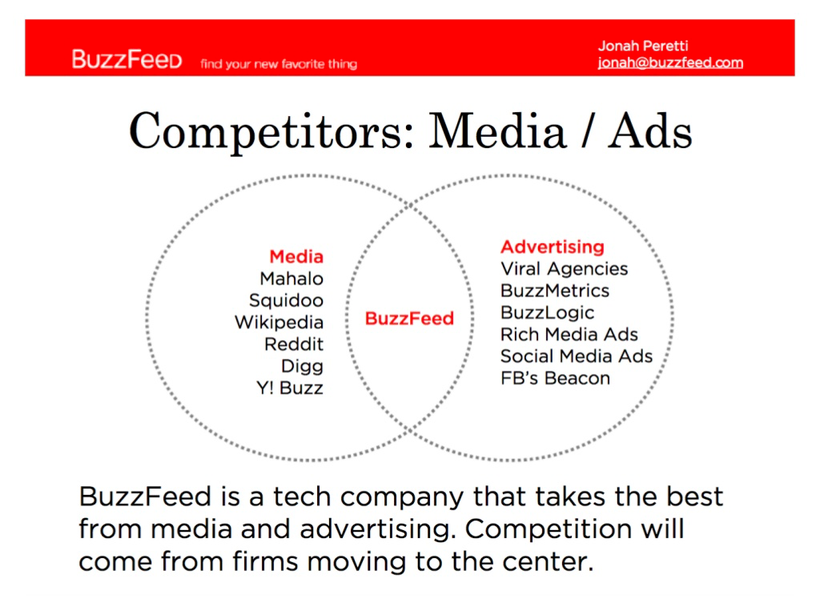 5. If you've got it, flaunt it - Include solid figures/evidence of traction
If you have social proof or hard numbers to show that your business is already getting traction, include it in the deck. Investors may like your idea but they'll love it if you can show them that you've validated it with the public.
Buzzfeed, who to date have raised $240 million, start their pitch with big numbers and reference some major players like CNN.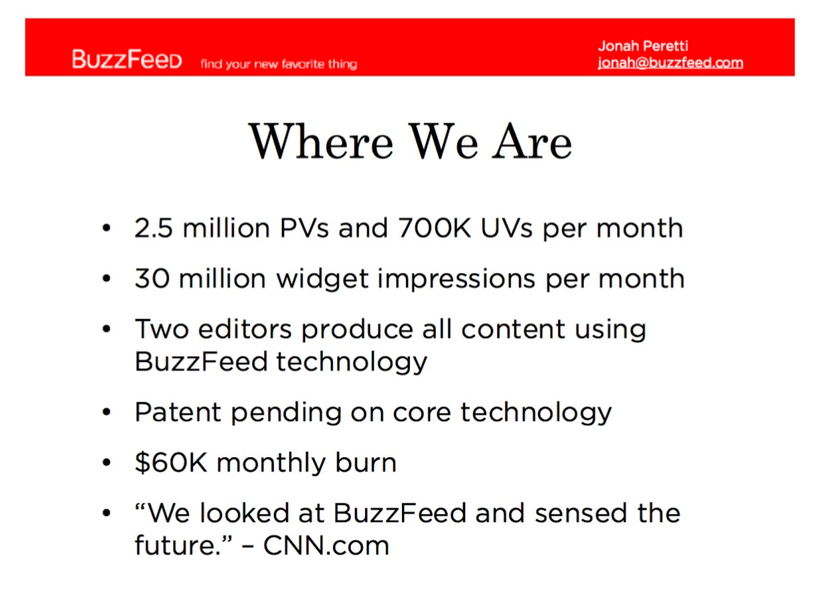 Another example of using solid numbers can be seen in the Buffer pitch deck, which got them half a million dollars in investment: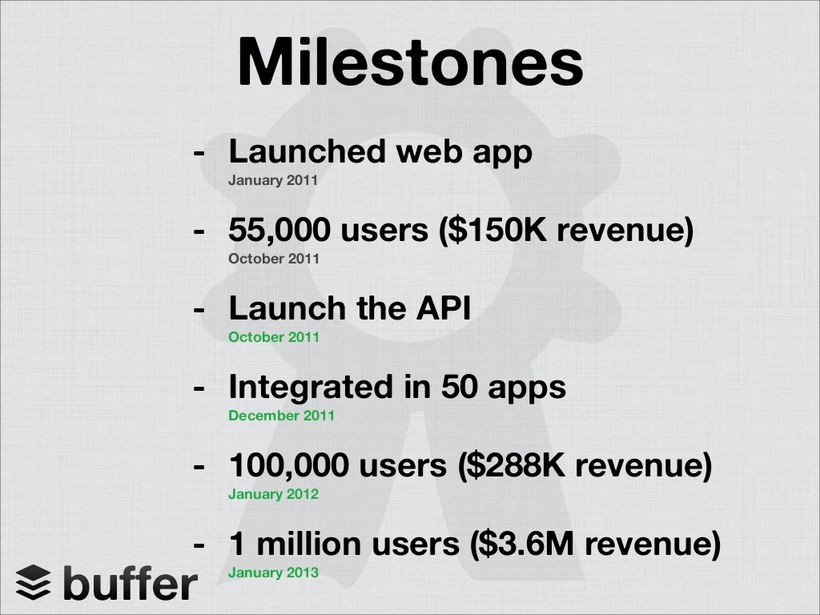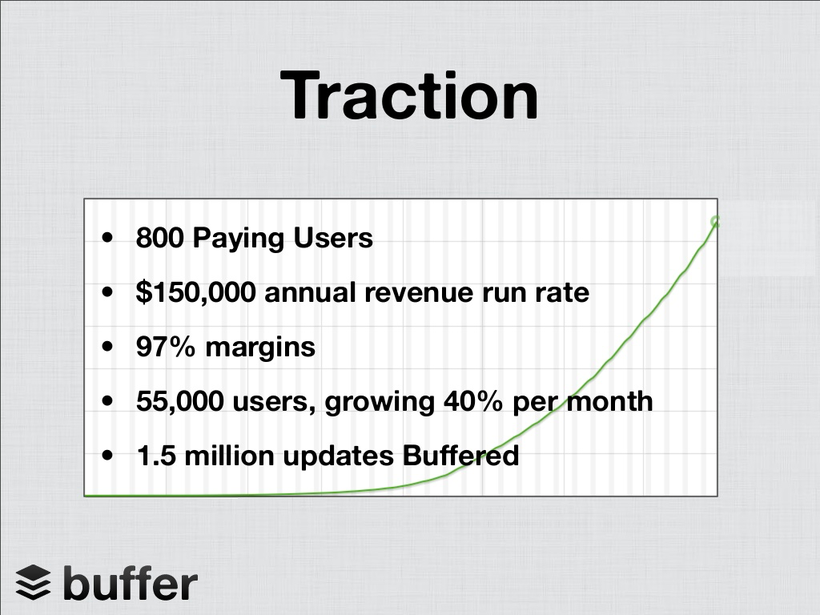 MapMe, the company enabling users to make universally accessible maps, raised $1 million with their pitch, in which they showed their success using social proof and the traction surrounding going viral on social media.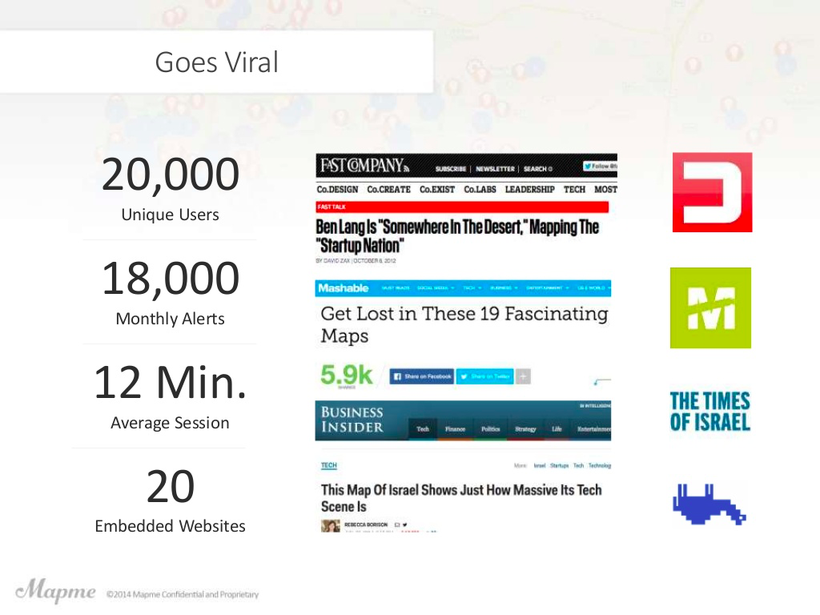 There you have it. Pitch deck design tips gleaned from the decks of some of the world's most successful startups.
Bringing it together - here's what they have in common:
Hook your audience from the very beginning - start strong!
Keep your presentation short and succinct, and make sure it looks good.
Present a clear problem and solution,
Be transparent about your market landscape (industry size and competitors).
Include any solid data or social proof you've already got.
Convey a bit of your personality in your pitch.
Remember, on the day of your pitch try to gauge your audience and present accordingly. Teaming creativity, individuality and a sense of humour with quality deck content makes for an epic pitch.
REAL LIFE. REAL NEWS. REAL VOICES.
Help us tell more of the stories that matter from voices that too often remain unheard.
This post was published on the now-closed HuffPost Contributor platform. Contributors control their own work and posted freely to our site. If you need to flag this entry as abusive,
send us an email
.