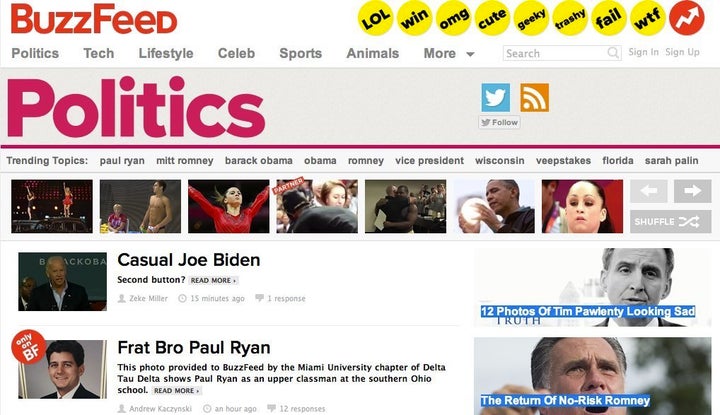 For BuzzFeed, the upcoming Republican and Democratic conventions will offer another opportunity to boost its brand in the political world.

"We're the new kids this cycle and this is the first convention we've covered," Smith told The Huffington Post. "There's still curiosity about what we are. We're still introducing ourselves."
Smith joked that the conventions will also allow BuzzFeed to prove that reporter Andrew Kaczynski, known for digging up obscure political videos on the Internet, "is not a robot."
Given BuzzFeed's habit of posting soon-to-be-viral videos of cuddly critters, the site will cater to political animals flocking to Tampa and Charlotte with a healthy dose of politics and animals.

On Sept. 4, during the Democratic Convention, BuzzFeed is hosting a "Party Animals"-themed event at the Charlotte Discovery Place, which boasts a rainforest room, a 3-D theater, and an aquarium space that will serve that night as a bar and lounge. The menu will be southern-inspired and includes grits spoons, mac & cheese lollipops and BLT shots.
"If you ever looked at BuzzFeed, our ambition is to do news and entertaining content in a way that people like to share," Smith said. "That certainly includes political coverage and certainly includes animals."
Several other news organizations are also putting their own stamp on the conventions through lavish parties or themed locations in Tampa and Charlotte.
The Huffington Post is setting up an "Oasis" near the convention halls where attendees "can unplug and recharge with yoga, massages, facials, reflexology and healthy food." Politico is creating a "Lounge" for watching evening speeches and drinking cocktails, as well as a "Hub," which will be the location for live events and shows and includes a Coca-Cola-sponsored "Refresh Station."
CNN is once again firing up its "CNN Grills," which serve as both broadcast center and restaurant featuring customized menus for each city, an 8-foot touch-screen wall, and photo booths.
Aquarium parties aside, BuzzFeed will be sending about 10 staffers to cover the conventions. And Smith -- like other editors overseeing coverage of a heavily scripted four-day spectacle -- hopes to go beyond covering the main event.
"I think the way you cover conventions is not by just writing about the infomercial," Smith said, adding that the gatherings are "a great place to get a hold of interesting people and write about what these parties and candidates want and what the internal conflicts are."
BuzzFeed will also be partnering with The New York Times to livestream video from the conventions, which should provide another opportunity to promote its political reporting to a wider audience.
"Every political cycle, one or two outlets get to be the new kids and break through," Smith said. "I know we've tried to do that this cycle."
Related
Popular in the Community