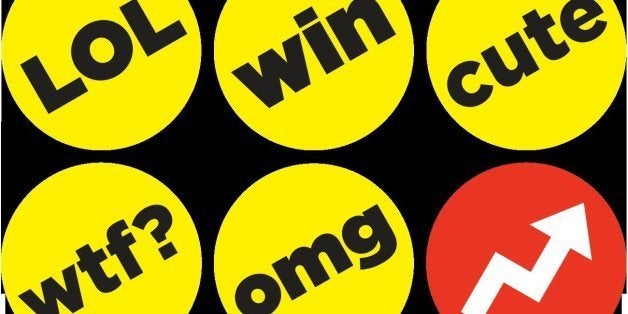 It's one of the cardinal rules of journalism: Once you publish something, there's no taking it back (at least not without a correction, and never without including the original material).
On Thursday, the online outlet took down a post critical of Dove -- whose parent company, Unilever, is a major advertiser -- leaving a notice that explained, "We pulled this post because it is not consistent with the tone of BuzzFeed Life." The original post criticizes the beauty manufacturer's latest ad campaign, which asks women to walk through a "beautiful" or "average" door; the women who walk through the average door are then criticized for their decision.
"Dove has a long and fabled history of experimenting with the shame women feel about their bodies and posturing that they are the way out of it," BuzzFeed writer Arabelle Sicardi said in the original post, which is available on the WayBack Internet archive.
BuzzFeed Life editors Emily Fleischaker and Peggy Wang addressed the incident in an email to staff, saying the post was taken down because, "When we approach charged topics like body image and feminism, we need to show not tell." Basically, it seems Fleischaker and Wang took exception to the post because it advanced a point of view.
Perhaps the problem just needs to be illustrated in a way the lolcat editors at Buzzfeed editors can understand: Taking down posts you don't like after you've published them is a journalism

.
Full statement from Fleischaker and Wang below:
Hi guys!

Just wanted to let you guys know that we ended up pulling the piece that Arabelle wrote about the most recent Dove ad campaign, which spawned from an interesting conversation we had in the Life Slack.

When we approach charged topics like body image and feminism, we need to show not tell. (That's a good rule in general, by the way.) We can and should report on conversations that are happening around something that we have opinions about, but using our own voices (and hence, BuzzFeed's voice) to advance a personal opinion often isn't in line with BuzzFeed Life's tone and editorial mission.

This is not something we or Ben have made as clear as we need to. We've never had to pull a post before, and it's something that came with a lot of back-and-forth debate. In other words, it wasn't an easy decision. But it is where we ended up at when thinking more about our editorial mission and how we can further chip away at what we do and what we don't do.

The main takeaway is: When we write about news-related topics revolving around class, race, and feminism and other heated topics, it's important that we show the conversation that is happening, or find other people who can give smart and valid quotes to make the point, or, ideally, add to the conversation with something substantively new. BuzzFeed Life has had such a huge positive impact on people's lives by communicating our values in a fair and demonstrative way, rather than telling our audience how to think and feel.

We are more than open to discussing this and want to hear your questions, and we are grateful to Arabelle for identifying a topic so emotionally charged for women and giving us a reason to have these important conversations.

—Peggy & Emily
UPDATE (4/10/15 1:51 pm):: BuzzFeed Editor-In-Chief Ben Smith has apologized on behalf of the publication and reinstated the post in question. "I blew it," Smith wrote in an email to staff. "Twice in the last couple of months, I've asked editors — over their better judgment and without any respect to our standards or process — to delete recently published posts from the site. Both involved the same thing: my overreaction to questions we've been wrestling with about the place of personal opinion pieces on our site." Smith denied that the stories were removed because they criticized advertisers.

UPDATE (4/13/15 8:22 pm.): Buzzfeed writer Arabelle Sicardi has left Buzzfeed, she announced on Twitter.
In a staff note obtained by Gawker, BuzzFeed Style editor Julie Gerstein explains Sicardi's departure:
From: Julie Gerstein
Date: Mon, Apr 13, 2015 at 5:25 PM
Subject: News about Arabelle Sicardi
To: Editorial

Hey everyone,

Just wanted to send a note out to let you guys know that sadly Arabelle has decided to move on to pursue other ventures. We are deeply sad to see her go, and will miss her, but we know she is going to do amazingly cool projects and insightful, passionate work in the future. Her last day will be April 24, so come say hi and hang until then!

Popular in the Community