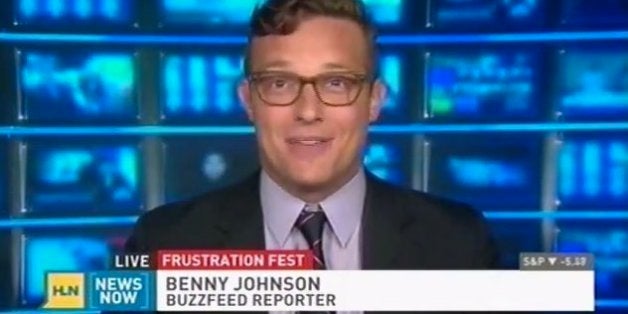 UPDATE: July 26, 12:10 a.m. -- BuzzFeed has fired viral politics editor Benny Johnson, saying it had found "40 instances of sentences or phrases copied word for word from other sites," editor-in-chief Ben Smith wrote Friday night in an apology to readers.
Earlier:
NEW YORK -- BuzzFeed is reviewing the work of viral politics editor Benny Johnson after acknowledging that "instances of plagiarism" were found in his writing.
Two Twitter users, @blippoblappo and @crushingbort, offered examples Thursday of Johnson appearing to reword or lift passages directly from others' writing. In one instance, Johnson described the London Blitz using the exact language used by a writer on Yahoo! Answers. BuzzFeed has since changed Johnson's piece and acknowledged the lack of attribution.
Still, BuzzFeed editor-in-chief Ben Smith defended Johnson on Thursday, telling Gawker's J. K. Trotter that he's "one of the web's deeply original writers."

On Friday, @blippoblappo and @crushingbort posted several more examples of Johnson appearing to slightly tweak information found on Wikipedia, or again lifting words outright. In one BuzzFeed post, Johnson used the exact wording in reference to Secretary of State John Kerry's trips to Syria as found in an earlier National Review article.
"There are serious instances of plagiarism in this post," Smiths said in a statement Friday. "We're reviewing Benny's work."
Johnson joined BuzzFeed in 2012 from Glenn Beck's The Blaze and also previously wrote for Breitbart News. He has written 523 posts for BuzzFeed.
BuzzFeed has faced plagiarism charges before, and recently conducted an internal review to make sure earlier content included proper attribution.
Gawker's Trotter recently reported how some old BuzzFeed posts had gone missing. A BuzzFeed spokeswoman told Gawker that, following a review, "certain items published no longer met our editorial standards." For that reason, she said, BuzzFeed "edited some posts, removed certain post and left other posts as is."
Smith told HuffPost that none of Johnson's pieces were among those recently edited or deleted as part of that review.
BuzzFeed was on the other side of a plagiarism controversy last November, as reporter Andrew Kaczynski detailed several examples of Sen. Rand Paul (R-Ky.) plagiarizing others' work.
UPDATE: 3 p.m. -- The Huffington Post found another example of Johnson appearing to quote directly from a Wikipedia entry without attribution.
In an April 2014 post on life at Fort Hood, Johnson wrote:
"Fort Hood was founded because the Army needed a wide-open space to test and train World War II tank destroyers. The War Department announced the location in January 1942."
"Its origin was the need for wide-open space to test and train with World War II tank destroyers. The War Department announced the location in January 1942…"
Jason Cherkis contributed reporting.
REAL LIFE. REAL NEWS. REAL VOICES.
Help us tell more of the stories that matter from voices that too often remain unheard.