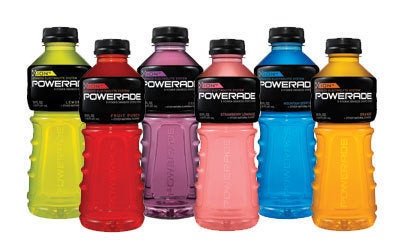 Last month, after a flurry of consumer complaints, PepsiCo Inc. removed brominated vegetable oil (BVO) from its Gatorade drinks. BVO, which is patented as a flame retardant, was used in the drinks as an emulsifier. The company said that the ingredient was used to distribute flavoring evenly so that it didn't collect at the surface of the beverage.
While Kavanagh said she was pleased that Gatorade removed the ingredient, she wasn't done. The 15-year-old has now helped start another petition to encourage Coca-Cola to remove BVO from its sports drink, Powerade. Kavanagh has teamed up with Atlanta resident Aveyca Price (Coca-Cola is headquartered in Atlanta).
I live north of Atlanta, the home of the Coca-Cola Company, so I am local and it's crazy to know that every time I see a delivery truck at a gas station or supermarket, bottles of potentially harmful chemicals are lining the shelves. It's crazy to know that I have to be paranoid and check every sports drink and soda to make sure I'm not putting any toxins in my body, when I shouldn't have to do this nor anyone else because there shouldn't be harmful chemicals in a drink to begin with.
So far, more than 49,000 people have signed the petition.
"I don't understand why Powerade is fighting to keep BVO in its sports drinks when Gatorade, Vitamin Water and BodyArmor will not use it," Kavanagh said in a statement released by Change.org. "It should be easy for Coca-Cola to remove it from Powerade and regain some of the trust so many consumers have lost in this company."
Coca-Cola spokeswoman Lauren Thompson told HuffPost that Powerade "has an uncompromising commitment to product safety and quality. All of its ingredients, including brominated vegetable oil (BVO), comply with all regulations." Thompson noted that only two of the Powerade flavors, Fruit Punch and Strawberry Lemonade, contain BVO.
"We use BVO in these two flavors to improve stability and prevent certain ingredients from separating," Thompson said.
Molly Carter, a Gatorade spokeswoman, said the company did not have any comment on the new petition regarding Powerade.
Despite growing concern surrounding the controversial ingredient, it's possible that the health risks may be overblown. In a blog for HuffPost Healthy Living, Dr. David Katz, the director of the Yale Prevention Research Center, said that BVO has been used in soft drinks since the 1930s. He wrote:
It's true that BVO can be used in a flame retardant, but I'm not sure how relevant that really is. Elements that are an essential part of the human body can be mixed in some pretty toxic combinations as well. Some of what we are made of can be used to make pesticides, for instance, all depending on doses and what else is in the mix. The human body contains quite a bit of chloride -- derived from the same element used to disinfect our swimming pools.

Is BVO actually dangerous? Possibly. Reviewing the relevant literature, I could find only one case of harm linked to bromine in soft drinks, reported in 1997. A man consuming two to four liters a day of citrus-flavored soft drinks developed a neurological condition due to bromine excess. He was eventually diagnosed, treated, and recovered.
For those concerned about BVO, Katz offers a reasonable suggestion that might solve the issue altogether and may help with other health issues as well: Just drink water instead. Coca-Cola may not be so happy with that resolution, though.
Read the full petition here.
This story has been updated with a statement from Coca-Cola.