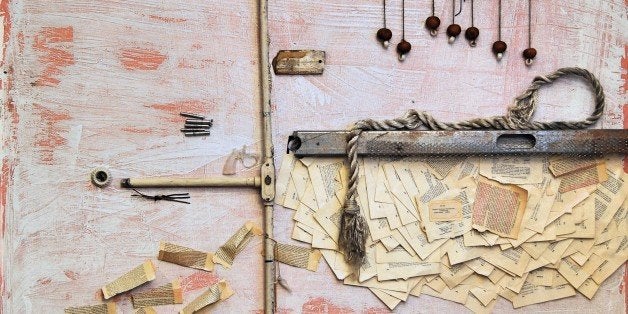 Red Hook is fast becoming worthy of its surname, with many attractions that have hooked New Yorkers and tourists alike to this historic Brooklyn seaside enclave. The neighborhood has the feel of a rusty Montauk, bathed by the waters of the lower bay and vistas of low-slung factories, cobble stone streets and docks that stretch out nearly close enough to grasp the raised arm of the Statue of Liberty.
Ancient fishermen still cast their lines with the durability of rent-controlled tenants. Longshoremen long for better days. IKEA and Fairway serve as tent pole merchants beside all those beachy bars and seafaring watering holes. The water taxi makes a pit stop in the sweet spot between Governor's Island, Red Hook and the Statue of Liberty herself.
In such faraway places of lower rents and beaten paths artists usually dwell, as well. And since 1978, the Brooklyn Waterfront Artists Coalition ("BWAC") has been curating spectacular art shows featuring local and outside artists that have drawn the attention of savvy collectors and dealers scouting new talent. A quarter of a million people have visited these exhibitions since 1978.
Back in 1978, BWAC was comprised of just 16 artists. Before Hurricane Sandy turned Red Hook into the City of Atlantis, over 400 hundred artists showcased their work in the gorgeous 25,000 square foot, Civil War-era warehouse, reconfigured into galley space, on the pier overlooking the water at the very tip of Van Brunt Street.
Red Hook has since recovered, but half of those artists, who lost their homes and their work, fled to drier ground. Today the community is back up to 300 artists, according to BWAC's co-president and longtime leader, John Strohbeen.
And three times a year (spring, summer and fall), the BWAC art show opens to large crowds of Red Hook aficionados and those making maiden voyages to this blue collar beach of ruddy-faced men, millennials with their young families and hipsters priced out of Williamsburg.
This summer's show, which opened on Saturday, features a number of impressively eclectic and arrestingly visual pieces in every imaginable artistic medium -- paintings, sculpture, photography, collage, mixed and multimedia -- displaying the kind of range that makes BWAC the vanguard of Brooklyn's art scene.
To the extent that there is a running theme, the City of New York, with its iconic landmarks and indelibly impressionistic neighborhoods, is re-imagined in the gallery space even as the Statue of Liberty lingers like a postcard in the framed window. The busy brick walls enhance the urban motifs of New York's gritty streets and infinite cool.

Jeff Watts' photography is a valentine to a New York noir where rainy streets and the spider-web cables on the Brooklyn Bridge cast shadows worthy of Gotham City. Marybeth Zeman's photography is less painterly but brings a steady authenticity to otherwise familiar landmarks of the city. The Brooklyn Bridge and neighboring vessels are given impressionistic panache in the red-hued paintings of Tiziana Mazziotto, and her expressionistic side is also on display with mixed media slabs of copper and gold paint that give the canvases the look of heavy industry.
An entire wall devoted to Razi Mizrahi's large industrial collages of artifacts found on the streets of the city -- plumbing pipes and steel beams, piano keys and rusty chains, book pages and house paint -- re-purposed and renewed on one of her canvases makes for a clever and captivating re-invention of urban life.
The show is well worth the trip to Red Hook, and worthy of this enchanting setting, with a fine, sharp-eyed curatorial consistency. It's free and open to the public, weekends until August 14th, from 1-6 pm.
BWAC Art Gallery
499 Van Brunt Street, Red Hook, Brooklyn
Image: Razi Mizrahi, "Book Wrench," from the series, Urban Undress, metal, iron, steel, book scraps, paper, screws, rope, tree bark, leather, house paint on canvas, 6' x 6'.
Related
Popular in the Community