Large privately held companies are more profitable and are growing revenues faster than publicly traded companies in the United States, according to Sageworks, a financial information company.
Private held firms with more than $500 million in annual sales had an average net profit margin of nearly 10 percent in the 12 months ended April 27, based on a financial statement analysis of these firms. The average net margin for publicly traded U.S. firms was nearly 8 percent during the same time period, according to Sageworks' analysis.
In the same time period, large private companies also outpaced publicly traded firms in revenue growth, growing sales at a double-digit pace for the fifth straight year. Large private companies' sales increased approximately 12 percent in the 12 months ended April 27, compared with about an increase of about 8 percent for the public companies.
Sageworks analyst James Noe explained that it's not always fair to compare the financial performance of private and public companies.
"Public companies are, in many cases, massive organizations with huge revenue numbers," he said. "It can often be easier for smaller private companies to grow revenues at a breakneck pace and keep margins high, because they're dealing with smaller overheads and smaller figures overall."
Sageworks restricted the dataset to firms with more than $500 million in order to provide a more apples-to-apples comparison between the public and private firms, Noe said.
"When you look at the larger private companies exclusively, we're seeing that their profit margin performance and revenue growth is significantly stronger than publicly traded companies."
This stronger performance from large private firms isn't just a flash in the pan. In fact, during the last five years, the difference in average annual sales growth between public and large private firms has ranged from about 4 percentage points to more than 10. The private companies' profitability has outperformed that of public companies through the years, too, but by a narrower margin.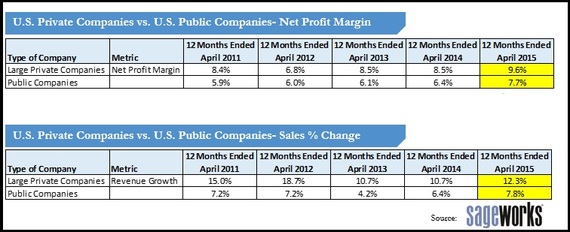 To analyze the public and private firms, Sageworks compared results from large, private companies in its database with data from Mergent on all public firms for five comparable 12 month-periods ended Aug. 14. Through its cooperative data model, Sageworks collects and aggregates financial statements for private companies from accounting firms, banks and credit unions. Private-company net profit margin has been adjusted to exclude taxes and include owner compensation in excess of their market-rate salaries. These adjustments are commonly made to provide a more accurate picture of private company operational performance.
Noe cautioned against the conclusion that publicly traded firms are struggling: "Publicly traded companies are seeing their highest net margins and fastest rate of revenue growth of the past few years," he said. "The majority of businesses in the U.S., regardless of whether or not they're publicly listed, are in sound financial shape."
Another telling fact about the differences between public and private companies is that researchers from Harvard and NYU, using data from Sageworks in a separate analysis of public- and private-company data, found that public firms invest less and are less responsive to changes in investment opportunities. That's particularly the case in industries for which stock prices are most sensitive to earnings news.
The financial performance of private companies is important because nearly all of the almost 28 million businesses in the U.S. are privately held. In fact, publicly traded firms make up less than one percent of the 6 million firms that even have employees. The Harvard and NYU researchers estimated that in 2010, private U.S. firms accounted for 52.8 percent of aggregate non-residential fixed investment, 68.7 percent of private-sector employment, 58.7 percent of sales, and 48.9 percent of aggregate pre-tax profits.
Even among the biggest U.S. companies, private owners dominate. Five out of 6 U.S. firms with more than 500 employees were also privately held, according to the researchers.
Calling all HuffPost superfans!
Sign up for membership to become a founding member and help shape HuffPost's next chapter