According to Accenture's 2017 Technology Vision Report, Artificial Intelligence (AI) will define the future of customer experience by becoming your company's digital spokesperson. And as AI assists companies to create and maintain a consistent brand experience, it will greater opportunities for products, service, and most importantly business model innovation. AI could double the annual economic growth rates by 2035, this according to Accenture, creating a digital economy where every business is an AI-powered business.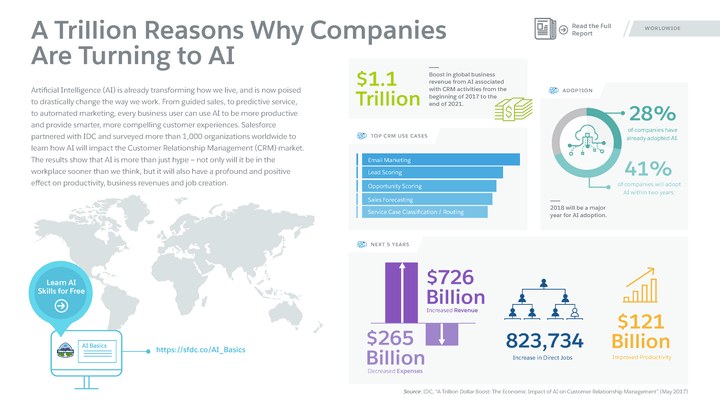 To further understand the economic impact of AI, Salesforce commissioned a report from IDC on how AI will impact CRM - the fastest growing and soon-to-be largest category of enterprise software. Here are the key findings:
AI associated with CRM activities will boost global business revenue from the beginning of 2017 to the end of 2021 by $1.1 trillion.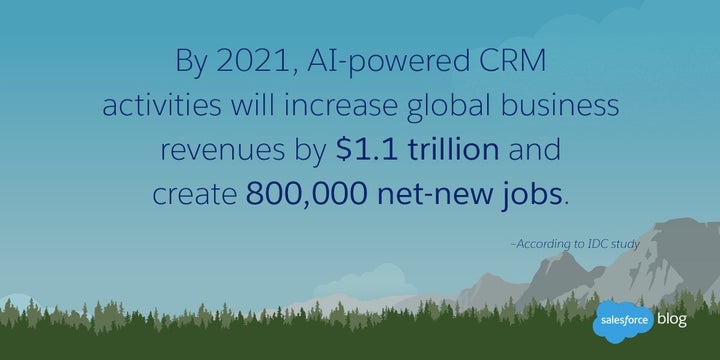 Net-new jobs associated with this revenue could, if respondent opinions bear out, reach more than 800,000 by 2021 in direct jobs, and 2 million if you add in indirect and induced jobs. This is a net-positive figure in that it includes an estimate of jobs lost to automation from AI.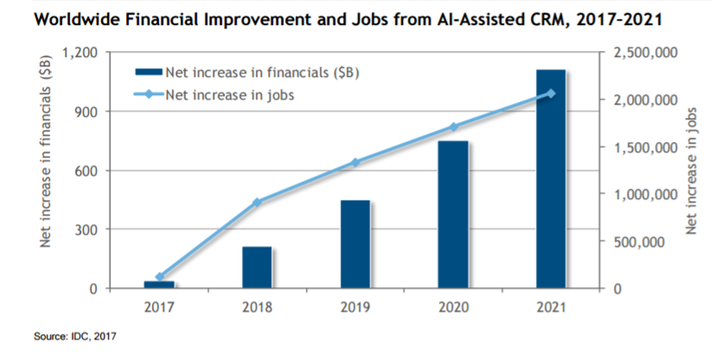 Salesforce customers should account for $293 billion of the total aggregated revenue and more than 390,000 of those jobs by the year 2021.
IDC's AI/CRM Economic Impact Survey, 28% of all respondents said their organizations have already adopted AI and another 41% said they will adopt it within two years. In addition, 34% of Salesforce customers report they are AI adopters. The year 2018 will be a major year for AI adoption.
IDC's forecast for cognitive and AI systems calls for the global market to jump from $7.9 billion last year to $46.3 billion in 2020.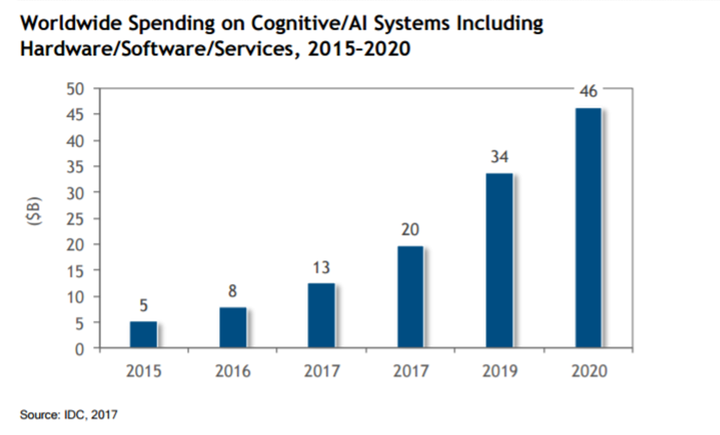 Research shows that 37% of U.S. businesses are using AI, and 22% are piloting solutions. The adoption of AI is on the rise.
AI's rise mirrors customer's elevated expectations: consumer and business buyers expect companies to anticipate and deliver on needs proactively.
58% of consumers and 75% of business buyers say technology has significantly changed their expectations of how companies should interact with them.
55% of consumers and 75% of business buyers expect personalized offers.
By 2020, 51% of consumers and 75% of business buyers expect companies to anticipate their needs and make relevant suggestions.
62% of customer service teams are developing proactive customer service.
High performance service teams are 2X more likely to say AI will have a transformational or substantial impact on their practices by 2020.
75% of sales, services and marketing teams are focusing developing and/or delivering personalized, prescriptive, and even anticipatory processes.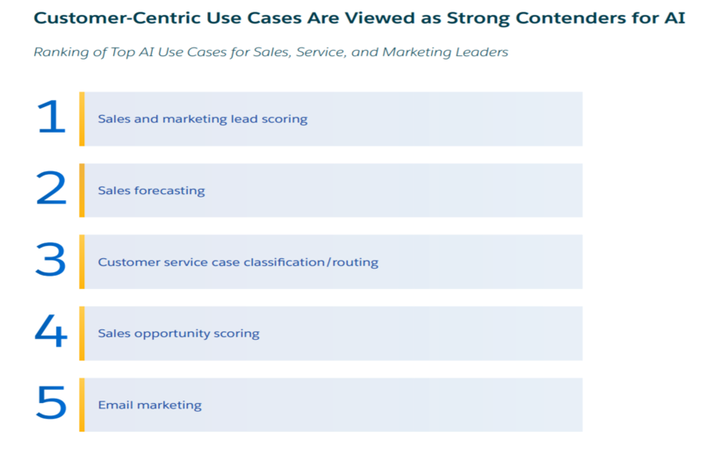 Salesforce is accelerating AI adoption by delivering free, interactive, guided and gamified learning using the Trailhead platform. Anyone can learn the basics of AI using this rich and adaptive learning experience. Advancing AI skills, and application of AI-powered tools (Einstein in sales, services and marketing) will improve organizational and company performance.
AI-powered CRM will enable companies to gain more knowledge from their data. Augmented and autonomous capabilities will deliver personalized, immediate and intelligent customer experience. Digital transformation is the application of information and technology to improve the stakeholder (employees, partners, customers and community) performance and experience, and AI is the key to successful transformation. The AI revolution has begun and the impact impact is incredible. Successful companies will augment their intelligence and service deliver y with AI, but they will also need the human touch. More importantly, the opportunity for business to grow and deepen their relationships with stakeholders is more achievable today and than ever before.
Popular in the Community