Elizabeth "Libby" Wise was a dynamo. Well into her 80s, this woman who earned a degree in French from Trinity College and a Ph.D. in biochemistry from Yale was still traveling the world. When she stayed put, she spent some of her boundless energy teaching.
A stroke in the fall of 2000 stole the independence she'd treasured. She never lived in her home again, instead residing in an assisted living facility until her death Memorial Day weekend in 2002.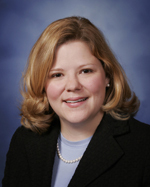 Anne Dailey prefers remembering her grandmother as being vivacious and energetic. Yet she also remembers how the stroke debilitated her grandmother, making a seemingly simple task like ordering from a menu a painful exercise for a woman who had been fluent in two languages.
Libby, and the impact the stroke had on her life, came flooding back to Dailey's mind on Jan. 12, 2014.
It was a Sunday, and she was the only person at her Washington, D.C.-area law office, among only a handful of people in the entire building.
Rushing to meet a Monday deadline, she'd been typing away when, suddenly, her left hand couldn't reach the shift key.
Soon, she couldn't move her left hand at all. Then her face went numb.
Using only her right hand, she Googled "stroke symptoms." The answer confirmed her suspicions.
Dailey stood to see if her legs worked. The left leg didn't, dropping her to the ground. She was staring at her carpet when it hit her -- a memory of Libby trying to order dinner but unable to get the words out.
"I had to really push those thoughts out of my head," Dailey said. "I really had to focus on, 'OK, I need to survive this. I need to get to a hospital. I need a different outcome.'"
Dailey was lucky. Her cell phone was within reach. Her right hand dialed 9-1-1.
Realizing her speech was compromised, Dailey enunciated as best as she could to say, "I think I'm having a stroke. Can you come get me?"
She heard the ambulance drive up, only to get a call back from the dispatcher. The building was locked; how could they get in?
It took about 10 minutes to track down a security guard and then for the search party to find her behind her desk on the 11th floor.
Alone. Paralyzed. Help on the way, but not quite there yet.
Dailey's mind went from one horrifying thought to another. Every scenario she envisioned ended with the same thought: "Please let me get through this and let me have the brain, which is the tool I use the most on a daily basis, intact at the end of this. I don't want to be a burden on my family. I don't want to lose the life we've worked so hard to have."
As already mentioned, Dailey was lucky. Smart, too.
Stroke is the No. 5 killer of Americans, and a leading cause of adult disability. That's why the American Stroke Association encourages everyone to know how to recognize a stroke F.A.S.T. That is, if you detect (F)ace drooping, (A)rm weakness or (S)peech difficulty, it's (T)ime to call 9-1-1. The sooner care is given, the better the chances for recovery; time lost can be brain lost.
Awareness of stroke warning signs is so important that it's the emphasis of American Stroke Month, which is going on right now.
Dailey is living proof that it works.
While Dailey's wait for help was excruciating, it came quickly compared to those who don't immediately recognize the onset of stroke.
She received the clot-busting medicine tPA well into the optimal three-hour window (it can be open up to 4.5 hours in some cases). Within 45 minutes, she had some movement of her left hand and foot. Her husband, Joe, described her as seeming "tipsy" the rest of that day, making jokes that nobody understood and trying to hone her speech by reciting famous orations, such as the Gettysburg Address.
Within two days, she was walking with the aid of a walker. By day three after her stroke, she transferred to a rehabilitation unit.
A few nights later, Dailey went into a funk. Although she knew she wouldn't be as limited as Libby had been, she feared what her limits might be.
Two days later, those barriers began to crumble as she walked by herself around the floor of the rehab unit. She did it while wearing headphones, listening to an exercise playlist she'd put together about a week before.
"The song 'I Will Survive' came on and I had tears going down my face," she said. "I knew that if I could do this, I could do anything.'"
Dailey went home a few days later. She soon began working a few hours a day from her house. By early February -- three weeks after her stroke -- she was back at her firm, Troutman Sanders, once again sitting at her desk on the 11th floor.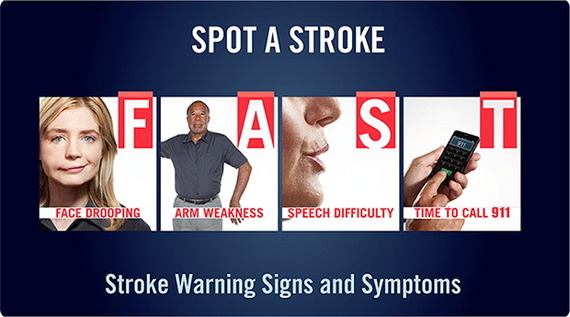 Doctors aren't completely sure what caused Dailey's stroke. Various theories fell apart upon further inspection.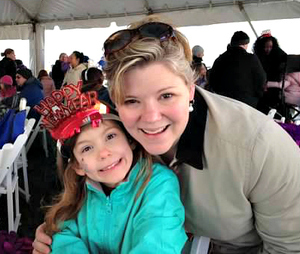 The best news is that her neurologist believes there's a small chance of it happening again.
Still, she has some lingering issues.
Dailey is an energy regulatory attorney and there are times when she finds it difficult to recall specific terms within the energy industry; those lapses never happened before.
Her left side occasionally gets weak and sometimes stiff. That shift key remains a pest, especially by the end of a workday.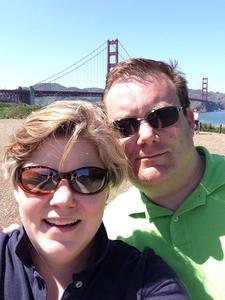 But Dailey met her goal of running a 5K race -- actually going 8K just eight weeks after her stroke. This past weekend, she took part in the 200-mile American Odyssey Relay Run Adventure.
Dailey also has become involved us at the American Stroke Association, sharing her story so others can understand the importance of learning stroke warning signs. You can see her discuss it on "The Balancing Act" airing on Lifetime network on May 7 and May 14.
"I tell people about F.A.S.T. and how this is 100 percent real," she said. "I myself had my face droop. I couldn't raise my arm. My speech was impeded. Luckily, I knew to call 9-1-1. Getting to the hospital quickly definitely contributed to the fact I've recovered as much and as quickly as I did."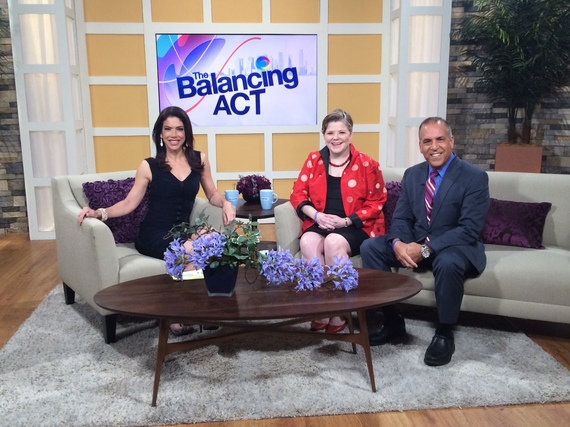 Anne (center) and Dr. Ralph Sacco, former president of the American Heart Association, on the set of The Balancing Act