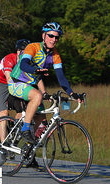 Chris Renouf, riding for Less Cancer Bike Ride to Mackinac 2014
One of the historic sailing and great Michigan traditions is the Bell's Beer Bayview Mackinac Race. The first race was held in 1925. One of the newer Michigan traditions is the Less Cancer Bike Ride to Mackinac, founded in 2013 for LessCancer.org by Suzi Tobias. The ride, not unlike the sailboats, goes from Port Huron to Mackinac, Michigan. The cyclists, however, go to water's edge in Mackinaw City. This year's cyclists will leave Port Huron on July 12.
There is more than one way to look at cancer, just as there is more than one route to Mackinac. One way is the time-honored sailboats, and another way is bicycles. We started this ride to showcase the importance of cancer prevention and the role of exercise. When we work to prevent cancer, we also work to prevent other diseases, including heart disease, obesity, diabetes and more. Like traveling to Mackinac, there are many approaches to cancer, and LessCancer.org works to bring awareness to cancer prevention through web content, community partnerships, and educating lawmakers.
This year the bike ride has garnered new excitement and attracted new riders. First-timer Chris Renouf, a cancer survivor, says, "I have only been riding for about seven years, but I love it! I am a stage 4 prostate cancer survivor, and riding my bike has been a great way for me to stay active and help keep up my strength I know staying active is so vitally important to try to beat or even prevent this horrendous disease."
Ed Shumaker is a 68-year-old summer resident of Port Huron, where the Less Cancer bike ride will begin. When asked why he is riding, Ed Said:
I'm fortunate to have been healthy to participate in group bike rides and triathlons for many years, but none with such a bold goal as Less Cancer.
Gerry Schilling is an 11-year survivor of throat cancer that says:
Thanks to my family, medical team and, most of all, the guidance and support of my wonderful wife, Julie, I was able to defeat this horrible disease for now I was thrilled when a couple of my riding mates asked me to participate in the 300-mile Port Huron to Mackinac ride in support of LessCancer.org.
David Toutant, co-ride leader, is returning to do the 300-mile Less Cancer ride again this year. David says:
For me ... in just this last year, my mother-in-law was diagnosed and treated for colon cancer, a running friend was treated for skin cancer, and another friend's wife for breast cancer. I realized that not only was it a great challenge to ride almost 300 miles in two days, but it was also inspirational to see that people were tracking us online and actually took the time to come find us on the road and show their appreciation for what we were doing. I really believe that the goal of prevention is a goal everyone can understand, because we all have been touched by some form of this disease, and I can't wait to help Suzi and the rest of the riders complete this ride again this year.
Beth Skau will be one of the riders this July on the 300-mile ride for Less Cancer. She says:
I am newer to the sport, as I have only been riding for about 13 years; however, I like to say that my love for the sport is so huge that once I got on the bike, I never got off of it. Less Cancer has reunited me with some of my most special relationships.
Husband-and-wife team Jeanne and Tom Petzold will be on the ride too. Jeanne says:
This is particularly important to me because I lost my best friend to breast cancer when she was 32 years old.
I received an invite from my cousin Miles O'Brien. There was no way I was not going to respond with an enthusiasm that tries to emulate his own. So I am dusting off the bike and starting to get back into it. Because of the Less Cancer ride I have a much-renewed enthusiasm for the sport heading into this summer. I look forward to the camaraderie and encouragement from the other riders in the group.
In May of 2000 when my wife was diagnosed with breast cancer at the age of 33. She had a radical mastectomy and went through both chemotherapy and radiation treatments. She spent the next several years in remission; however, in 2008, the cancer returned and metastasized to her liver, lungs and bones. In 2010, the cancer had spread again, reoccurring in her liver, lungs and bones, but this time it had also spread to her brain. My wife is the strongest person I know.
Ride co-leader and cancer survivor Brian Burke says:
If riding my bike 300 miles from Port Huron to Mackinac Island can help prevent one person from going through what my family and friends have gone through, then I will gladly ride with a smile on my face.
Among these and other riders who will be participating in this year's ride will also be PBS Newshour and CNN Aviation Correspondent Miles O'Brien, who will be riding to honor his sister Aileen O'Brien Graef who lost her battle to breast cancer in 2012.
Go to LessCancer.org to follow these riders and more as Team Less Cancer pedals north.
Related
Popular in the Community