Communities typically have the keys to their own liberation and ability to thrive. This week The Pollination Project celebrates projects that are by the community, for the community. These grantees have planted the seeds of hope in their neighborhoods. From Ty Banks who is teaching at-risk LA youth about songwriting and recording; Millicent Tetty in Ghana who is training local young women in fashion design and marketing; and Tara and Ira Fuller's project in Dallas, Texas which trains at risk youth in cosmetology and barbering skills. With a little support and skill building, people have the internal fortitude to thrive throughout their lives. We are so honored to support these new grantees this week.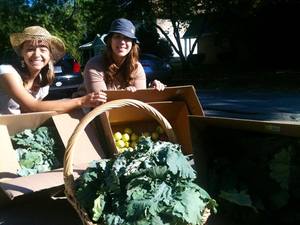 Healthy Food Pantries in Indianapolis, Indiana. Working in collaboration with the Indy Hunger Network, Christina McDougal and a dedicated team of volunteers are helping to provide low-income communities with fresh local produce. Through her project, Glean, IN: Central Indiana Farmers Markets, Christina is encouraging local farmers markets to partner with one or more food pantries in their service areas. These partnerships will increase low-income residents' access to high-quality, locally grown food.
Empowering Youth Through Hip Hop in Oakland, California. Roy LEO Terry is a young musician, entrepreneur, and the founder of MERCER, an Oakland-based educational initiative that is using hip hop as a tool for youth empowerment. Through the MERCER program like-minded artists create media and music promoting the principles of peace and justice while encouraging youth to explore their identities and make a positive impact in their communities. MERCER will inspire a new generation of change-makers by giving them the tools to develop into healthy, civically-engaged adults.
Keeping Kids in School in Webuye, Kenya. Joseph Makokha and Fred Changulo are the founders of CoDA Internationalle, a Kenya-based non-profit organization that fosters community development through youth intervention programs designed to keep kids in school. Working under the auspices of Kenya's Ministry of Education, Joseph and Fred have trained a team of volunteers and educators to mentor youth in communities throughout the region. CoDA outreach programs will empower local youth by teaching them life skills and leadership abilities, as well as providing them with access to high-quality education and community service programs.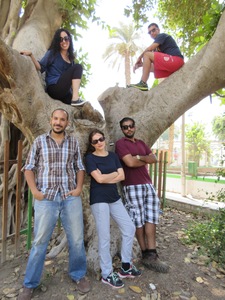 Shadow Puppets and Environmental Education in Cairo, Egypt. Through their project, Playing in the Shadow of Nature, Nicole (Nini) Ayach, Hany Hommos and their fellow puppeteers are using traditional Egyptian shadow puppetry to draw attention to unprecedented levels of pollution in the Nile River. Working with local communities, Nini and Hany have organized youth workshops in Cairo where they will teach local youth about the Nile's ecological importance. The troupe will draw on the workshops to produce an educational shadow puppet show for performance at community centers throughout Cairo and Alexandria.
Impoverished Youth Learn Job Skills in Dallas, Texas. Tara Fuller's organization, Every Head Counts, is supporting youth in Dallas through social, behavioral, and emotional development programs. Their newest venture, the Head Talk Entrepreneur-Leadership Program, Tara and Ira Fuller Jr. are providing students age 13-18 with job skills training in the fundamentals of barbering, styling, makeup application, and business management. Ultimately, the Head Talks program will give at-risk youth a new lease on life by providing them with opportunities for empowerment and a positive future.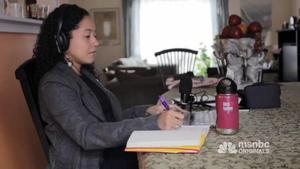 Breaking the Silence on Stigmatization and Abortion in Pembroke Pines, Florida. Melissa Madera's project, The Abortion Diary, is helping to end the stigma surrounding abortion. Over the course of the next 12 months, Melissa will travel across the US recording the diverse experiences of women who have undergone abortions. The stories Melissa records will become part of a podcast that will inspire dialogue in local communities and end the sense of isolation that many women feel after having an abortion.
Music, Self-Expression, and Youth Empowerment in Los Angeles, California. While growing up as a ward of the court in Los Angeles County, La-Ty Banks (T.Y.) found inspiration and emotional release in poetry and music. Inspired by his own experiences, TY founded the Teaching Youth Song Writing & Music Production Workshop to provide youth in LA county with a forum where they can learn interpersonal skills and positive means of self-expression through writing and music. Additionally, participating youth are given the opportunity to start their own businesses by transforming their works into unique commercial products.
Suicide Awareness Takes Center Stage in Detroit, Michigan. Denise Coopersmith is a director, producer, playwright, and the founder of Good Works Production. In her newest stage play, "No Time To Die", Denise is encouraging awareness of the connections between bullying and suicide while fostering compassion for those who have struggled with suicidal thoughts or lost their loved ones. No Time To Die is an educational, emotional, and inspirational masterpiece that will inspire honest reflection on the unacknowledged realities of suicide. The play will debut in Detroit later this year with additional performances at venues throughout Wayne County.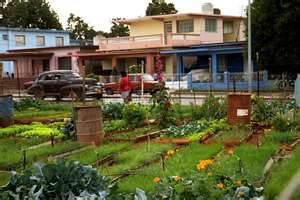 Cuban Agriculture Offers Insight into Food Sovereignty. In her newest initiative, Sustainable Agriculture- Rooted in Community Tour to Cuba, former TPP grantee Rev. Marjani Dele is traveling to Cuba with 14 community leaders from across the US in order to learn about the the effects of oppressive market forces at the intersections of public policy, cultural practices, land-use patterns, and community resilience. Rev. Dele hopes to learn new ways to improve food sovereignty and health in communities of color by visiting indigenous permaculture sites and studying the role of faith in sustainable community development.
Nutritional Assistance and Childhood Hunger in Forest Lake, Minnesota. Christine Thomas' Rangers Supporting Rangers program is helping to end childhood hunger in Minnesota's Forest Lake Area School District. Although many children in the Forest Lake District receive free or reduced priced lunches, there are relatively few programs that address childhood hunger in the wider community. Christine's Rangers Supporting Rangers program provides children who normally receive school-based nutritional assistance with healthy food during weekends and school breaks in order to ensure their continued success, both in and outside of the classroom.
Single Mothers Form a Designer Co-op in Ghana. Millicent Tettey's project, Hewale: Fashion Empower Ghana's Single Mothers is providing impoverished young mothers in Accra, Ghana with 3 month long courses in bead-making and clothing design. After receiving certification through the Hewale program, participants are eligible to become part of a designer co-op where they can sell their creations under the Hewale brand through person-to-person marketing, local e-commerce portals, and Hewale's local showroom.
Calling all HuffPost superfans!
Sign up for membership to become a founding member and help shape HuffPost's next chapter