In 1968, Virginia Slims cigarettes introduced a new marketing slogan ("You've come a long way, baby!") in its effort to increase its appeal to female smokers. In truth, much of the world has come a long way from the crude Freudian symbolism which insists that anything long and straight represents a male and anything resembling a circle represents a female. When the Women's Liberation Movement began to gain momentum in the 1960s, it generated a wealth of literature that would previously have been unimaginable.
Betty Friedan's 1963 book, The Feminine Mystique, is often hailed as the catalyst for a new wave of sociopolitical activism.
Ms. magazine (which began as an insert in New York Magazine in 1971) helped Gloria Steinem become a major voice in the feminist movement.
And who can forget Tee Corinne's 1973 sex education manual entitled The Cunt Coloring Book.
Ntozake Shange rocked the theatre community with the brashness of her 1975 play, For Colored Girls Who Have Considered Suicide When the Rainbow Is Enuf.
In 1996, Eve Ensler shocked audiences with The Vagina Monologues (her recent play, entitled Emotional Creature: The Secret Life of Girls Around the World, is equally provocative).
In 2012, Stanford-educated engineer Debbie Sterling launched a Kickstarter campaign for scientific toys designed for young girls. Goldie Blox reached its crowdfunding goal in four days
When AECOM Technology Corporation (the architectural firm designing Qatar's 45,000-seat Al Wakrah Stadium -- a $120 billion project planned to host the 2022 FIFA World Cup) unveiled a concept video, it was met with stunning derision from self-appointed critics on the Internet. Originally designed by Zaha Hadid to represent the traditional dhow which Qataris use when pearl diving, the architectural renderings were instead mocked as looking a whole lot more like a vulva. In a recent (unrelated) interview, comedian Sarah Silverman stated, "I think vaginas really, really scare a lot of people."
If the thought of a powerful woman unnerves insecure men, the thought of a female goddess, wizard, or magician is enough to make their dicks shrivel up and disappear. From Druid Priestesses like Bellini's Norma to Greek goddesses like Athena, Aphrodite, Artemis and Hera; from Gilbert and Sullivan's lustful Queen of the Fairies in Iolanthe to modern Democratic icons like Hillary Clinton, Nancy Pelosi, and Elizabeth Warren, more and more extremely intelligent and articulate women are dealing from positions of power.
In her 2010 screen adaptation of Shakespeare's play, The Tempest, director Julie Taymor changed the character of Prospero from a male to a female (Prospera).
Taymor is not the only female director to think of changing Prospero's gender. In Cirque du Soleil's new show, Amaluna, Diane Paulus has taken a similar approach. The difference is that whereas Taymor is a creative force with strong artistic visions, Paulus is not. Whereas Taymor can create a thrilling opening number for the stage version of The Lion King ("Circle of Life"), Paulus's attempt to build a show around the theme of "women" barely managed to reach for "Circle of Wife."
This became most apparent in the stage play between Amaluna's clowns (Jeeves and Deeda), which easily ranks as the least entertaining and "unfunniest" act I think I've ever seen in a Cirque show. Indeed, after building a whole number around the breeding and hatching of little chicks, the most inspired part of this act came during the curtain call when a member of the cast dragged this "family" behind him.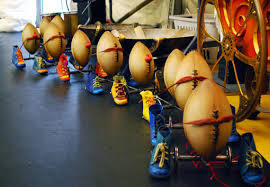 A great deal of Amaluna's strength comes from the nearly 130 costumes designed by Mérédith Caron. I was much less impressed with the musical score by Guy Dubuc and Marc Lessard (aka Bob & Bill), which was performed by an all-women band.
Because much of Paulus's work on this show involves creating transitions between the more acrobatically inclined Cirque acts -- and seeing how well she can use Cirque's formidable stagecraft to showcase these acts -- one often gets the feeling that her contribution to Amaluna falls into the category of stage direction often described as the work of a traffic cop.
Anyone who has staged a production of Aida, Turandot, or Die Meistersinger von Nurnberg knows that being called an effective traffic cop is not necessarily an insult. When large numbers of people have to move on and off stage without hurting themselves, the precision of one's stage direction can be of paramount importance. What's particularly interesting about Amaluna's concept is the heavy emphasis on circles and curves in Scott Pask's designs for Amaluna's scenery and props.
The six chandeliers spread over the audience (which each has a span of over 14 feet) are made of aluminum tubes that have been bent and positioned to create the effect of a mobile.
The remote scenic elements (which often resemble a phosphorescent sea of reeds made with curved glow sticks) help to soften the environment, making it possible to imagine that one is in either a tropical forest or an underwater jungle of kelp and brightly colored coral.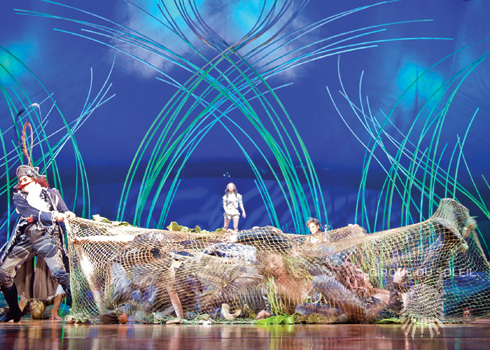 The stage floor contains a rotating turntable which allows a layered circular effect during some of the acrobatic acts that involve poles. During these moments, sections of the stage revolve in order to ensure that everyone in the audience can see each act from every angle (even though they are in plain view of the audience, the set's automated mechanical elements have been designed to be nearly invisible).
The Water-Bowl which becomes a centerpiece for key contortionist/balancing acts (as well as a "womb with a view" love scene) stands 5'5" tall, is 7'3" in diameter, and weighs 5,500 lbs when filled with water.
The most fascinating scenic element is the 6,000-pound, 25-foot diameter Carousel (a custom-made ring containing downward- facing lighting clusters as well as anchor points for flying acrobatic performers). Not only does this unit allow multiple aerial performers to fly out over the heads of the audience, it can revolve in sync with the stage (or counter-rotate in the opposite direction) to give the artists and the lighting designer maximum flexibility and range of vertical and horizontal motion. The Carousel's central acrobatic winch can lift up to 1,000 pounds at 10 feet per second; the production's accompanying 8,600-pound grid includes three acrobatic winches which are each able to lift loads up to 400 pounds at 10 feet per second.
What surprised me was that, in a production meant to showcase female empowerment, so much of Paulus's attempt to draw inspiration from The Tempest seemed to be lost on the audience. There was very little sense that Prospera and her daughter, Miranda, were onstage for any reason other than to mark time between circus acts. Nor did one get any sense that the Valkyries performing on aerial straps had anything to do with Miranda and Romeo.
Although Lara Jacobs Rigolo (whose frond balancing act has gone viral on YouTube) was an obvious hit, the two solo performers who scored most strongly with the audience were Evgeny Kurkin who, as Romeo, took some amazing head-first dives as part of a Chinese pole act, and Viktor Kee (who nearly walked off with the entire show). Throughout the performance, Kee stalked the stage and audience as a lizard-like Caliban figure with a reptilian tail. When he finally got to perform his juggling act atop the Water Bowl it brought the kind of electricity to the evening that had been missing from a great deal of Amaluna.
Part of Kee's success was that he was allowed to make the kind of emotional connection to the audience that had been denied to most of the other acrobats (who had either been forced into posed attitudes or been kept in motion by the show's revolving stage). The following video shows Kee performing at the 27th Monte Carlo Festival.
REAL LIFE. REAL NEWS. REAL VOICES.
Help us tell more of the stories that matter from voices that too often remain unheard.