We at Sparkology have access to plenty of intimate data about people's dating lives. Sometimes the data is too good not to share!
By way of background, Sparkology is dating app for young professionals in NYC. All our members are educated, ambitious, and individually approved to join. We also verify that all men are grads of great universities.
So: which university has the most attractive men alums!?
We looked at the average number of inbound messages our male members received vs. the verified university they graduated from. This is what we found: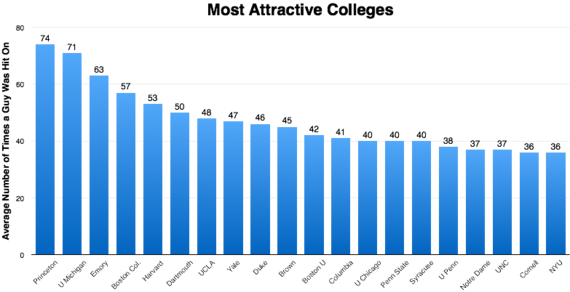 Topping off the list was Princeton University. It seems there's still plenty of allure in elite institutions. Though, not as much as one might assume: only 4 out of the top 10 schools are Ivy League.
University of Michigan, Emory, Boston College, and Harvard rounded out the top 5. With UCLA being the highest rank west coast university.
Perhaps one of our favorite observations was that Penn State squeezed out ahead of UPenn (40 vs 38 message per man). Given the tuition disparities between the two, we'll let you draw your own idiomatic conclusions of bangs and bucks.
Oh, and Sparkology's founder is a UPenn alum. Oops.
Popular in the Community