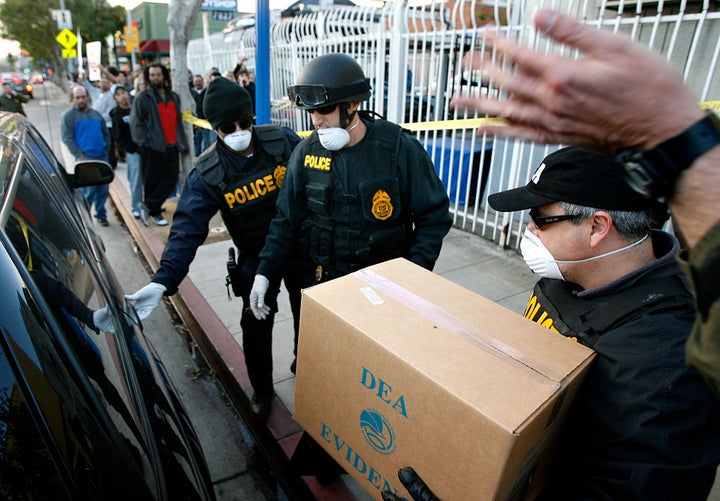 Even as states continue to push for recreational marijuana reform, 2016 saw a shocking increase in drug arrests, with marijuana arrests at the forefront.
How bad is it? By the time you've finished reading this, someone will likely be in cuffs for weed-related charges.
Curiously, marijuana arrests are not immediately available on the otherwise helpful columns of data. Reporters who requested the data, including Forbes reporter Tom Angell and Washington Post reporter Christopher Ingraham, quickly saw that marijuana arrests have risen since 2015. A spokesman for the FBI did not immediately return a request for comment to HuffPost.
Five percent of all arrests last year were specifically due to marijuana possession, according to The Washington Post. All arrests related to marijuana made up more than 41 percent of the 1.5 million drug arrests last year, according to Forbes.
As Angell points out, that averages out to one arrest for weed every 48 seconds. While that's better than every 42 seconds in 2011, 2014 data showed it had risen to 51 seconds.
The data comes on the heels of Attorney General Jeff Session's rabid push to disenfranchise states that have legalized recreational marijuana, hoping to roll back the legal marijuana industry. Eight states currently regulate marijuana similarly to alcohol, with four having joined the fray in November.
Morgan Fox, spokeswoman for the Marijuana Policy Project, said in a statement that marijuana consumers "continue to be treated like criminals throughout the country."
"Arresting and citing nearly half a million people a year for a substance that is objectively safer than alcohol is a travesty," Fox said. "This is a shameful waste of resources and can create lifelong consequences for the people arrested." 
Regulating marijuana, however, "creates jobs, generates tax revenue, protects consumers, and takes money away from criminals," Fox added. "It is time for the federal government and the rest of the states to stop ruining peoples' lives and enact sensible marijuana policies."
Meanwhile, America continues to face an unparalleled opioid crisis as authorities continue to focus on weed. More than a month ago, President Donald Trump promised to declare a national emergency on the opioid epidemic, which would allow the allocation of more federal funding to state and local officials dealing with the problem. It would also put more pressure on lawmakers to help with long-term solutions. 
And while Trump has yet to follow through on that promise, one thing is near certain: Someone just got arrested for pot.
Calling all HuffPost superfans!
Sign up for membership to become a founding member and help shape HuffPost's next chapter
BEFORE YOU GO
PHOTO GALLERY
50 Years Of Marijuana Polling