Marriage therapy only works if both partners are committed to the process. But by the time some couples schedule an appointment, one or both partners has already checked out.
Below, marriage therapists around the country share seven reasons to head to therapy sooner than later.
1. Struggling alone does you no favors.
"The average couple that comes in for therapy has been struggling for about six years. This means they've been unhappy for much longer than they needed to be. One reason to get into therapy early is to get ahead of the curve and address issues before they become problems." ― Zach Brittle, a therapist and founder of the online couples therapy series forBetter
2. "Solvable" problems may escalate to entrenched, bitter hurts.
"Couples who reach out earlier for support when things are amiss often head off a caustic, ugly pattern of hurting each other in ways that are hard to forget or forgive. Marriage therapists should be able to help partners identify the ways they express themselves when they are hurt or angry and to recognize how they may unintentionally put their partners on the defensive."― Linda Lipshutz, a psychotherapist in Palm Beach Gardens, Florida
3. Asking tough questions now will save you a world of hurt later.
"In my opinion, the ideal time for couple's therapy is pre-engagement. Like, way pre-engagement ― pre-ring, pre-asking-for-blessings. When you both agree that marriage to one another is a solid possibility for your future, that's when to schedule a handful of appointments of pre-engagement counseling. So many of the issues I see from long-married couples stem from fundamental problems that could have been caught long before the wedding: People who suddenly realize two years after marriage they have opposing views on whether or not to have children. Couples who have wildly different stances on spending and saving. Couples who suffer for years due to different attitudes toward sex that emerged long after their wedding. A few sessions with a therapist who can ask the hard questions could save you from years of misery or at least let you know what you're signing up for." ― Ryan Howes, a psychologist in Pasadena, California
4. You lose empathy for your spouse the longer you stay bitter.
"When issues remain unresolved, resentment can create a large and ugly divide between two people. This often manifests as lack of empathy, disinterest and at times, even disrespect. Go to therapy before arguments seem insurmountable because one or both of you have become apathetic." ― Talia Wagner, a marriage and family therapist in Los Angeles, California
5. The earlier you nip problems in the bud, the better.
"I'd say roughly two-thirds of all relationship problems are perpetual. That means they'll be around for the duration of the relationship and, for the most part, will be unsolvable. Couples waste a lot of time trying to solve unsolvable problems. Therapy can help you prioritize 'repair,' or staying connected over 'resolution,' which is often out of reach." ― Zach Brittle
6. Crisis is a horrible time to work on things.
"I often share a folksy old saying with my clients: 'It's best to fix the roof when the sun's shining.' We all know that when we're in the midst of crisis we make hasty, impulsive decisions that strive for immediate safety instead of long-term sustainability. Maybe you've noticed the relationship is strained every time a partner has a job change and you see a new career shift on the horizon. The wise choice may be to go to counseling now, when things are still calm, to learn tools to cope with the changes. It's OK to go to counseling when things seem 'fine' so that you are more resilient when they aren't. Even the strongest marriages will encounter tough times eventually, and it's good to be equipped when they come." ― Ryan Howes
7. And ultimately, life is too short to be miserable in your marriage.
"Finding yourself regularly feeling disappointed and flat about your relationship is no small thing. Getting help early is more likely to be beneficial than waiting because you're probably both still open to change and not yet so resentful or tired, to stop wanting to try. Sadly, one of the most common mistakes couples make is to shut their eyes and keep falling deeper into resentment and avoidance of growing distance, hoping things will just magically fix themselves. Most of the time, they don't. Don't waste time ― life is too short." ― Debra Campbell, a psychologist and couple's therapist in Melbourne, Australia and the author of Lovelands
Before You Go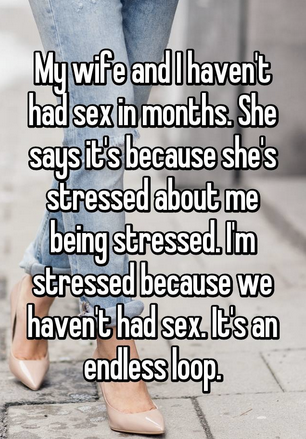 Sexless Marriage Confessions