Note: Our accounts contain the personal recollections and opinions of the individual interviewed. The views expressed should not be considered official statements of the U.S. government or the Association for Diplomatic Studies and Training. ADST conducts oral history interviews with retired U.S. diplomats, and uses their accounts to form narratives around specific events or concepts, in order to further the study of American diplomatic history and provide the historical perspective of those directly involved.
From 1971-1979, Uganda was under the control of the mercurial Idi Amin, one of the most brutal military dictators ever to rule in Africa. Towards the end of 1973 it became clear that the United States could no longer maintain its embassy in Kampala and would have to shut it down.
Deputy Chief of Mission Robert Keeley discusses the intense negotiations he had with the West German ambassador for that country to become a protecting power of the U.S. embassy property; how their attempts to keep plans to evacuate quiet were undermined and how Keeley was lampooned in the Ugandan media; how Amin murdered his own foreign minister; and Keeley's eventual departure from Kampala in a tux and the hero's welcome he received at the Marine Ball in Nairobi.
Keeley served in the Foreign Service for 34 years beginning in 1958, before he took his post as DCM in Uganda in 1971. He was interviewed by Thomas Stern beginning in December 1991. He died in January 2015.
You can read the entire Moment here. Nasty Letters from Amin to President Nixon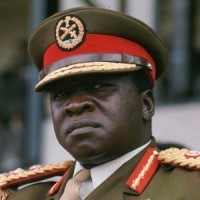 KEELEY: I had many, many encounters with Amin, particularly at the end when I was the Chargé. Then I would see him practically every two weeks because of his penchant for sending nasty messages to President Nixon. I would duly send them in with my comments. I would then receive an instruction to call on Amin to complain. I would then get an appointment and before I could complain about his last message, he would give me a new one, worse than the previous one.
I would take it, because that was the only thing I could do, and then complain about the previous letter, which of course had absolutely no impact. I would send the latest letter in and then I would get another instruction. It was a never-ending process.
It became serious toward the end of January, 1973 after the Vietnam cease-fire agreement in Paris negotiated by Kissinger. Messages poured into the White House from all over the world- -from the head of the Soviet Union, from the Pope, from the Chinese, from all sorts of leaders -- congratulating Nixon and the Administration for ending the war. One single message was received deploring Kissinger's efforts and that was from Idi Amin. He told Nixon that it served us right to be defeated by "those small, yellow people who carried spears against your mighty military machine."
The exact words escape me, but the essence was that it was only right and proper that the Americans should be defeated by a small country; the U.S. should learn that it can't bully people and pick on them. It was so negative and out of place that we responded by pulling out our Ambassador, Tom Melady. He remained the Ambassador until about September, although he never returned to Kampala. I became Chargé until we closed the Embassy in November. Relations continued to deteriorate. When the Yom Kippur war broke out, Amin was again very frustrated; he didn't know what to do. He didn't lock anyone up, but he did kick out our six Marine security guards: i.e., the American "military force" in Uganda. He gave them 24 or 48 hours to get out. They went to Nairobi.
At that point, the Department decided that this was the last straw. With the Marines gone, no one was really providing security for the chancery, so that our classified documents and communication codes were essentially vulnerable. That meant that we had to take turns sleeping overnight in the chancery because without guards it was easily penetrable. We immediately started a destruction program. Our lives were less than idyllic without the Marines standing watch.
We were ordered by the Department to close the Embassy and to leave the country. I was literally given 48 hours to do that. I didn't believe that it was possible in that time-frame. We had leases that had to be broken, property owned by the U.S. to be left in the hands of a protecting power -- which we had to find -- we had local employees who would have to be terminated and paid.
[When I met with the Foreign Ministry] the Chief of Protocol sat next to the Foreign Minister, Colonel Ondoga, and when he heard me say something about a "protecting power" [another embassy that would look after U.S. property in country] he nearly fell off the sofa. He understood the content of the note. He turned to me and asked: "Are you leaving?"
I said: "Yes, we are leaving." Both broke into a cold sweat; the Foreign Minister could just visualize his conversation with Amin reporting our departure. Amin would hold him personally responsible and vent his frustrations on Colonel Ondoga. There was nothing I could do to help him. I left his office.
As I said, all this took place 24 hours earlier than was intended by our scenario. Out of sheer fear, I moved out of our house; I was afraid, now that the news of our departure was disclosed, someone might come to get me. I chose to move to the Ambassador's residence, because I thought that was the least likely place that they would look for me. It had been vacant since March or April; there were no servants; no one occupied the house, but it was a place to sleep.
Just in time for the Marine Ball
A couple of weeks after we left Uganda we read in the Nairobi papers that a body identified as that of Colonel Ondoga had been fished out of Lake Victoria. As usual, Amin had punished the messenger for bringing him a message he didn't like....
The last persons out left on November 10, 1973. The date is fixed in my mind because it was the date of the annual Marine Birthday Ball.
We were obviously not going to have a Marine Ball in Kampala, but we went to Nairobi to celebrate that event. We very much wanted to attend the Marine celebration in Nairobi, to honor our own Marine detachment. Not because Amin had kicked them out, but because they were such a fine bunch of young men who had helped take care of us under very trying circumstances.
The Marine Ball in Nairobi would start about 6:00 or 6:30. Our flight from Entebbe to Nairobi was to leave at 8:00 p.m. and therefore wouldn't arrive until 9:00. By the time we had landed, gone from the airport to the hotel, changed into a tux, the Ball would be essentially over.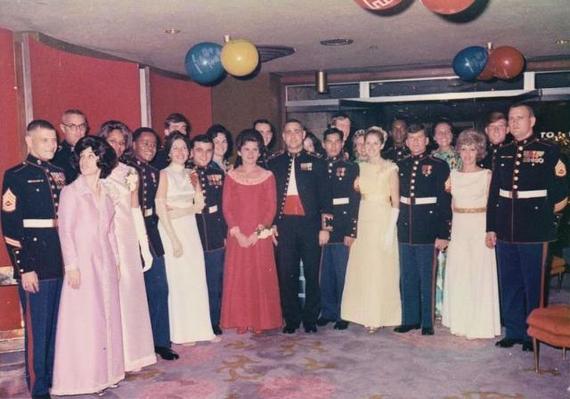 So I asked my wife to meet me at the airport; I would already be wearing my tux. We could then go straight from the airport to the Ball, getting there about 9:30 p.m. There were two other staff members with me. They didn't have tuxes because they were on temporary assignment. So they wore dark suits.
We drove to Entebbe the evening of November 10. I had the rotors from the code machines in my pockets. When we arrived at the Nairobi airport, we were photographed. There I stood in my tux, pockets bulging. People must have later really wondered. Here were the last American officials from an Embassy that was being closed, in their Sunday finest clothes. Only one person saw us off at Entebbe Airport; no one from the Protocol Office.
As we walked into the Ball, we got a big cheer because, I guess, we had gotten out of Uganda alive.
REAL LIFE. REAL NEWS. REAL VOICES.
Help us tell more of the stories that matter from voices that too often remain unheard.