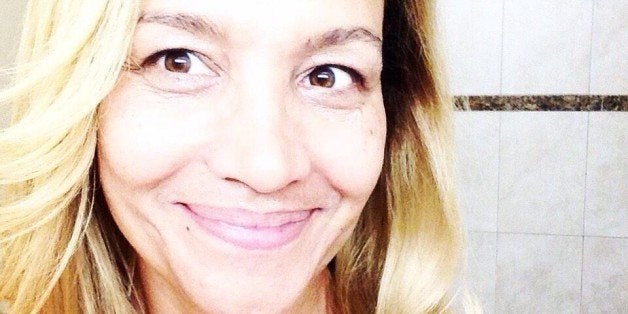 As the world examines the meaning behind the "Friday" phrase, the actress who portrayed the role of "Felisha" in the urban cult classic, Angela Means Kaaya, is leveraging her voice to make a difference in society. (According to IMDB, Kaaya's character's named was spelled as "Felisha," but the "Bye Felicia" meme appears to modify the film's original spelling.)
These days, the Michigan native is attempting to raise awareness for the importance of early childhood development via her organization, "Angie's Kids."
To commemorate the 20th anniversary of "Friday," we caught up with the former actress to get her thoughts on the newfound popularity of her 1995 role, what "Bye Felicia" means to her, and how she might capitalize off of the phrase.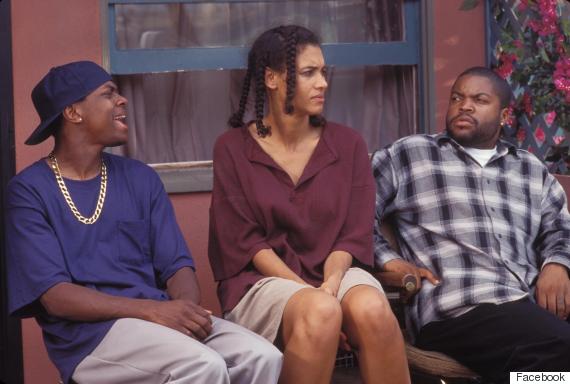 Chris Tucker, Kaaya, and Ice Cube in "Friday."
What are your thoughts on the 20-year anniversary of "Friday"?
My first thought is that it's crazy that it's been 20 years, but I gauge it all by my son. I was five months pregnant at the premiere. Now he's grown, first year in college. So, all of that time has passed. And the fact that it still remains relevant is one of the reasons why I did the project because when I first saw it my management passed on it, but when I read the script and I realized what it was, I realized that it was something special. So I did it. I was looking for something to do that I could feel really good about, because I wasn't going to stay in show business forever. I wanted to have a child and stay at home and put all of my attention into my child.
We spoke to Ice Cube this week to get his thoughts on the 20-year anniversary and the "Bye Felicia" phrase. He went on to admit that having you play a "crackhead" was way out of character for you because you were a model-comedian at the time. How did you go about preparing for the role?
[Laughs] What was funny was when I got on set the makeup artist looked at me and she was like, 'O.K.,' and she kind of went with my look and when we got to the set ("Friday" director) F. Gary Gray looked at me and was like, 'Whoa, whoa, wait, wait. She's not a beauty queen.' I give the makeup artist so much credit for helping me create Felisha. I'm almost in tears, because I had to go to a place where none of the other actors had to really go to. And I did a lot of work on Felisha. I really created that character, and I was working a little bit different than some of the other actors were working. So when I got in the makeup artist's chair, once Gary said, "No, she's a hoodrat," we went back to the drawing board and I fell asleep. But when I woke up and saw myself, it clicked. It helped me go there. And you don't know where I went, but you knew something was up.
And just like all these other women walking around the street in that condition, people don't get there by themselves. I feel like Felisha gave me a voice, and I'm eventually gonna use that voice.

What was your initial reaction to the popularity of the phrase taking off in recent years? Where were you when you first heard about it?
My son was a two time All-American football player during his senior year in high school, so once he started getting offers to play college ball one of my friends called me one day and said "Congratulations," and I knew my son had gotten his first offer... So we talked about it and talked about it, and then as we were getting off the phone he said 'Bye Felicia!' And I was like, "What the hell are you talking about?" and he said "Angie, do you know that 'Bye Felisha' is trending?" And I was like, 'What's 'trending'?" But it just blew me away. And then I just sat there and said, 'how could this be that this has become so relevant'?
"He said 'Angie, do you know that 'Bye Felicia' is trending?' And I was like, 'What's 'trending'?"
Among all of the various mentions of the phrase in pop culture, what have been some of your personal favorites?
The Rock! The Rock tweeted 'Bye Felisha' to MTV when they were clowning him for some of his fight scenes. Also, the Chippendales and the white girl who says 'Who's Felisha and why is everyone telling her bye?'
Are you planning on capitalizing off the trend?
Well, I've already capitalized on it by Cube hiring me and allowing me to work as an actor and something that I felt was important for the 90s. Now to capitalize off of it in terms of monetary, that's not what I'm looking for. What I'm looking for is to help others... to get people's attention to the real Felishas. I want to say, "Bye" to the Felishas. I want to tell them, "Listen to me, you have to eat right, you have to think right. You have to think a certain way to be a certain way. You can't live a positive life if you think negative. You have to repair your relationships. You have to understand your relationships are important. You can't walk around with a chip on your shoulder and expect anything. You have to be educated." And a lot of women don't understand...but there's something wrong.
"What I'm looking for is to help others... to get people's attention to the real Felishas. I want to say 'Bye' to the Felishas."
And I want to say to these young mothers: You have to be your child's first teacher. It sounds crazy, but the woman at home -- even the welfare mothers -- has the advantage of having an Ivy League child. Because everything happens between birth and age six. That's the highest learning curve…and that's what I want to use Felisha for.
Would you be interested in making a return to acting or appearing in a final installment of the "Friday" franchise?
Yes, I would but it can't be no dumb shit. I got a son. My son was the ACC rookie of the year. So that's been a lot of the delay. He's in a certain lane, but I also have to be careful of what I do from this point on, because I am his mother. Although, he's intelligent enough to know that his actions are his actions, and my actions are my actions, but I can't do just anything now.
In addition to starring in "Friday" you also starred in "House Party 3." Both films are arguably apart of two classic franchises in black cinema. What are your thoughts on today's era of black cinema lacking cultural franchises from previous eras such as the '90s?
Well, I am so happy that there is something called "Black Hollywood." And that Black artists get the opportunity to work their craft. With every era there's a different tone and the '90s had its tone. So I'm just happy that we have any voice at all. Great directors have emerged…there could be more projects. But there has to be more filmmakers like Cube. Cube is just the most amazing individual. He said, "this is what I'm going to do," wrote the script and put a great franchise together. The "Friday" franchise is probably one of the greatest in black cinema history. So with that said, he wrote a great blueprint and now that there's self-distribution, we got the Internet so more black stories can be told.

Calling all HuffPost superfans!
Sign up for membership to become a founding member and help shape HuffPost's next chapter
BEFORE YOU GO
PHOTO GALLERY
Ice Cube Photos