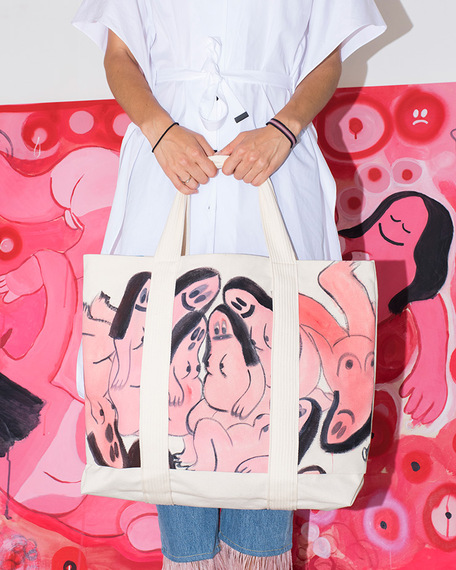 BYOB by KARA is a (build your own bag) pattern series designed by the NYC-based handbag label. In each feature, designer Sarah Law sits down with creatives both Opening Ceremony and KARA are obsessed with to design a unique bag based on necessity, inspiration and, of course, personality. The pattern and instructions are then shared via WeTransfer to provide others the opportunity to create the bag at home. All materials should be something you can buy yourself, and if not we'll provide alternative recommendations. And oh yeah, we strongly encourage adding your own personal touch.
For the series' first installment, we met with Swedish-Chinese artist Camilla Engstrom to find out how this art-babe does it all: from running the home goods site HUS to painting, sculpting and designing her own clothes. Turns out, Camilla is a 'just in case' kinda girl, meaning we were tasked with designing a bag big enough for everything (aka all the art-supplies) she might need and (hopefully) enough compartments to keep her smiling.
Get started on making your own Origami Tote... Download the DIY kit on Opening Ceremony's blog & hear Camilla and KARA founder Sarah Law to talk more about the collaborative process.