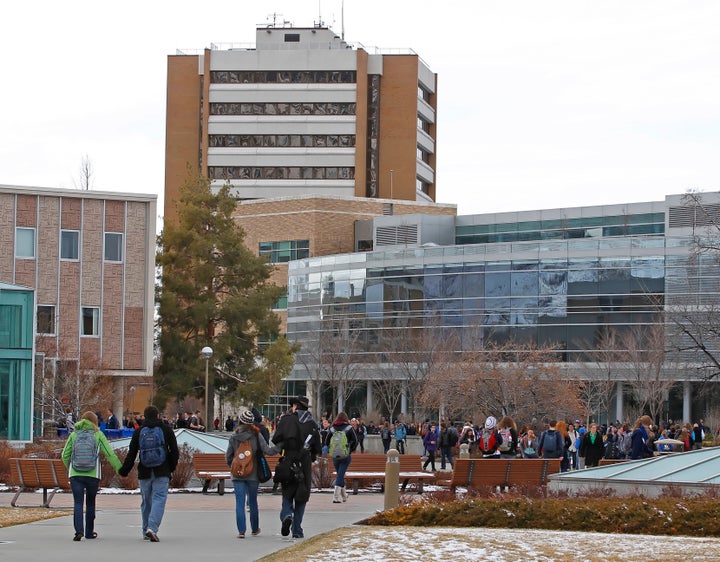 A lawyer says Brigham Young University erroneously cited Title IX as a reason why it could not halt an honor code action against her client, a female student who said she was raped.
Madi Barney, an undergraduate at BYU, reported to police in September 2015 that she was raped by Nasiru Seidu, who was not a fellow student. He was charged and is awaiting trial, which is expected to start later this year. But the private university, owned and operated by the Church of Jesus Christ of Latter-day Saints, commonly called the Mormon church, accused Barney in November of violating the school's honor code after it got hold of the police case file in her case.
BYU's honor code is unusually strict compared to most higher education institutions, but that's because it falls in line with teachings of the Mormon church. While typical rules about drinking and drugs are included, so too are policies barring students from premarital sex, as well as from being the same bedroom as someone of the opposite sex.
The controversy associated with the case prompted BYU to announce Monday that it will re-examine its procedures for dealing with victims of sexual assault.
Liesel LeCates, Barney's attorney, said both she and the Utah County attorney's office asked the university in Provo, Utah, to refrain from investigating the alleged honor code violation, but the school refused.
"The rape didn't happen on campus and the defendant is not a BYU student -- so what interest does BYU even have in this case?" LeCates asked.
An email obtained by HuffPost, sent from a Title IX coordinator to Barney on Dec. 1, 2015, does not specify what honor code policy she allegedly violated. It does say the Title IX official planned to turn information about her over to the honor code office.
The school's general counsel then told LeCates on a phone call that the school had to initiate the honor code action immediately to comply with federal law, LeCates told HuffPost. When LeCates challenged that, stating there is no law requiring a school to investigate an alleged rape victim for honor code violations, BYU lawyers started backing away from that claim, she said.
When asked by HuffPost what law the school attorneys would have been referring to, BYU spokeswoman Carri Jenkins said, "It sounds to me like the law being referred to is Title IX."
Title IX is a federal gender equity law that requires schools to address reports of sexual assault and harassment.
Jenkins then suggested the statement about needing to comply with federal law was false, but declined multiple requests by HuffPost on Monday for clarification. Instead, BYU pointed HuffPost to a new statement about its review of Title IX and honor code procedures.
"Sometimes in the course of an investigation, facts come to light that a victim has engaged in prior Honor Code violations," BYU admitted in a statement Monday. "The university recognizes the inherent tension, in some circumstances, in these two important parts of BYU's efforts to create and maintain an atmosphere consistent with the ideals and principles of the Church. In all Honor Code proceedings, the university strives for fairness, sensitivity and compassion, taking into account all mitigating facts and circumstances."
Experts contacted by HuffPost were perplexed at BYU's apparent citation of Title IX as a reason it had to investigate a reported victim of sexual assault, rather than an alleged assailant, and questioned whether forging ahead with the honor code investigation of Barney was wise.
Since the alleged rapist in Barney's case is not a BYU student, there's no situation requiring the school treat both the accused and the accuser equally, noted S. Daniel Carter, a longtime campus safety consultant.
Colby Bruno, a lawyer with the Victim Rights Law Center, similarly thought BYU would be "misapplying" Title IX if they had cited it.
"In fact, most schools agree that providing amnesty for a rape victim's honor code violations is appropriate," Bruno told HuffPost.
Schools should be aware that victims or third parties may be deterred from reporting incidents if alcohol, drugs, or other violations of school or campus rules were involved. As a result, schools should consider whether their disciplinary policies have a chilling effect on victims' or other students' reporting of sexual violence offenses.
BYU placed an academic hold on Barney in March, meaning she cannot register for more classes until she completes the school's honor code review. But Barney said she can't complete the review because it would involve disclosing details of her sexual assault, which she can't speak about until after the trial.
The Tribune article last week quoted Deputy Utah County Attorney Craig Johnson as insisting BYU's actions threatened the criminal case against Seidu. He made similar claims to the Daily Herald.
Buhman declined on Monday to say whether the university had refused requests from prosecutors to halt the honor code action against Barney.
"I can say that BYU agreed to hold off on any final decisions until after the rape trial, which was scheduled for May but is now on hold pending a defense motion," Buhman told HuffPost.
Popular in the Community