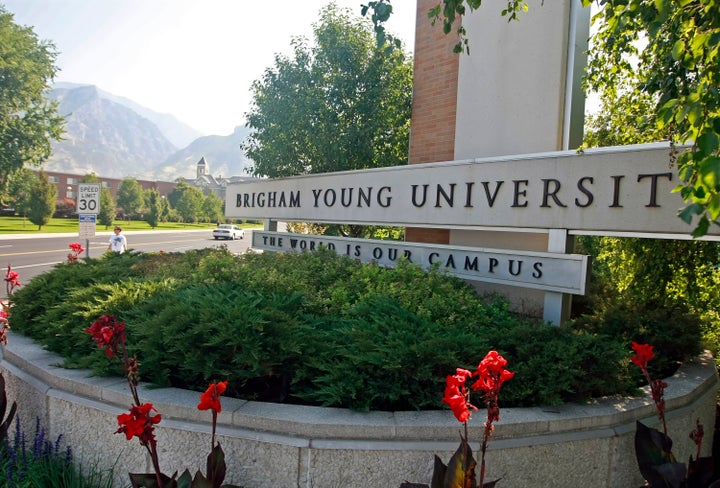 More than 13,000 people have signed an online petition calling on Brigham Young University to provide immunity for students who report being sexually assaulted.
Under current policy, the university investigates students who report sexual assault for violations of the school's strict honor code, which bans premarital sex, same-sex dating, alcohol consumption and being in the bedroom of someone of the opposite sex, among other things. This means a student who reports a sexual assault could end up being placed on probation, suspended or expelled if BYU finds them to have been in violation of the honor code.
BYU is a private school based on Provo, Utah, and is owned by the Church of Jesus Christ of Latter-day Saints, often referred to simply as the Mormon church.
The issue came to light after a campus rape awareness event held last week. Multiple people wrote at the Mormon blog By Common Consent that the BYU Title IX coordinator said "we do not apologize" for enforcing the honor code against students who report being sexually assaulted. As blogger Steve Evans explained, this means that "if you've been raped while in your boyfriend's bedroom, you're in trouble. If you were drinking at a party and were raped, you're in trouble."
The petition's author, Madi Barney, said that at the rape awareness event, the Title IX coordinator admitted "that the honor code has a 'chilling effect' on reporting of rape." She also said she felt like she was "being treated not as the victim, but as a perpetrator," and that "BYU has made it clear that victims will be punished if they report sexual violence."
Barney, an undergrad at BYU, writes in her petition that she faces honor code charges related to her behavior at the time of her alleged assault. The allegations that she violated the honor code stem directly from the police report in her case.
Barney told The Huffington Post that she reported an assault to police in late September 2015. A month later, she says, she received an email from the university's Honor Code Office informing her that she needed to set up a meeting with them. The HCO put an academic hold on Barney, meaning that she can't register for future classes until she participates in a review of the allegations against her.
For now, though, Barney is unable to do that.
"Because I am the primary witness in the criminal case against my rapist, and it's pending trial, I can't legally speak to BYU about anything involving my rape," she said. She's not even sure what the actual honor code charges against her are. What she does know, Barney said, is that "all their honor code allegations stem directly from my police report, and are therefore not separate from my rape, so I can't speak with them until the trial is over."
Even if Barney could speak with the HCO, she's apprehensive about what would happen. She told HuffPost that people at BYU have been suspended or punished for drug and alcohol use, consensual sexual contact and "breaking the Word of Wisdom," which means drinking coffee or tea.
An article this week in The Salt Lake Tribune describes multiple women who say they were sexually assaulted and that after reporting their incidents to police, BYU's Honor Code Office investigated them -- the women, that is -- for breaking school policies.
BYU declined to discuss individual cases with HuffPost and did not respond to an email specifically seeking confirmation of the details of Barney's account. However, the school told HuffPost in a statement that a rape victim will never be "referred to the Honor Code Office for being a victim of sexual assault." That doesn't, however, rule out the possibility that a rape victim will be punished because of the circumstances under which his or her assault took place.
"A Title IX investigation at BYU is separate from the Honor Code process," university spokeswoman Carri P. Jenkins said. "The purpose of the Title IX investigation is to investigate the sexual assault, not other Honor Code violations."
However, Jenkins acknowledged to HuffPost that "in some cases, an Honor Code review could follow the Title IX investigation."
This story has been updated with further remarks from Barney.
Popular in the Community