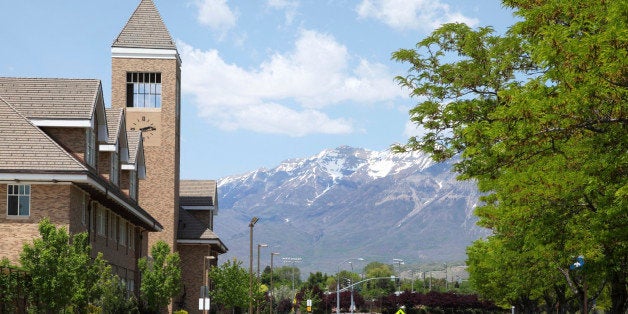 BYU has an honor code all students must abide by that includes not engaging in premarital sex.
Byers told Cosmo when she was a Mormon teenager, she was sexually assaulted by someone older than her who had just come home from his Mormon mission. At that time she'd never kissed a boy, and after she told her family and bishop, she was banned from church for a month. "I was punished because a man had touched me," she said.
But now, Byers is calling BYU's rules into question, largely due to her joining a feminist group on campus.
Byers says she has reclaimed her sexuality and realizes the sexual assault "wasn't my fault," she said. Speaking to Cosmo, she admits she meets men and fools around, explaining that "since we can't have men in our dorms, we'd drive to Squaw Peak, a makeout spot, and do everything but."
As Slate noted in 2011, students seem to be on the same mindtrack as the university, with a vast majority agreeing that premarital sex is morally wrong, according to school surveys.
In 2012, a student on BYU's campus was given a note on Valentine's Day telling her, "You may want to consider that what you're wearing has a negative effect on men (and women) around you," citing the honor code they signed.
"The truth is, I'm not a virgin. I'm a sexual woman and a proud feminist, and I don't feel bad about it," Byers said. "But it's hard to admit that, because women at BYU who aren't virgins are treated as inferiors and that's not fair."
Related
Popular in the Community