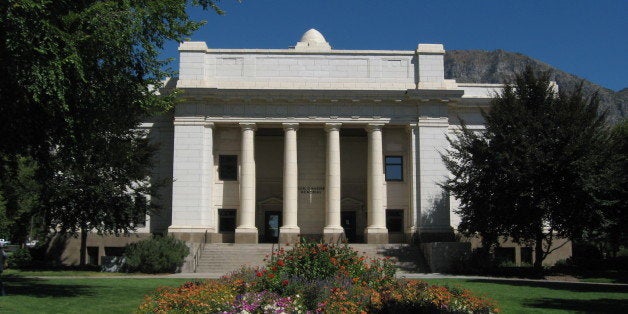 A survey distributed to students at Brigham Young University, a Utah-based school run by the Mormon Church, asks students whether they are heterosexual or heterosexual.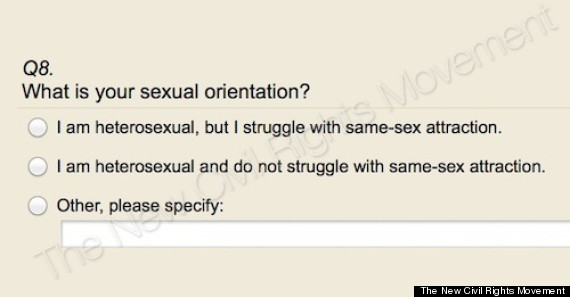 The survey was distributed to students by the The Church of Jesus Christ of Latter-day Saints -- which owns and operates BYU -- to better understand millennial views on marriage and same-sex attraction, according to the New Civil Rights Movement.
Although the university details grooming standards in its honor code -- male shorts must be knee-length or longer, and no sideburns allowed to extend below the earlobe -- BYU does not strictly prohibit anyone from being a member of the LGBT community. Its honor code statement on "homosexual behavior" reads:
Brigham Young University will respond to homosexual behavior rather than to feelings or attraction and welcomes as full members of the university community all whose behavior meets university standards. Members of the university community can remain in good Honor Code standing if they conduct their lives in a manner consistent with gospel principles and the Honor Code.

One's stated same-gender attraction is not an Honor Code issue. However, the Honor Code requires all members of the university community to manifest a strict commitment to the law of chastity. Homosexual behavior is inappropriate and violates the Honor Code. Homosexual behavior includes not only sexual relations between members of the same sex, but all forms of physical intimacy that give expression to homosexual feelings.
UPDATE, 4:45 p.m.: Following publication of this article, a spokesperson for The Church of Jesus Christ of Latter-day Saints told The Huffington Post it is updating the question because original wording "was unclear." The survey question now reads:
Do you experience same-sex attraction?
-yes
-no
-other
"The 'other' option includes a space for a respondent to provide any context or explanation they wish," the LDS spokesperson said. "The survey is part of the Church's broader research to understand the attitudes and opinions of Millennials."

Popular in the Community