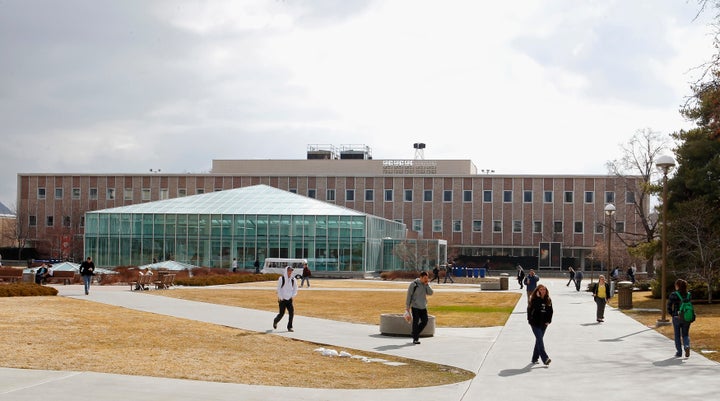 A Brigham Young University student has filed a federal complaint against the school for putting her on academic hold and failing to help her withdraw from classes after she reported being raped to police.
Madi Barney, an undergraduate at BYU in Provo, Utah, told The Huffington Post she filed her Title IX complaint with the U.S. Department of Education's Office for Civil Rights on Monday.
Barney reported to city police in September 2015 that she was sexually assaulted off-campus by Nasiru Seidu, a 39-year-old man who is not a BYU student and who is expected to face trial later this year over the rape charges.
Although Barney says she did not report what happened to BYU, the school contacted her in late November after getting a copy of a police report related to her case. In an email obtained by HuffPost, the school told Barney the police report provided "information that you have engaged in behavior that violates the BYU Honor Code."
The Mormon-owned school has a notoriously strict code of conduct that requires chastity, "clean language," and abstaining from drugs, alcohol, tobacco, tea and coffee, among other things. Barney says the school has not disclosed what rule she broke, but has nonetheless placed her on academic hold, meaning she can't register for classes and will either have to leave or allow the school to conduct a formal review over the alleged honor code violation.
According to court records, BYU obtained a copy of Barney's police report because Edwin Randolph, a sheriff's deputy and a former women's track coach at BYU, provided it to the school without Barney's consent or knowledge.
It's unclear why Randolph would do this. Prosecutors claim he was friends with Seidu, the alleged assailant, and accused him in February of handing over the case file in order to get Barney punished by her school. The charges of witness retaliation were later dropped.
Randolph's attorney has denied that Randolph was friends with Seidu and released a statement on Friday saying the sheriff's deputy did not intend to punish Barney. According to the statement, Randolph actually wanted BYU to investigate male athletes for honor code violations or for victimizing women.
Yet Barney told HuffPost there's nothing in her case file relating to athletes. She also said Seidu lied about his age, claiming he was 26, which led her to believe the assault was premeditated and prompted her to file a police report.
Attorneys for Randolph did not respond to The Huffington Post's multiple requests for comment this week.
Meanwhile, Barney says BYU will not let her withdraw from certain classes unless she answers a series of questions about the assault -- something she can't currently do because she's not supposed to talk about the details of her case until after the criminal trial is over. "I've been looking for help with withdrawing from classes and they're saying they can't prove that a rape happened, so they can't provide the services they would provide to a rape victim," she said.
Barney plans to transfer out of BYU. Withdrawing from classes she struggled with during the criminal investigation would help protect her GPA.
The school said Monday it would review its policies and procedures on honor code violations involving sexual assault cases.
The Department of Education currently has 221 investigations open at 175 colleges and universities to determine whether schools violated the gender equity law Title IX in their handling of sexual assault on campus.