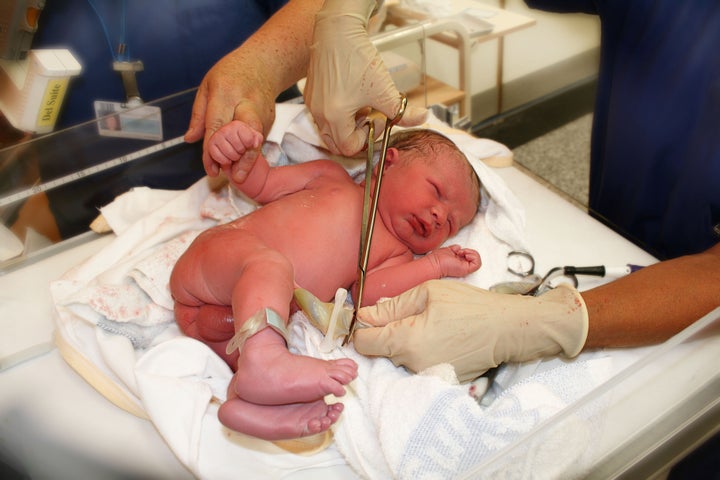 Preliminary figures from the Centers for Disease control include a promising bit of news for women's health: for the first time in a decade, the rate of cesarean section births dropped. The dip was exceedingly modest, with C-sections declining to 32.8 percent of all births in 2010 from 32.9 percent in 2009.
While the numbers remain alarmingly high, it's still a positive shift from the steep and steady increase in C-section deliveries, which skyrocketed from only 5 percent in 1970. A number of factors have contributed to this increase.
"Despite the rise in the number of C-sections, there is no evidence that it has improved the health of mothers or of babies," points out my colleague, Sarah Kilpatrick, M.D., chairman of the Department of Obstetrics and Gynecology at Cedars-Sinai Medical Center. A widely recognized authority on women's health issues, Dr. Kilpatrick has given countless talks on C-sections -- as well as on vaginal birth after delivery, or VBAC.
The reasons for the increase in C-sections are many, including higher incidences of twins, triplets and other multiples; higher prevalence of obesity; women waiting longer to start having children; and greater demand from women for C-sections without a medical need.
Another reason for the increase: The medical community has inappropriately stopped performing VBACs, adopting a "once a C-section, always a C-section" philosophy, Dr. Kilpatrick says. Today, only about 8 percent of women who had a prior C-section have a vaginal birth -- though a majority of women in these cases are good candidates for VBAC.
"The goal is to choose women for VBAC who are most likely to be successful," Dr. Kilpatrick says -- and it's something for which she and her colleague seem to have the knack. Under her leadership at the University of Illinois at Chicago Medical Center, its VBAC rate climbed to about 35 percent.
That panel offered convincing arguments in favor of VBAC. For starters, those women who go through labor, whether they succeed in delivering vaginally or end up with a C-section, are at decreased risk of maternal mortality compared to those who have an elective repeat C-section: overall estimates of death for women who undergo labor are 3.8 per 100,000 live births compared to 13.4 per 100,000 live births for elective repeat cesarean. The risk of hysterectomy is similar between the two groups.
There is a higher risk of uterine rupture for women undergoing labor. When considering all gestational ages, ruptures occur in about 325 per 100,000 women -- significantly more than 26 per 100,000 for those undergoing elective cesareans.
What factors make an ideal candidate for VBAC?
• Women who have had only one or two prior C-sections and have a low, transverse scar.
• Women who have had a prior vaginal delivery tend to have a high success rate with VBAC and lower risk of uterine rupture.
• Women who come into the hospital with spontaneous labor -- as opposed to an induced labor -- tend to have better outcomes, even if ultimately they need to have an unplanned C-section.
For women considering VBAC, choose your hospital for delivery carefully. While it is a safe option for many women, these patients may require a more complex level of care. Large regional medical centers and academic medical centers are likely well-equipped to handle these cases. Specifically, you want a hospital with anesthesiologists available 24/7 -- ideally, labor and delivery units that have dedicated anesthesiologists. In addition, the labor and delivery unit should have ready access to operating rooms and obstetricians on-site.
I've discussed in the past the importance of waiting for labor to maximize newborn health, and resisting the allure of the elective induction. The same could be said for resisting elective C-sections. While it may sound tempting and convenient, it remains a major surgery with major risks. It's astounding that nearly one in three births occur surgically and without a scrap of proof that it's better for the mom or better for the baby -- and plenty of risk, to boot. I encourage pregnant women who have had C-sections to fully explore their options with their obstetrician -- and not to be afraid to ask for a second opinion or seek a doctor experienced in VBAC if they would like to avoid additional cesarean sections.
Popular in the Community