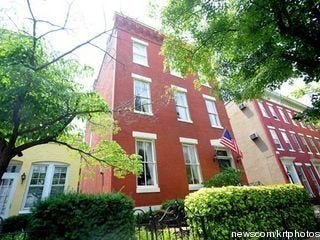 The bevy of conservative members of Congress who've resided at the notorious "C Street House" may have violated Congressional gift rules by accepting steeply-discounted lodging, new ethics complaints allege.
The watchdog organization CREW (Citizens for Responsibility and Ethics in Washington) filed complaints Thursday charging Republican Sens. Sam Brownback (Kan.), Tom Coburn (Okla.), Jim DeMint (S.C.) and John Ensign (Nev.), as well as Reps. Mike Doyle (D-Penn.), Heath Shuler (D-N.C.), Bart Stupak (D-Mich.) and Zach Wamp (R-Tenn.), with accepting "improper gifts" from C Street in the form of way-below-market rent.
Other residents past and present did not make the list -- most notably trail-hiking Gov. Mark Sanford (R-S.C.), who lived in the C Street House while in Congress and helped make the place famous by seeking counseling there in the wake of his affair.
According to reports cited in the CREW complaints, the members of Congress residing at C Street pay $950 per month for rent and housekeeping, versus a minimum of $1,700 per month for nearby one-bedroom apartments, $2,400 per month for adjacent hotels or $4,000 for corporate housing. The CREW data piggybacks in part on similar charges filed earlier this week against the house itself by a clergy group, which complained to the IRS that C Street was improperly using its privileged tax status.
"This situation cries out for an immediate ethics inquiry," CREW Executive Director Melanie Sloan said in a statement. "At a time when so many Americans are losing their housing, it is surprising to discover that some members of Congress are lucky enough to have a landlord that charges below market rent for fairly luxurious accommodations ... you can't help but wonder exactly what these members may be doing in return for all of this largess."
Calling all HuffPost superfans!
Sign up for membership to become a founding member and help shape HuffPost's next chapter