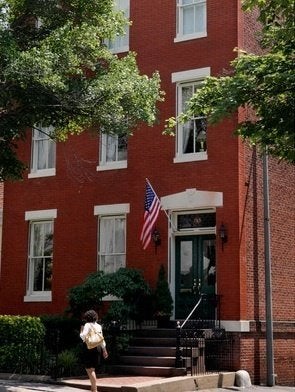 The C Street house is a $1.8 million Washington D.C. residence occupied by Congressional members of a religious organization known as The Family. After being tied to the extramarital affairs of Sen. John Ensign (R-NV) and Gov. Mark Sanford (R-S.C.), the home has become "a curious marker in the gallery of capital shame," according to The Washington Post.
But high-profile sex scandals aren't the building's only controversies. Its generous rental arrangements with tenants have spurred an ethics complaint. A spokesman for tenant Sen. Tom Coburn (R-OK) told the Associated Press that the senator pays a "market-rate" rent at C Street.
Now, Jeff Sharlet, the author of "The Family, the secret fundamentalism at the heart of American Power," alleges that the C street house has used unwitting interns as domestic servants.
Rachel Maddow interviewed Sharlet Thursday on "The Rachel Maddow Show," and the author explained what a former intern-servant told him about her experience inside the C Street house. Their exchange was transcribed on The Maddow Blog:
SHARLET: I recently spoke to a young woman, young evangelical woman, she thought she would going to do an internship in Washington, but she found herself recruited into C street and turning down sheets for John Ensign, and she said it really sort of galled her that it wasn't just those congressman, it was also people like Oliver North, hanging around and she was expected to be at their beck and call..


MADDOW: And just to be clear, people who think they're getting sort of an internship are the people who are providing essentially maid services at no cost to the members of Congress for maintaining these facilities that they live in?

SHARLET: Sure...
Calling all HuffPost superfans!
Sign up for membership to become a founding member and help shape HuffPost's next chapter