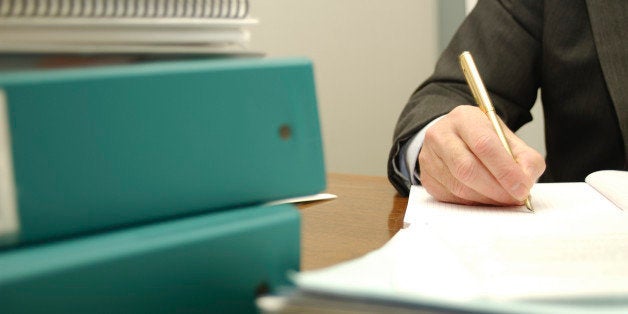 Earlier this month, Google CFO Patrick Pichette publicly tendered his resignation, citing work-life balance as his reason. Pichette explains, "After nearly 7 years as CFO, I will be retiring from Google to spend more time with my family," adding, "I want to share my thought process because so many people struggle to strike the right balance between work and personal life."
Pichette's announcement is just the latest in a string of similar sentiments from other C-level male executives. Late last year, Reddit CEO Yishan Wong resigned noting, "The job as CEO of reddit is incredibly stressful and draining. After two and a half years, I'm basically completely worn out, and it was having significantly detrimental effects on my personal life."
And PIMCO CEO Mohamed A. El-Erian stepped down last summer, highlighting his desire to spend more time with his daughter: "[My] work-life balance had gotten way out of whack, and the imbalance was hurting my very special relationship with my daughter. I was not making nearly enough time for her." Similarly, not long after, MongoDB CEO Max Schireson announced that "the only way to balance [work and family] was by stepping back from my job."
Now Pichette is following suit, but while both Schireson and El-Erian specifically mention wanting to spend more time with their young children, Pichette's angle is a little different. He's already missed the time with his kids who are now grown, admitting he was "Always on -- even when I was not supposed to be. Especially when I was not supposed to be." Now, he's simply ready to explore the world with his wife, following up on a "long list of travels and adventures."
Congratulations to Pichette for discovering that there's more to life than work and for setting off in a new direction. But it's time for us to stop describing announcements like these as a positive step forward for work-life balance.
The only reason that Pichette was able to put in "25-30 years of nearly non-stop work" as he puts it, is that he had a wife who, he acknowledges, "deserves most of the credit" for raising their children. And now he's able to walk away because his position came with a salary and stock incentives that will enable his family to be more-than-comfortable during his early retirement.
But we cannot sustain an economic model that requires C-suite executives to dismiss everything else in their lives other than work and rely on the support of spouses and caretakers to handle the rest. And we can't keep punishing workers for drawing boundaries between the office and the home.
Having more and more men publicly step down from their senior-level positions is no way to fix a broken workplace model. Instead, what we need is for our leaders to look for ways to restructure work so that it's not just possible to be the boss and have a personal life at the same time, but also encouraged.
Most of us can only dream of being in a position where we could make new rules the way that Schireson, Wong, El-Erian, and Pichette might have done instead of opting out. Let's hope that instead of these types of resignation letters becoming the norm in the name of work-life balance, we start hearing more about leaders who stay put and change the status quo.