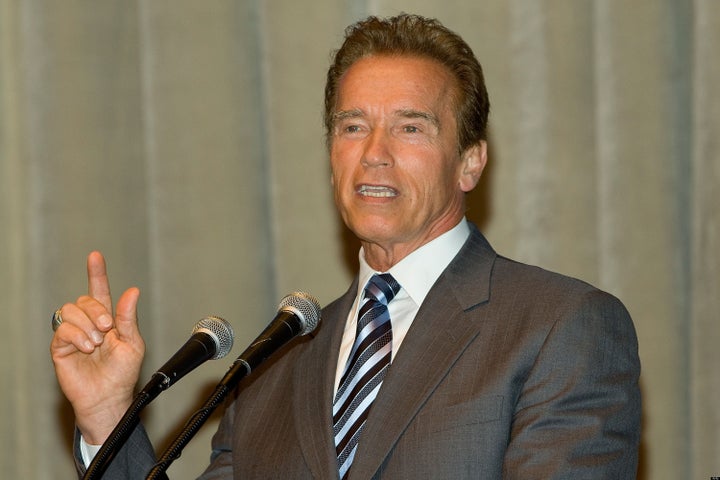 Despite Gov. Arnold Schwarzenegger's promises to reduce California's indebtedness, the state's debt has nearly tripled during the seven years he has been governor.
Today is the seventh anniversary of the 2003 recall election, so it is an appropriate time to review how a central pledge in his unlikely race for governor has turned out.
As of July 1, 2003, California had a total of $27.6 billion in general obligation bonds and a total of $23.2 billion in authorized but unissued bonds, according to then-state Treasurer Phil Angelides' 2003 "debt affordability" report [PDF].
But the latest report [PDF] from current state Treasurer Bill Lockyer says the state now has $77.8 billion in outstanding general obligation bonds - nearly triple the amount of seven years ago - and an additional $42.8 in authorized but unissued bonds.
General obligation bonds must be paid from revenues coming from the state's general fund, meaning that debt payments reduce funds available for other services.
In fact, along with its overall debt burden, California's debt payments have tripled, from $1.8 billion paid in the fiscal year ending June 30, 2004, to a staggering $5.5 billion in the current fiscal year ending June 30, 2011.
At his first in-depth press conference on his economic plan for California during the recall campaign, with former Secretary of State George Schultz and multibillionaire investor Warren Buffett at his side, Schwarzenegger declared:
Needless to say, the elephant in the room in California's economy is the irresponsible operating deficit and the massive debt that this government has allowed California to incur.
After his election, he promised to "cut up the state's credit card," even brandishing giant-sized scissors as a prop to make his point.
But two of Schwarzenegger's first actions - rolling back the vehicle license fee at a cost to the state of billions of dollars, and getting voter approval through Proposition 57 of a $15 billion Economic Recovery Bond - compounded California's indebtedness problems.
In a stinging message at the time, Angelides argued vociferously against Schwarzenegger's plan to float an "Economic Recovery Bond" to help reduce the deficit he inherited, in effect paying for operating costs with borrowed money.
The nearly $18 billion in borrowings - internal loans and bonds - used to balance the 2003-04 budget and close the fiscal year 2002-03 operating deficit constitutes the largest borrowing package of its kind in state history, and seriously threatens our ability to restore the fiscal integrity so vital to our State's sustained economic success in the 21st Century.
Angelides went on to say:
The path chosen - to authorize an unprecedented amount of bonds to close the budget deficit - is not one that I view as fiscally responsible.
H.D. Palmer, a Department of Finance spokesman, said that at the time Schwarzenegger had no choice but to seek outside financing. "The state was staring at the specter of having no ability to pay $14 billion in short-term borrowing that was coming due that spring," he said. "Prop. 57 saved the state from going off the cliff."
He also said that as Schwarzenegger promised, the state has not sought external financing to help close its operating deficit.
Jean Ross, executive director of the California Budget Project, said that there is good debt and bad debt. Good debt, for example, might be bonds floated at very low interest rates to build schools, which school districts end up owning once they are paid off.
But she said California made a strategic error by borrowing money during the economic recovery between 2002 and 2006. "That was when the state should have grabbed the bull by the horns and balanced its budget," she said. "Other states did it largely through tax increases, but we borrowed money instead. And now we have to pay it back."
By borrowing so heavily when the economy was strong, she said, California had maxed out on its credit limit. She said the amount California is paying in debt repayments is about equivalent to what the state is cutting from its schools.
Today Angelides is heading up the Financial Crisis Inquiry Commission, examining the root causes of the nation's - and California's - economic meltdown. He has emerged as one of the toughest critics of corporate and government leaders behind the meltdown.
Meanwhile, the elephant is still in the room. Seven years on, Schwarzenegger is in his final months as governor, facing basement-level approval ratings and the certainty of leaving office with California more deeply in debt and with outsize repayment costs for years to come.
Joe DeAnda, a spokesman for Lockyer, said "there should be no concern about the state's ability to pay its bondholders." Rather, he said, Lockyer's concerns are about the impact of borrowing on programs and services in the state.
The Department of Finance's Palmer said that it is fitting that on the anniversary of the recall election, the Legislature is likely to approve two reforms that Schwarzenegger has long sought - increasing its rainy day fund and limiting public employee pensions - which if they had been in place earlier would have made coping with California's economic downturn more manageable. And perhaps allowed it to borrow less money.
Calling all HuffPost superfans!
Sign up for membership to become a founding member and help shape HuffPost's next chapter