This October, Ca' D'Oro Galleria will be celebrating the 10th year anniversary of "Blue and Joy." Created by Fabio La Fauci and Daniele Sigalot, the comic book characters Blue and Joy have received critical acclaim around the world.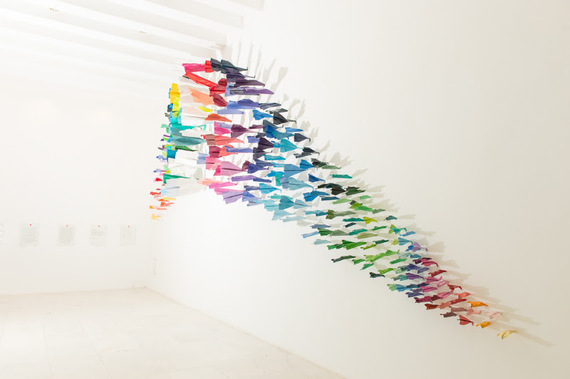 The characters (their names Blue and Joy, since they each literally stand for the mood they represent) made their first debut in a T-Shirt shop in Barcelona. With its rise in popularity, soon began their first tour through prestige galleries around the world. Fauci and Sigalot, both coming from an advertising background, used Blue and Joy to create a story that allowed them to express a world that advertising does not acknowledge.
The captured scenes of Blue and Joy often tell the story of discouragement, gloomy perseverance's with the mundane, and a dreamland that bares no happy ending.  Creating pieces with ironic slogans such as "Love lasts forever," "Happiness is Always Somewhere else" and "Another World is Possible on Another Planet," Fauci and Sigalot have created a humorously dark story that pulls from media and street culture.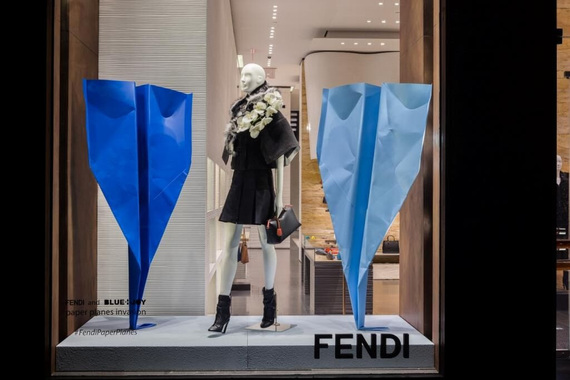 After a long period of success, Fauci and Sigalot took a break from Blue and Joy, and began working, still together, on new projects. During this period, they've explored new avenue's such as, with their piece, "The Superficial Essence of a Deep Appearance (Question Mark)" which is a mosaic consisting of pills and MDF, and also their piece (which resembles a stain glass fixture) "CCLXV," consisting of candies and gummy bears.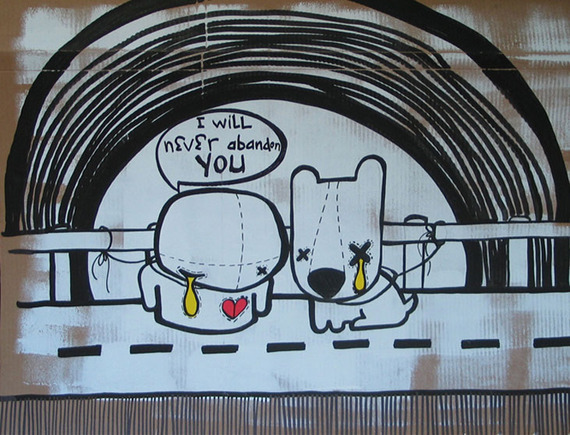 Now for the 10 year anniversary of Blue and Joy, the artists, who are now also known as their characters' Blue and Joy, are going to be showcasing their work at the Ca' D'Oro Galleria in New York City titled An Inevitable Success "The Last Discouraging Adventure of Blue and Joy."  This will be the characters Blue and Joy's last show, featuring re-releases of the very first book pages where Blue and Joy were introduced to the public and some of the art created 10 years ago.
Read more on Arthena here.
REAL LIFE. REAL NEWS. REAL VOICES.
Help us tell more of the stories that matter from voices that too often remain unheard.