Sitting at practically the intersection of old Miami (Coconut Grove) and new Miami (high rises of Brickell) sits what just may be the perfect 305 architectural mashup.
Ca'Ziff is a bayfront villa along Brickell Avenue just south of the Rickenbacker Causeway.
De la Guardia Victoria Architects & Urbanists, who designed the unique abode, describes the structure as having an "emblematic Venetian urban pattern with a residence in the Palladian manner and a great loggia defining a central quadrangular plaza paved in keystone. The building is a concrete block shell finished with lime integral stucco. The floors are Venetian terrazzo and the windows are bronze casements manufactured in the Veneto."
The terra cotta-hued walls, limestone patios, and vine-covered Venetian posts recall the Old World aesthetic that pervades so much of South Florida real estate.
But the main house's strict rectangle shape and the almost MC Escher-like layout of the pool and patio convey a sensitivity to modern industrial design.
The 14,433-sqaure foot house sits on 2 acres of Biscayne Bay property complete with a 3-car garage, tennis court, pool, and guest house.
Click the below slideshow for images of Ca'Ziff's impressive interior and exterior.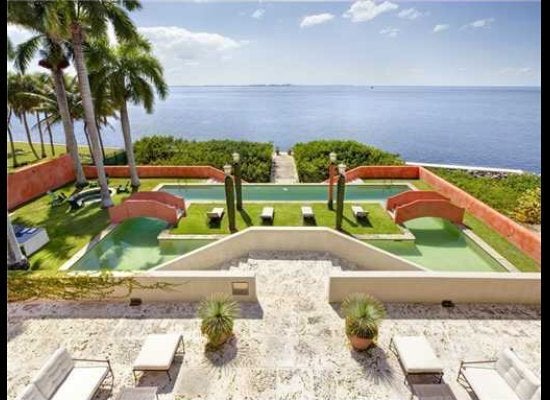 2999 Brickell Ave: $19M
Popular in the Community