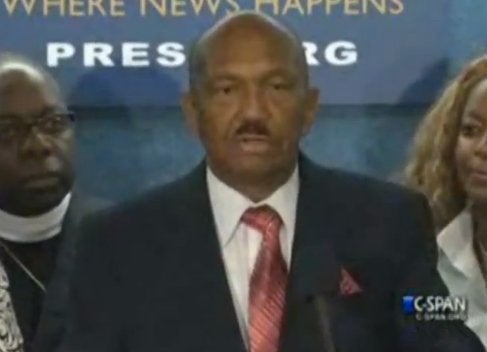 Last week, a group of African-American pastors held a press conference announcing that they are starting a campaign to get black voters to withhold their votes from President Obama until he no longer supports marriage equality. Led by its president, Rev. William Owens, the Coalition of African-American Pastors (CAAP) claims that President Obama is turning his back on the black community to garner the support of gays.
According to CNN, during a press conference at the National Press Club, Owens called out President Obama, disputed the notion that gay rights and African-American civil rights are the same, and also made some pointed comments (which he later retracted) comparing gays with pedophiles. Owens also claims that CAAP has over 3,000 pastors ready to begin the campaign.
On the surface this sounds like trouble for the Obama campaign, but there is more to the story. As it turns out, CAAP's actions may not be a genuine protest stemming from anger from the African-American community but an astroturfed effort by the National Organization for Marriage, the anti-gay group dedicated to eliminating marriage equality. William Owens, the leader of CAAP, has worked with NOM before. In fact, NOM has described him as its "liaison to the Black Church." Owens even participated in a 2011 NOM-produced video entitled "Will the Black Church Rise Up in New York For Marriage?"
Owens' affiliation with NOM is significant for two reasons:
NOM got into trouble earlier this year when it was revealed, through the court-ordered release of a confidential 2008-2009 report to its board of directors, that the organization planned to create a "wedge strategy" to divide the African-American and gay communities on the subject of marriage equality:
A goal of this strategy was to "sideswipe Obama." This is important for reason 2.
NOM has endorsed Mitt Romney, President Obama's challenger.
Most likely, this attempt by NOM to sabotage Obama's African-American support will not work. For one, Obama has tremendous support in the black community. Moreover, despite the fact that the subject of marriage equality is a touchy one in the black community, it is a mistake to think that African Americans are so monolithic in our thinking that we can be persuaded by one issue, or that we jump every time a pastor says a word.
Speaking of which, the press conference that CAAP held underscores the phoniness of the entire campaign by CAAP. On its YouTube page NOM posted a sanitized version of the press conference. However, thanks to blogger Jeremy Hooper, we've discovered that NOM omitted portions of the press conference, such as when Owens linked gays with pedophilia:
And when Owens had a meltdown after being asked about the definition of "biblical marriage:"
I have faith in the African-American community. We are not so naïve that we will be receptive to something so blatantly obvious as this campaign to undermine President Obama through an astroturfed group, no matter how many press conferences it holds.
Support HuffPost
Every Voice Matters
Popular in the Community