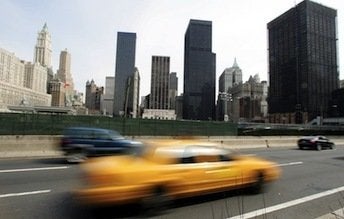 A man has been arrested on charges he repeatedly stabbed a New York City cab driver after asking the driver if he was Muslim and the driver said yes.
Police arrested Michael Enright Tuesday night on charges including attempted murder as a hate crime. He was expected to appear in court in Manhattan on Wednesday.
Police say the 21-year-old suspect from suburban Brewster, N.Y., was drunk when he hailed the cab on Manhattan's East Side.
Police say he attacked the driver with a folding knife before jumping out a rear window.
An officer found Enright slumped on the sidewalk and arrested him. The driver was treated for multiple lacerations.
The incident comes amid intense controversy around plans to build an Islamic community center, known as Park51, in New York City's Financial District. It's not clear if the alleged attack on Monday was in any way motived by that controversy.
Both the taxi driver and the 21-year-old passenger were taken to a local hospital following the incident.
Earlier this month, the Kansas City Star reported on anti-Muslim sentiment that continues to bubble up 9 years after the September 11 attacks.
Siraji Omar was at a local grocery store, trying to read the ingredient labels on yogurt. He asked a store clerk if any contained pork, something his religion forbids him to eat.

Instead the clerk asked him the question: Are you Muslim?

Omar, who speaks in a thick Somalian accent, told him yes. The man took a few steps back, then, according to Omar, began a tirade: "Muslims are bad people. Muslims are terrorists. They are killers. They are evil people and I don't believe in your religion or your faith."

Omar was stunned.
Related
Popular in the Community