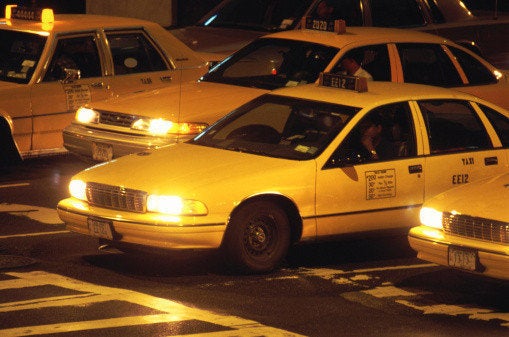 Late Thursday night, a cab driver picked up a passenger in The Castro. As the cab approached the intersection of O'Farrell and Beiderman streets in the Western Addition, the passenger pulled out a gun and demanded money. The driver complied and the victim fled on foot.
This type of cab robbery is a not an uncommon occurrence in San Francisco. A driver was robbed at that very same intersection in June; another driver was robbed at knifepoint in the Lower Pacific Heights that same month; a driver was stabbed in the hand during a May robbery in the Bayview; a group of men in their 20s stuck up a driver in the same neighborhood in March; in February, police stopped a robbery in progress when they noticed a cab driving erratically on Highway 101; only days earlier, a driver was viciously beaten and stabbed during a heist in the Castro.
SFPD spokesman Albie Esparza didn't have exact numbers on about how often cab drivers in San Francisco are the victims of crime, but he did say that it happened with some frequency. "People know that cab drivers tend to carry a lot of cash," said Esparza, "and that makes them easy targets."
"We can only advise drivers that it's not safe to carry a large amount of cash on hand," he added, "but the ultimate decision is up to them."
All cabs in the city have long been equipped with interior-facing cameras as a safety measure to record any unruly or illegal behavior by passengers. Any time a cab driver is a victim of a robbery inside his or her cab, police can review the tape and use it to track down the suspect.
In recent years, about half of the city's 1,500 cabs have also been equipped with front-facing dashboard cameras. Earlier this month, a heroic cab driver used the video feed from the camera to help catch a phone-snatching thief in Russian Hill.
Taxi drivers in San Francisco aren't allowed to refuse to pick up fares, which can become problematic if a driver feels unsafe allowing someone into their car. This doesn't mean that, once a passenger is inside the cab, the driver is required to take them wherever they want to go. Esparza recalls numerous incidents during the time he was based out of the Mission Station when cab drivers would pull into the parking lot and deposit belligerent drunks at the station's doorstep.
"We can all agree that being a taxi driver is a tough job," said MTA spokesman Paul Rose, whose agency regulates the city's cab industry. "They see a lot and have to deal with a lot, yet they're out there every night providing the best service they can."
Rose noted that, during the protest held earlier this summer by a number of cab drivers on the steps of City Hall, safety issues were one of the major concerns they raised. "They said that criminal activity is something they have to deal with on a daily basis," he said.
Calling all HuffPost superfans!
Sign up for membership to become a founding member and help shape HuffPost's next chapter